My previous columns outlined common frustrations with planning and the value of planning. They also provided an overall listing of the main principles that make planning effective. This column continues to dissect the principles of successful planning by exploring how planners should file information. (This is Principle 3 from my "Maintenance Planning and Scheduling Handbook".)
Management first rescues planners from working on field crews and then from spending all their time helping jobs-in-progress so they can focus on planning future work. Future work is work not yet started or assigned. At this point, planners encounter a new issue: what level of equipment or system to file information from completed work.
Imagine a condensate polisher (Figure 1).
It purifies water by removing anions and cations. This system has hundreds of different pieces of equipment. In this scenario, imagine someone wrote a work order on the Unit 1 condensate polisher anion regeneration valve. One of the first actions of the planner to plan this work order is to check the history file. Unfortunately, with a plant filing work orders by system only (Figure 2 shows a system-level file for the polisher), the planner must sift through hundreds of work orders to find a few on the valve in question. So the planner can't incorporate past learning and feedback into the plan for the current work order.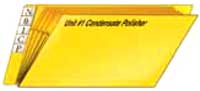 Figure 2. System Level File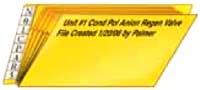 Figure 3. Component Level File
But for plants that file at the component level (Figure 3), the planner can easily find the two or three work orders written in the past few years on this exact valve. He or she can view past failure modes as well as parts used and time expended to improve the current job plan.
Maintenance typically works on discrete pieces of equipment, not entire systems at once. Even system problems are typically traced to individual pieces of equipment. Thus, maintenance files should be kept at the same level.
Furthermore, those who write work orders should include the component number to assist maintenance. With known component numbers at the start, planners easily can consult the right files or create them if needed. Having tags hung on equipment greatly helps this effort. (Figure 4 illustrates a typical tag hung on a valve. Note that the component tag number exactly matches the component file number.)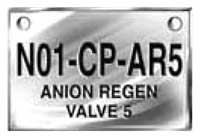 Figure 4. Equipment Tag Matches File
Even a computer system must heed this principle. The computer in its equipment hierarchy may allow people to write a work order for simply N01-CP, thus creating a system-level filing problem for planners. With many plants having thousands of pieces of equipment, consulting a tag number hanging on the equipment is preferred over depending on drilling down computer hierarchies to select correct equipment.
Doc Palmer is the author of the "Maintenance Planning and Scheduling Handbook." He is a CMRP and has nearly 25 years of industrial experience as a practitioner within the maintenance department of a major electric utility. From 1990 through 1994, he was responsible for overhauling the existing maintenance planning organization. The resulting success played a role in expanding planning to all crafts and stations owned and operated by the utility.