Pay to maintenance employees at American manufacturing facilities increased an average of 1.31 percent this year, a substantial drop from the 2.90 percent average increase received in 2006 and the 2.93 average raise attained over the previous four years. This is according to a national compensation research and consulting firm in a data report compiled for Reliable Plant magazine.
Compdata Surveys of Olathe, Kan., collected employee pay and benefit data from 2,370 manufacturing companies this spring. These companies employ 885,290 workers in the United States, including 12,901 with job titles tightly defined as "plant maintenance." The titles for the RP study include: plant engineering manager, maintenance manager, senior maintenance supervisor, maintenance supervisor, senior maintenance electrician, senior maintenance mechanic, maintenance electrician and maintenance mechanic.
According to Compdata Surveys, manufacturers budgeted for a 3.48 percent raise to their plant employees this year. Maintenance workers, though, got an average raise that was a little more than one-third (37.6 percent) of the budget average. Maintenance hourly positions got an average bump of 2.01 percent, while supervisory positions got 0.97.
Examining Compdata Surveys' previous five years of maintenance data, spanning 2002 through 2006, the eight maintenance job titles averaged an annual raise of 2.93 percent, led by plant engineering managers (3.75 percent) and senior maintenance electricians (3.65). In Compdata's 2006 survey, the average plant maintenance worker landed a 2.90 raise. The lowest average pay increase for a maintenance job title in that report was 2.21 percent (maintenance mechanics). The highest average raise was 3.81 percent (plant engineering managers).
In 2007, however, only one title surpassed 2.0 percent - maintenance managers got 2.02. That title was followed by senior maintenance mechanics (1.86), senior maintenance electricians (1.68), maintenance mechanics (1.56), maintenance electricians (1.46), maintenance supervisors (1.41), plant engineering managers (0.25) and senior maintenance supervisors (0.21).
When the new data is examined by plant size, maintenance workers in facilities with 101 to 200 total employees had a report-best average pay raise of 1.47 percent. That was followed by maintenance workers at plants with 201 to 500 total employees (1.37), plants with 1,001 to 5,000 employees (1.32), plants with 501 to 1,000 employees (1.25), plants with more than 5,000 employees (1.20) and plants with up to 100 employees (0.68).
By region of the country, workers in the Central states received an average pay increase of 1.59 percent in 2007. In comparison, the other regions saw increases of 1.55 (South), 1.00 (West) and 0.52 (East).
Theresa Worman, Compdata's vice president of business development, says a number of factors affected the 2007 data.
"While average yearly raises are below those from 2006, this is most likely caused by an influx of new, less experienced employees," she says. "New workers typically start at a lower rate than current staff in the same position, causing the average compensation to decrease. In this situation, actual compensation can go down when turnover is widespread because employers are granting pay raises based on lower salaries. Also, bonuses and overtime pay are not included in the average base salary. Companies commonly use these to encourage productivity and increase retention. Hire-on bonuses have become a useful tool in retaining new employees and will continue to be more common, as companies tie them to months of service."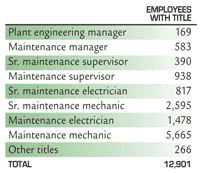 FUTURE REWARDS?
Worman predicts a shortage of skilled workers will have a growing impact on companies' hiring/compensation practices.
"As the market for skilled employees becomes increasingly competitive, manufacturers will have to be cognizant of how their entire compensation package compares to other companies in their state and local recruiting area," she says. "The manufacturing industry will be hit harder than most by the effects of Baby Boomers leaving the workforce because of its large number of skilled and specialized positions. Employers should look for innovative ways to attract a new generation of employees, including flexible schedules and increased time off.
"It will be interesting to see if the loss of skilled trades workers has the opposite effect on compensation for those positions in the long term. Average base rates may increase as Boomers exit the workforce and there are fewer applicants than openings. Employers may vie for the attention of the small number of applicants with large base rates and robust benefits packages."
RAISES: HIGH FIVE, LOW FIVE
By a combination of demographics, the five maintenance titles that did the best in 2007, in terms of pay raises, were:
Maintenance manager, West Region, plants with 501 to 1,000 total employees, pay increase of 13.67 percent

Maintenance supervisor, West, up to 100 employees, 13.01%

Maintenance manager, West, up to 100 employees, 8.35%

Maintenance electrician, South, 1,001 to 5,000 employees, 8.11%

Senior maintenance electrician, East, 1,001 to 5,000 employees, 7.85%
The five maintenance titles that fared the worst this year, based on raises, were:
Senior maintenance electrician, West, plants with more than 5,000 employees, pay decrease of 10.85 percent

Maintenance supervisor, South, plant with up to 100 employees, -10.59%

Senior maintenance supervisor, East, 501 to 1,000 employees, -7.03%

Maintenance electrician, Central, 501 to 1,000 employees, -6.39%

Senior maintenance mechanic, West, 201 to 500 employees, -6.03%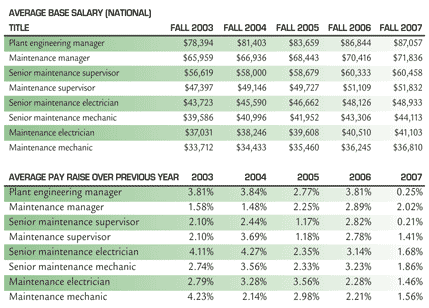 PAY BY JOB TITLE
The top average pay rate for each of the eight job titles in 2007 were:
Plant engineering manager: $92,879, West, plants with 1,001 to 5,000 employees

Maintenance manager: $78,941, West, 501 to 1,000 employees

Senior maintenance supervisor: $66,296, West, more than 5,000 employees

Maintenance supervisor: $56,572, West, more than 5,000 employees

Senior maintenance electrician: $58,130, West, 501 to 1,000 employees

Senior maintenance mechanic: $48,777, East, up to 100 employees

Maintenance electrician: $47,766, West, 501 to 1,000 employees

Maintenance mechanic: $39,638, West, 501 to 1,000 employees
The lowest average pay rates, according to the survey data, were:
Plant engineering manager: $76,960, Central, plants with up to 100 employees

Maintenance manager: $65,862, Central, up to 100 employees

Senior maintenance supervisor: $56,534, Central, 501 to 1,000 employees

Maintenance supervisor: $45,135, South, up to 100 employees

Senior maintenance electrician: $42,120, South, 101 to 200 employees

Senior maintenance mechanic: $39,920, South, 101 to 200 employees

Maintenance electrician: $34,810, East, up to 100 employees

Maintenance mechanic: $32,311, South, up to 100 employees