To help get your creative juices flowing, here we look at 10 do-it-yourself projects that fall somewhere between remarkable and ridiculous. MacGyver would be proud.
1) Telecommuter Stand-in
To pay for our do-it-yourself (DIY) components and others, most of us need a job. One of the downsides of having a job is the time-consuming and expensive commute. Enter IvanAnywhere, an office robot designed to occupy computer programmer Ivan Bowman's spot at the office while he lounges at home. Instead of simply chatting online with co-workers, Bowman's IvanAnywhere is equipped with a camera and touch-screen computer so that he can video-chat in real time. The robot is fully mobile and moves through the office via remote control, The Record reports. Software interface aside, IvanAnywhere is fairly simple to create. In addition to the Webcam and computer, it has speakers and a motorized wheelbase emanating from a metal rod.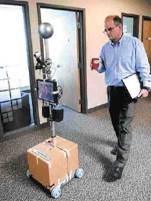 IvanAnywhere has even attended company parties, according to MAKE.
Credit: Peter Lee/The Record
2) Baseball Deglosser
The regular season has come to an end for Major League Baseball fans. If you're really into the game, you know that a new baseball needs to be scuffed up before you can pitch it successfully. Roughing up the surface seemed too boring and not uniform enough for 17-year-old Cameron Kruse, according to an article posted at MinorLeagueBaseball.com. So, he built a machine to degloss, or muddy up, baseballs. According to Lindsey Korsick's article:
The machine, made with components of the Lego Robotics set, is a series of micro computers, sensors and wheels. The ball is set in the middle of the machine and a pre-mudded shell is placed on top of it. The sensors trip the microcomputers and the ball is spun on three different axes for 10 seconds each, yielding a game-ready baseball.
The gadget uses lasers, motors and wheels to apply an even coating of mud on new baseballs. A bonus: The machine leaves the processed baseballs with a uniform color. (Lighter-colored baseballs are easier to see.) With CAD drawings and communication with machine shops, his invention is on its way to becoming a machine that can be mass-produced. He is currently working to get a patent.
3) Egg Plotter(s)
Speaking of LEGO bricks, have you seen two fellas' machines for decorating chicken eggs? Yeah, it's challenging to draw on eggs — they're fragile, small and that curved surface makes it difficult to make a straight diagonal line. Easter is months away, but if you're into decorating eggs when the time comes, check out Michael "Mike" Brandl's Egg Plotter and Andreas Dreier's Egg Plotter Bot. One in Austria and the other in Germany — collaborating and challenging one another online via MSN messenger — these two guys' inventions enable you to create exactly the design you have in mind without all that slipping encountered when you try writing manually. Ready to meet your own challenges?

Brandl's Egg Plotter (front view)
Credit: LEGO Mindstorms Development Program

4) DIY Hoverboard
Then there's "UK TV gadget maestro" Jason Bradbury, who, as recounted by the United Kingdom's The Gadget Show on Five, used a gasoline-powered leaf-blower motor, a board, grommets, screws, piping and connectors, duct tape and heavy plastic sheeting (like pool lining) to create a hoverboard. Total cost: £150 (US$307). Total build time: about one hour (after you've "eventually figured out what the hell you're doing and fielded the questions from the [neighbors]"). Like many great inventors — think the early developers who used X-rays for medical purposes — Bradbury injured himself when he fell from his hoverboard. Of course, scads of people break their legs every year.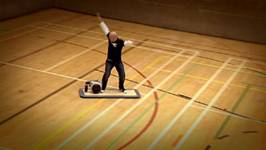 Credit: The Gadget Show on Five
5) RoboFlush
Tired of flushing your own toilet? RoboFlush is yet another simple LEGO NXT Mindstorms robot, this one designed to flush a toilet automatically (though it also comes with a manual flush option). The ultrasonic sensor discovers your presence, and as soon as you're done and gone, it sends the signal to the NXT unit, which croaks out a strained "Thank you!"
Check out BattleBricks.com for instructions on how to build your own.
6) Moonbeam Micro-car
Jory Squibb has designed and built a "three-wheeled micro-car that he built with $2,500 in parts and 1,000 hours of his labor," according to the Nashua Telegraph. The "Moonbeam" micro-car uses a 150cc Honda 4-stroke scooter motor and uses the water-cooling from the motor to heat the cabin in winter. The two motor scooters used to build Moonbeam were a Honda 1987 Elite 150 (purchased in excellent condition for US$400) and, because a duplicate of the first couldn't be found, a 1984 Elite 125 bike (US$100) for parts. Weighing only 400 pounds, the Moonbeam gets 85 mpg in the city and 105 on the open road.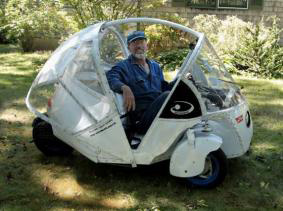 Credit: Jory Squibb's personal Web site
Check out Squibb's site for specifications on how to build your own micro-car, street legality issues, recaps of test drives, photos and more.

7) DIY Segway
A tenacious team of high school and university students has put together a DIY Segway. The DIYers — from Wayland High School, John D. O'Bryant School of Math and Science, and Cambridge Ridge and Latin School working with four from the Massachusetts Institute of Technology (MIT) — put together a workable Segway knock-off that can keep pace with the actual model.
From their after-action report:
The DIY Segway is controlled by a PIC microcontroller board based on the Machine Science XBoard. ... For sensors, we used an ADXL203EB accelerometer to sense acceleration due to gravity -- which is a good way to measure the angle — coupled with an ADXRS401 gyroscope to measure the rate of angular rotation (how fast the person is falling forward). The Apple iPhone also uses an accelerometer to determine when you tilt it ... but you can't ride an iPhone!
The DIY version of Dean Kamen's polished, commercial invention weighs less than 50 pounds with a battery, automatically balances itself and comes equipped with "lean" steering. And, it cost less than $1,000 to create.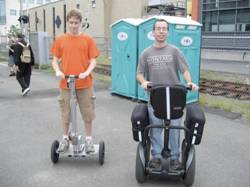 Credit: The DIY Segway (MIT)

8) Inverted Pyramid for Water
Like energy, potable water is becoming a resource of greater concern for many people, especially those who live in arid areas. "WatAir" is an inverted pyramid array of panels that collects dew from the air and turns it into fresh water in almost any climate, producing at least 12 gallons per day, according to The Jerusalem Post (via Water Tech Online). According to one of its creators, WatAir can be incorporated into both rural and urban landscapes easily because it has a relatively small base. Its vertical and diagonal design utilizes gravity to increase the collection areas. The panels are flexible and easy to collapse when not in use, and provide shelter from rain and heat and play areas for children.
The invention, by two architects at the Technion-Israel Institute of Technology, is a low-tech way to collect dew from the air and turn it into fresh water, and it recently won an international competition seeking to make clean, safe water available to millions around the world.

Credit: inhabitat.com
9) Pedal-Powered Cell Phone Charger
With gasoline prices likely to continue rising, there may be more interest in bicycling. With that, many of those cyclists may want to chat on their cell phone. Bhaskar Ajgaonkar, an information technology engineering student of Rajendra Mane College of Engineering and Technology, Ratnagiri, has developed a bicycle that, when pedaled, produces electricity and charges mobile phones of any brand. According to Newsvine:
An extra chain is attached to the rear wheel, which is connected to a micro-dynamo attached to the cycle carrier. As the cycle is pedaled, the dynamo rotates to generate electricity. The electricity is then passed towards the circuit fixed on the bell attached to the handle. The circuit has an LED that confirms reception of electricity.
Riding speed does not affect current flow.
10) Beer-Launching Fridge
Although John Cornwell, who earned his BSE in Electrical and Computer Engineering/Computer Science from Duke University last year, has invented a number of other electronic products in his spare time, a refrigerator has been his most popular creation. Cornwell came up with the idea for — wait for it — a beer-launching fridge and then spent approximately 150 hours designing and building its prototype before making his rounds with David Letterman and the like.

"I was on my couch one day, and I wanted a beer and didn't feel like getting up to get one," he said in the university's paper The Chronicle. "... I had to build it."
If you've done any eccentric DIY projects, feel free to share them below.