Two successful programs have teamed up this year to help small and medium-sized U.S. manufacturing plants improve their energy efficiency, competitiveness and environmental performance. Under a new agreement, the U.S. Department of Energy's (DOE) Industrial Assessment Centers (IAC) is working with the Manufacturing Extension Partnership (MEP) in the U.S. Department of Commerce to provide assistance to eligible plants.
Approximately 196,000 small and mid-sized U.S. plants are paying a total of $70 billion per year in energy costs. "This initiative has the potential to help these manufacturers reduce energy costs in some cases by up to 30 percent per year," DOE assistant secretary Alexander Karsner says.
The new IAC-MEP partnership extends the reach and resources of both programs, so industry can benefit from the best of both. Individually, they work with hundreds of plants each year, but together they can provide services, expertise and information at no cost to many more plants throughout the nation.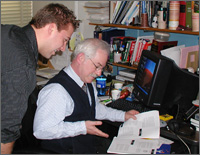 Syracuse University IAC director Fred Carranti (seated) goes over energy-efficiency training materials with engineering student Mike Matzura. (Photo courtesy of Oak Ridge National Laboratory)
Announced this past spring, the agreement provides a mechanism for renowned energy experts and their staff members at 26 university-based IACs to carry out improvement projects with knowledgeable MEP staff in more than 440 locations nationwide. Although some IACs have worked before with nearby MEP centers on efficiency projects, the new partnership will foster more extensive collaborations. These collaborative projects can range from providing energy- and money-saving information resources to conducting in-plant energy assessments of energy and process efficiency.
Industrial Assessment Centers are administered by the DOE Industrial Technologies Program (ITP). The Manufacturing Extension Partnership network is part of National Institute for Science and Technology (NIST) in the Commerce Department. Both programs help smaller plants boost their productivity and profitability. And, each has an impressive track record of providing benefits to manufacturers. So, in many ways, the new partnership is a "natural" for them.
IACs Help Manufacturers Improve Energy Efficiency
DOE selected the 26 Industrial Assessment Centers through a competitive solicitation process. Their primary mission is to provide eligible small- and medium-sized manufacturers with no-cost energy assessments and to serve as training grounds for the next generation of energy engineers. Plants eligible for IAC assessments are usually within 150 miles of a center, have gross annual sales of less than $100 million and employ fewer than 500 employees at a site.
Since 1976, IAC assessment teams have provided benefits such as these:
Saved participating plants an average of $55,000 a year.
Saved enough energy to power a city the size of Boston for a year.
Recommended efficiency measures, which plants later implemented, with paybacks averaging around 12 months.
Saved U.S. companies more than $700 million in all through efficiency and productivity improvements.
Helped create and maintain more than 1.5 million U.S. industrial jobs.
During an energy assessment, trained engineering faculty and students from an Industrial Assessment Center visit a plant and analyze its energy use to identify opportunities for savings, often using ITP's suite of sophisticated software assessment tools. Within 60 days, the IAC team sends a full report to the plant recommending proven ways to boost energy and operating efficiency and reduce waste.
Benefits Go Beyond Energy Savings
Helping plants save energy is just one of the goals for the Industrial Assessment Centers. At the same time, engineering students at higher undergraduate and graduate levels gain hands-on experience with actual industrial systems. IAC energy assessments are by no means simply "school projects," however. Small plants with relatively high energy bills often find that reducing energy and operating costs can mean the difference between surviving and thriving in today's competitive manufacturing environment.
There are environmental benefits, as well. According to the U.S. Environmental Protection Agency, industrial and commercial energy use accounts for nearly 30 percent of total U.S. greenhouse gas emissions. Reducing the amount of electricity and fuel needed to power boilers, produce steam and run industrial processes also reduces associated greenhouse gases, which helps small manufacturers reach their energy-use and environmental goals more quickly.
That's what Mitsubishi Motors' manufacturing plant in Normal, Ill., was hoping for when Eric Ross, a student engineer in Bradley University's IAC, worked on a project there recently. After receiving training in industrial pollution prevention and energy management, Ross designed and helped implement a project to reduce electricity use at the plant by 2.4 million kilowatt-hours annually, saving the company $60,000 per year and reducing carbon dioxide emissions (CO2) by 1,300 metric tons.
Eugene Schlueter, central engineering general manager at Mitsubishi in the Manufacturing Division, says that Ross' knowledge, skills and ability to listen and communicate well with staff during the project contributed greatly to its success.
IACs Uncover More Than $100 Million in Opportunities
In 2006, the first year of ITP's Save Energy Now initiative, IACs conducted more than 550 in-plant energy assessments and identified more than $100 million in savings opportunities. Plants that implement assessment recommendations will help to reduce the nation's total CO2 emissions by hundreds of thousands of tons per year.
DOE has funded assessments for small and medium-sized manufacturing firms through Industrial Assessment Centers (formerly Energy Analysis and Diagnostic Centers) since 1976. Data from assessments conducted from 1980 to the present is available in the IAC Database, which contains detailed information on more than 13,400 assessments.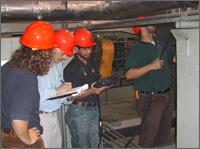 University of Dayton IAC director Kelly Kissock (second from left) and IAC students (left to right) George Mertz, Rizwan Syed and Pete Kleinhenz perform a combustion analysis at a heat-treating facility. (Photo courtesy of Oak Ridge National Laboratory)
MEP Network Helps Plants Streamline Operations
The Manufacturing Extension Partnership is a not-for-profit network of several hundred business and manufacturing specialists who are associated with nearly 60 MEP centers around the nation. The MEP centers are funded by federal, state, local and private organizations to provide specially tailored services and products to small and medium-sized U.S. plants. MEP assistance often begins with an evaluation of a plant's business operations. Then, industrial specialists provide helpful services like these:
Helping plants become more "lean" so they can produce more using current resources by eliminating activities that are not value-added.
Providing guidance on strategic management, with a focus on planning and executing effective business strategies.
Assisting in establishing quality systems, from product design to distribution.
Helping plants expand profitably through innovative products, processes, services and business models.
Fostering supply chain management, a critical management function.
Improving the environment by helping plants avoid wasting materials and energy.
Linked through NIST, MEP centers serve all 50 states and Puerto Rico. They offer business solutions either through direct assistance from MEP staff or recommendations from outside consultants. In fiscal year 2006 alone, MEP provided information and services to more than 24,700 U.S. manufacturers.
Boosting the Bottom Line through Innovation
In just one example, the Manufacturing Extension Partnership of Louisiana (MEPoL) provided assistance to several local companies in the wake of Hurricane Katrina. One company, It Straps On Inc., manufactures stainless steel strapping and fasteners and is based in Covington. Among other services, MEPoL helped the company obtain funding for the entire staff to attend an on-site MEP lean training course under a Small Business Enterprise Training grant offered through the Louisiana Department of Labor.
Company owner Steve Smith says, "MEPoL directed us to multiple programs that have assisted us in researching innovations to improve our product line, saving us the costs up front, which resulted in millions of dollars in sales."
The IAC-MEP partnership plans to reach approximately 1,800 plants in the first year of the collaboration. For information about hiring the engineering students who have completed their extensive IAC training, see the related article in this issue of Energy Matters.
This article was provided by the U.S. Department of Energy and appeared in the Spring 2007 issue of the DoE's Energy Matters.