Australian auto supplier, logistics specialist and material handling components firm team up to develop lean, clean and streamlined transport, storage and point-of-use carts
With an eye toward enhancing operational efficiencies and implementing more intense, leaner manufacturing principles, Australian Automotive Air Pty Ltd. (AAA), a part of the Denso Group of companies and a supplier of auto air conditioning, engine cooling, instrument clusters and fuel system components, developed an extensive specification list when it began the search for a material handling system at its Croydon, Victoria, manufacturing facility. Its list:
Be versatile, flexible and adaptable to changes, if needed.
Function without a need for fork trucks, heavy lifting equipment and without stationary, high-rise racking units.
Minimize in-process inventories while maximizing open floor space and work spaces.
Raise health and safety levels by limiting the potential for accidents and injuries.
Empower and encourage staff to organize work areas with orderly parts and tools, and to keep stations clean.
Simplify inventory control monitoring with highly visual cues.
Realize just-in-time part processing utilizing Kanban methods.
And, support programs designed to allow AAA to achieve continuous improvement objectives.
In other words, AAA wanted a multi-tasking system – one that can temporarily store parts, transport parts, safeguard parts and dispense parts at various process points and assembly stations throughout the plant.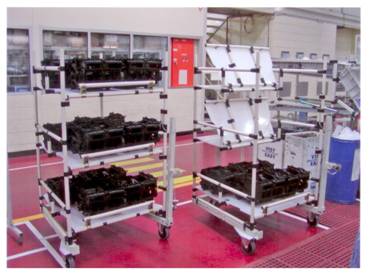 Australia Automotive Air Pty Ltd., with assistance from Industrial Conveying Australia and the worldwide Creform organization, has implemented a series of Creform System drawbridge carts – featuring gas strut tilt-up shelving, compact spacing and easy part access — to improve its lean manufacturing practices and enhance productivity.
For recommendations and assistance to this challenge, AAA sought out the services of Industrial Conveying Australia Pty Ltd. (ICA), located near Melbourne, Victoria, and specialists in providing logistical solutions for materials handling. Their range of services include process development and engineering, primary equipment design, automation & control systems, manufacture and supply, installation, implementing, training, and efficiency upgrades.
After a thorough review of the environment, operations and requirements at the AAA facility, and with a host of available options to select from, ICA suggested an innovative material handling system that met the all of the performance criteria as outlined by the auto supplier. That solution was a series of drawbridge carts designed and engineered by applications specialists of the Creform worldwide organization, and in the U.S. at Creform Corporation ( Greer, S.C.).
The drawbridge carts use the Creform System — a series of plastic-coated steel pipe, joints and hardware accessories that are easily assembled to create efficient, economical material handling structures that promote lean manufacturing.
The drawbridge cart concept consists of multiple tilt-up shelves — supported and lift-assisted by gas-charged struts — that, as shelves are cleared of inventory, can be raised up and out of the way, providing enhanced access to items on successive lower levels.
The Creform units provide the physical connection between the company's manufacturing/processing lines and its assembly stations, the means of moving parts and assemblies all the way along the process line. The simplicity of the system is to have a virtual continuous flow of moving stock along an unbounded conveyance, so nothing is stored. AAA refers to this as one-piece flow as opposed to conventional batch manufacturing where parts are accumulated and processed in large quantities.
"The ICA proposal to include the Creform system and its implementation has seamlessly linked all aspects of our production plant," says Andrew Coulson, AAA's TIE specialist. "We are not a warehouse. Our system is geared to receive, manufacture, assemble and ship to our customers' immediate requirements. The Creform structures are the tools that help us succeed.
"A major element contributing to that success is the fact that the cart concept provides for complete visibility, so if one of the stations in any of the sections is short of components or parts, then we instantly know something needs to be addressed. The whole system is configured so that it is very visible, and we can identify and set targets to reduce the levels of in-process stock. Rather than hide problems, Creform allows instant and early stage recognition of potential snags in the rare times we have problems."
For AAA, the drawbridge cart concept had other benefits, too. Because the tilt shelves, when raised, provide virtually unlimited access to lower levels, the spacing between levels can be minimized, eliminating the need for built-in access clearance of conventional stationary shelving. By narrowing the space between the levels, the drawbridge cart can be constructed with more levels to improve the use of floor space by minimizing the cart's footprint to load capacity ratio. To further improve access to parts for both loading and unload, the shelves of the AAA units were fashioned with hinges at the midpoint of shelves so they can be flipped over for added clearance to make it easier to see each part of the shelf.
With the addition of new Creform mounting hardware to the list of available accessories, the use of gas struts, similar to those found in automotive trunk and hatchback applications, is now integral to the drawbridge cart construction. The gas struts help control the speed of raising and lowering while helping to counterbalance the weight of each tilt-away shelf.
The versatility of the Creform carts, for AAA or any other material handling application, is one of the system's critical advantages. First, the Creform System itself allows for flexible frame construction, with sizes (height, width, depth) and configurations being determined by factoring optimal load capacities, inventory flow rates and maneuvering/floor space availability into the design criteria. This design simplicity is enhanced by the system's ease of construction, where the plastic-coated pipe sections can be cut to specified lengths. For assembly, the system utilizes either metal joints that clamp onto pipe sections via a threaded fastener, or plastic joints that are "welded" to the pipes with a Creform-formulated adhesive.
To bolster the range of use for the carts, shelving materials can be made of wood, plastic, metal or a lightweight grating material. Shelf construction can also be enhanced with foam dunnage for part protection, shadow boards for organization or compartmented to prevent part impingement. If required for over-the-road transport besides intra-plant conveyance, the shelves can be spaced so that, when in the lowered position, a shelf's parts are held in place by the shelf above. This retention minimizes the risks of product damage and loss without the need for supplementary in-process packaging. In addition, Creform's wide selection of components also includes latches that may be used to provide secure shelf lockdown during transport.
The drawbridge carts can also be configured with a towing hitch for transport behind a tugger. Creform offers both a towing tongue and a latch so that multiple carts can be trained together to optimize vehicle utilization. The carts can be equipped with either stem-style or bolt-on casters, available in a variety of wheel materials and sizes to facilitate travel over most floor and surface conditions, and work loads.
Depending upon the application, carts can be customized to have all shelves that tilt, or a mix of stationary and moveable units. Carts may be partitioned, where one (or more) sections have tiltable shelves, while other sections are stationary — the configurations are virtually limitless.
To assist in error-proofing operations, Creform provides pipe and tube sections in a wide variety of colors that can be used to signify various department destinations and help to visually distinguish parts for different models or lot sequences. And, the fact that one needs to empty and raise a shelf before access to the next lower level is possible, the carts are ideal for sequential build conditions, and to assure all parts are consumed.
For Coulson and Australian Automotive Air, the Creform drawbridge cart concept has also boosted staff performance and satisfaction.
"We've provided an environment where individual operators of each department owns their workspace, and they're responsible for it and the tools, including the carts, in that space," Coulson says. "Because Creform is completely non-mechanical, it gives the operator a better confidence in their job performance and requires no maintenance. The visual nature of the workflow has provided a greater sense of ownership within the process, and people can identify concerns as they arise with actions quickly initiated to resolve the problem before it becomes a major issue.
"A lot of detail went into the customization of the units, with input from the operators to make each workstation – their workstation – as efficient as possible. Where necessary, our Creform system units have been designed to accommodate very specific parts, components and containers, yet the system allows for easy modification of structures to suit different products, engineering changes, larger sizes, etc., as customer orders come on board. ICA and the Creform System of carts are large contributors to making Australian Automotive Air more productive."
In addition to the drawbridge carts, the Creform System can also be used to construct carts and racks including compartmented dunnage carts/racks and custom dunnage supports, brackets and hold-downs. Other representative examples of material handling and work assist structures include single-angle and dual-angle flow racks; a hybrid flow/storage rack with easy, tool-less shelf height adjustment; simple part presentation stands; push carts and trailers; roller conveyors; hinged shelf carts; tilting racks and tables; height adjustable work tables and workstations along with the portable tool cribs and locking storage units. The Creform System can also be used to implement economical and easy-to-install automated guided vehicle systems for efficient automated material delivery units.
Visit www.creform.com for additional information regarding Creform Corporation, its products and applications.