In the last issue of Reliable Plant magazine, I outlined the five stages of development as condition-based maintenance (CBM) programs grow and mature. Those stages include:
Stage 1: The plant does little, if any, condition-based maintenance.
Stage 2: The plant experiments with various CBM inspections and technologies.
Stage 3: The plant sees the benefits of CBM and expands its usage.
Stage 4: The plant has all of the key elements in place and the CBM program is producing real results.
Stage 5: The plant has an elite program that has achieved best practices and world-class performance.
This time, I will compare the differences at each stage, according to four key performance categories.
CBM and Formal Work Requests
First, consider the relationship between CBM and work requests.
At Level 1, the CBM program generates few, if any, formal work requests that make it into the computerized maintenance management software (CMMS) system for the purpose of planning and scheduling.
At Level 2, while CBM may be generating a great deal of information and reports, still only limited work requests are created.
Next, Level 3 is where 50 percent of the findings from the CBM program turn into work requests.
At Level 4, that number climbs to 80 percent.
Finally, at Level 5, all findings from the CBM program generate formal work requests.
So, let me ask you, at which stage are you?
The Resource Factor
Next, consider the matter of resources.
At Level 1, the program basically has no dedicated resources at all.
Level 2 is where you'll find part-time condition-based maintenance technicians who are frequently pulled off of tasks to do other maintenance. Here is a case in point: I recently heard about a CBM program where the technicians are regularly taken off-route to go inspect equipment that has already failed. In other words, the predictive maintenance (PdM) technologies are used to confirm what the operators already know - the equipment has failed. How crazy is that?
Back to resources. Level 3 is where you have full-time, dedicated CBM technicians, analysts and managers. The staff may be in-house or outsourced, but they are rarely pulled off of tasks for other assignments. What you see at the next level is that the team has begun cross-training on multiple technologies. And at Level 5, this is where you find multi-disciplined, multi-talented teams with certifications and working knowledge in multiple PdM technologies.
So, at which stage are you?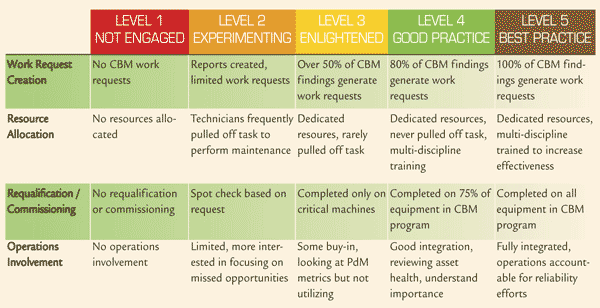 (Click Image to Enlarge)
Considering each level's characteristics, where would you place your CBM program?
CBM and A
cceptance Testing
Now, consider acceptance testing - the use of CBM technologies to inspect and verify new or reconditioned installations.
Plants at Level 1 simply are not using CBM for this purpose.
Next are the plants that do spot-checks on request. That's Level 2.
If you are using CBM for acceptance testing, but only on your most critical machines, that's Level 3.
If your plant applies acceptance testing to at least 75 percent of the equipment in the CBM program, that's Level 4.
Ultimately, world-class performance in this category means CBM is used to commission or requalify all equipment in the CBM program.
So, at which stage are you?
Involving Operations
Finally, it's impossible to have a successful CBM program without the trust, support and commitment from operations. So, let us look more closely at the relationship between CBM and operations.
At Level 1, you see little operations involvement at all.
Level 2 is where you get some limited buy-in from operations, but their focus is mostly on missed opportunities.
At Level 3, the CBM program has significant buy-in from operations, however not all the metrics are being fully utilized.
Level 4 is where everyone understands how important CBM is for determining asset health. CBM and operations are fully integrated.
Finally, at Level 5, operations assumes accountability for running a truly reliable plant.
At which stage are you?
Additional Thoughts
Remember, the greatest danger in condition-based maintenance is not risk. It's complacency. That is why it's so important to focus on key areas like the ones listed in this column. They make your program go. Once your plant has seen the benefits, you will never be satisfied with anything less.