At Owens Corning, energy efficiency takes center stage, and not just because the company's main product is glass fiber insulation for buildings. It is also because energy efficiency is important to the company itself, which comprises more than 125 manufacturing plants in 25 countries.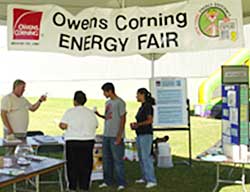 Owens Corning shares energy-efficiency information
with the community at a 2006 Energy Fair.
This focus on efficiency is producing measurable results.
"We've reduced our energy intensity by more than 15 percent since 2002," says Gale Tedhams, Owens Corning's director of sustainability.
Owens Corning has accomplished this by integrating best practices in energy management into its day-to-day operations. Energy efficiency is the subject of ongoing discussions not only among managers, energy teams and staff, but also with customers, suppliers and utilities.
"This conversation has been at the core of what we have brought to the market for 68 years," Tedhams says.
Although Owens Corning insulation products are designed to save energy, manufacturing them is an energy-intensive process.
"As you can imagine, it takes a lot of heat to melt glass," says Michele Mazza, project leader for energy-use reductions throughout the Insulating Systems Division.
Therefore, reducing the amount of energy used in the company's process heat, fan and compressed air systems is a priority.
Keeping in Touch
To reduce overall energy use, each plant in the company has an energy leader who is also part of a company-wide energy team. Team members stay in close contact about ways to further improve its impressive track record in industrial energy efficiency.
Plant energy leaders participate in conference calls about twice a month with their counterparts at other plants to share ideas and best practices for saving energy and keeping costs in line. Meeting minutes are distributed to all the company's leaders, not just those on energy teams.
Information and tools that plants can use to reduce their energy use are posted on the company's corporate intranet, which also includes links to numerous resources and energy-saving tips like the ones recommended by the U.S. Department of Energy's (DOE) Industrial Technologies Program. Posters containing energy tips grace the walls of individual plants. And, plant newsletters also feature energy information and tips tailored to a plant's operations.
The company hosts energy symposia for plant personnel as well as the larger community. Three community energy fairs held to date have emphasized sustainability and gained support from local utilities. Owens Corning also has a "Think Pink" toll-free number that homeowners, builders, architects and engineers can call with questions about company products and insulation in general.
Walking the Talk
In addition to this continual exchange of information, the company has a number of overall strategies, techniques and tools for containing energy costs. Individual plants meter their energy-using systems to help track actual usage. Metering and submetering help to keep plants informed about where additional conservation strategies are needed. Plant energy teams often work with local utilities and others to implement energy-saving improvements.
For example, an Owens Corning insulation plant in Salt Lake City, Utah, recently partnered with a power company and an engineering firm to identify ways to reduce the amount of electricity the plant was using for compressed air. Several energy-efficiency measures were developed and then approved for implementation. A baseline energy analysis was performed while the efficiency measures were being identified, and a similar analysis was conducted after new equipment was installed and commissioned. According to Owens Corning, the final analysis demonstrated that efficiency measures were reducing the plant's electricity use by nearly 1.3 million kilowatt-hours per year, or 6 percent overall.
Implemented measures included installing a 600-horsepower compressor, a 10,000-gallon air receiver, a process flow controller and high-efficiency engineered nozzles used for cleaning equipment. The plant also replaced a compressed air equipment dryer with a high-volume blower and installed equipment designed to lower overall air demand. In addition, a new state-of-the-art air leak detector was acquired.
As part of an ongoing commitment to savings, the Salt Lake City plant's energy team will continue to look for new ways to reduce energy use. Plant leader Paul H. Griffin says that successful energy reduction projects like this are proof that the company is "walking the talk."
Making Good Use of DOE Resources
Over the years, Owens Corning has also made good use of the many resources provided by DOE's Industrial Technologies Program. Sourcebooks, tip sheets and other valuable resources have all provided proven methods and tools for use in training staff and instituting company-wide best practices.
For example, staff at several plants have contacted experts at the DOE Energy Efficiency and Renewable Energy (EERE) Information Center for information and assistance on how to:
"Any company looking to launch an energy conservation program should tap into the resources that the Industrial Technologies Program has to offer," Mazza says. "ITP's sourcebooks and tip sheets were distributed to all our plant energy leaders and were a springboard to identifying energy savings opportunities. We plan to take advantage of ITP's training in 2007 as well as DOE's Energy Savings Assessments in order to better utilize software tools for validating and justifying energy projects."
One Owens Corning plant received a DOE Energy Savings Assessment (ESA) in 2006, and several more ESAs throughout the company are scheduled for 2007. They will look at different industrial systems (for example, process heating, steam and compressed air) for opportunities to save energy and money, and to validate energy-saving measures proposed for systems targeted by the company's energy teams. The company plans to take advantage of the training provided in the 2007 ESAs to conduct further assessments throughout its operations.
Working with DOE to Conserve Energy
Owens Corning has partnered with DOE and others on such research projects as one to develop a three-dimensional model of the melting process. The company has also helped to demonstrate a high-luminosity, low-emissions burner developed by researchers at the Gas Research Institute.
As part of its work with DOE, Owens Corning has been a corporate sponsor of DOE's popular Energy Savers booklet to spread the word about potential savings to consumers. This booklet has already educated thousands of people about good ways to reduce energy costs, and it is available in both English and Spanish versions.
Tedhams says, "To be on the edge of pushing our company's product and operational performance to the next level, while at the same time finding new and different ways to engage stakeholders in how they can make a difference in their own way, is fundamental to our thinking and incredibly rewarding."
Read More Energy Matters Articles on These Topics