In 1999, the ZF Sales and Service Organization (ZF SSO) – a Vernon Hills, Ill., facility which provides technical support and service for ZF products in North America including spare part sales, repair, remanufacturing and warranty administration – began a search for an improvement initiative.
A ZF SSO customer suggested lean and trained the group on using a few lean tools. There was good acceptance this initiative, but according to ZF SSO vice president Tim Corcoran, "nothing sank in."
In 2002, ZF SSO decided to work with the Lean Learning Center in Novi, Mich. Corcoran attended the center's two-day Lean Leadership program that focuses on lean thinking and developing the skills necessary to design, manage and improve business at all levels. Corcoran says the approach "helped us understand that lean tools are just the beginning. You also have to know how and why to use them."
"After returning from Novi, It became clear that lean transformation was going to be a top-down effort," says Corcoran.
ZF then sent management and supervisory members to the center's five-day Lean Experience class. Here, the objective is for participants to internalize lean through personal experience and application. As Lean Learning Center partner Andy Carlino explains, "Our form of instruction is certainly not the norm. Lean concepts are taught through discussion and hands-on discovery, not lectures."
As people began deploying what they had learned, ZF had some success. However, something was still missing. That something was an integrated approach and the leadership to direct it.
ZF's building management team became "the leadership team."
"Using a business excellence process to identify areas with the greatest opportunities," adds ZF's first designated lean leader, Norbert Schmelz, "the team prioritized projects, identified goals and set up yearly implementation plans."
This marked a major step forward in ZF's ability to make progress. For example, after a 2004 waste walk, the leadership team came up with a plan to reorganize and optimize its building. The staff said it would take six or seven months. The leadership team pushed hard to get it done faster. Three months later, both plant and warehouse were reconfigured to a lean layout.
It was the success of projects like this that helped impact and change the culture of the entire plant. Although lean principles were initiated from the leadership team, the acceptance by the entire plant to make a cultural shift to lean thinking was critical.
Standardization, simplification and integration
What started as an improvement initiative evolved into the Vernon Hills Business Management System, or VHBMS. Fully implemented in 2005, VHBMS was established to define procedures and processes and to identify the relationship between them.
"Previously called the Quality System, VHBMS is the backbone of the way we operate our company and is a combination of our ISO/TS 16949, lean and our ERP system," says Alex Kurzeder, IT/business process manager.
Adds Corcoran, "In the past, those would have been three separate chimneys of activity, which is why VHBMS is such a big change for us. It's become a major part of our drive to continuous improvement we could not have done this without lean thinking."
Driven by customer requirements, VHBMS encompasses ZF's quality operating system, quarterly strategic planning, business planning and goal-setting as well as monthly business management review and team-building.
A key component of VHBMS is the Vernon Hills Operating Process or VHOP, which details activities performed on a daily, weekly and monthly basis. Available to employees online in an easy-to-use spreadsheet format, each activity is color-coded and grouped by like needs.
"The rules of lean were used extensively in putting VHOP together," says Corcoran. "By structuring our activities, clearly connecting customers and suppliers, understanding and simplifying flows, and improving upon them by experimenting at the lowest possible levels, we cut about 1,000 different processes down to about 300."
Real success … lasting change
2005 was very productive at ZF in Vernon Hills. The VHBMS was implemented. TS16949 was achieved. The plant and warehouse were optimized. And the office was redone in a lean footprint using remanufactured furniture. The facility won ZF AG's Total Quality Management award. And, the organization improved its lean assessment score by 40 percent.
"Learning and internalizing the principles of lean is what creates the shared thinking that is so critical to long-term success," says Lean Learning Center partner Jamie Flinchbaugh.
But, ZF has also relied on its share of lean tools, such as scoreboards, waste walks, 5-S, standardized work, process mapping, visual management, problem solving and kaizen events.
"We've come a long way in a relatively short amount of time," says Corcoran. "Applying lean thinking has changed everything here at ZF SSO. We're an organization with a shared vision, working within a structure of simple, yet optimized activities and processes. For us, lean is the only game in town."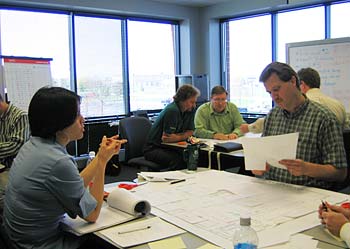 ZF Sales and Service Organization implemented lean tools such as kaizen events to help streamline processes and eliminate waste.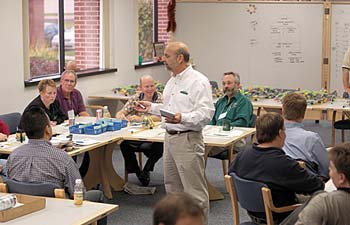 ZF sent management and supervisory members to the Lean Learning Center's Lean Experience class, where participants learn to internalize lean through application and hands-on experiences such as this airplane factory simulation exercise.