Launched 100 years ago and now sold in more than 120 countries, Toblerone is arguably the most popular chocolate bar ever made. Its distinctive triangular shape and unique blend of Swiss chocolate, honey and almond nougat have made it one of the strongest brands of all time in the food and confectionary industry.

Owned by Kraft Foods, the world's second-largest food and beverage company, Toblerone is still manufactured today in its hometown of Bern, Switzerland, in what is widely considered one of the most modern chocolate factories in the world.

Toblerone was created by Theodore Tobler and Emil Baumann in Bern, Switzerland, in 1908. The name comes from combining Tobler with the Italian word torrone (a type of nougat). In the Toblerone mountain logo is a hidden bear shape, symbolizing the town of its origin.
When Kraft launched its new product concept of Toblerone One by One – individually wrapped Toblerone peaks in five different flavors – it approached ABB for a robotics solution that would meet the following stringent requirements:
automatically feed chocolates to five foil-wrapping machines
collect and merge the packaged products for placement in palette containers
maximize access for monitoring, cleaning, service and maintenance
accommodate a three-shift operation
use simple component design
provide a simple operating system to facilitate frequent changes in personnel
ABB designed a solution that met all the criteria, and which has been successfully in operation since 2004. Kraft is able to manufacture the product in increasingly large volumes as it progressively launches Toblerone One by One in new markets all over the world.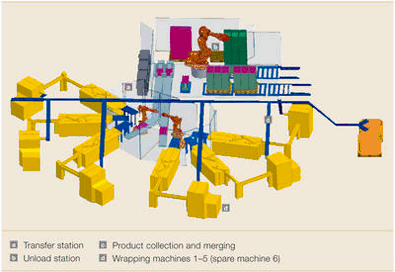 The Toblerone packaging system uses ABB IRB 2400 robots to "man" five transfer stations. The IRB 2400 is the best-selling industrial robot in the world.
At the heart of the solution is an IRB 6600, an agile, heavy-duty ABB robot with an extra-long reach of 3.2 meters, exceptional wrist torque and a unique bend-over-backward capability.
These features enable the robot to perform complex stacking and unloading tasks before the chocolates are conveyed to five transfer stations, each of which is manned by an ABB IRB 2400, the world's best-selling industrial robot.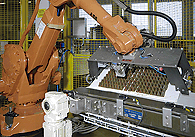 The IRB 6600 has an extra-long reach, exceptional wrist torque and a unique bend-over-backward capability.

The chocolates must remain evenly spaced when the robots transfer the Toblerone triangles onto the conveyor for individual foil wrapping. ABB robots achieve this by removing the tray from beneath the chocolates so gently that the chocolates remain in precise lines and the spacing between each one stays identical.

Read more about this solution in ABB Review.