I ran across the following entry recently while skimming through a manufacturing Web site's chatroom page: "I'm always reading about the Toyota Production System and how it has made Toyota the automotive powerhouse. How come very little is ever said about Honda? Honda is known for great quality, and it's doing very well. Don't they have secrets to success worth talking about?"
So true.
In 2006, Honda had another year of record sales. In the U.S., its sales total of 1.51 million cars and light trucks was 3.5 percent higher than 2005. Globally, it saw 5 percent growth on sales of 3.55 million vehicles.
The 2006 Harbour Report showed Honda's average profit per North American-made vehicle was $1,215. That figure was nearly five and a half times that of DaimlerChrysler ($223) and a world ahead of Ford ($590 loss per vehicle) and General Motors (minus-$2,496).
Honda also beat up the Big Three in operational performance for North American plants. The Harbour Report stated that the company's total assembly hours per vehicle (21.43) was 4.4 percent better than GM, 9.7 percent better than Chrysler and 9.8 percent better than Ford. Its total hours per unit (32.51) was 2.0 percent better than GM, 3.6 percent better than Chrysler and 9.2 percent better than Ford.
Then there are the intangibles. Honda ranked sixth overall in Harris Interactive's 2006 study on the world's best brands and was No. 19 in Business Week's best brands poll. It was No. 16 in Harris' corporate reputation survey. And, it was 20th on the Financial Times/PricewaterhouseCoopers list of the world's most respected companies.
Honda is an automotive, manufacturing and corporate economic superpower. But fair or unfair, it lives in the shadow of Toyota.
For the past two years, Toyota has dabbled with double-digit sales increases. Its profit per vehicle, according to the Harbour Report, was $1,587. Its per-vehicle assembly hours (21.33) and total hours per unit (29.40) also bested Honda. In regard to intangibles, Toyota ranked higher in all of the polls: No. 4 and No. 7 in the brand studies, No. 11 for corporate reputation and No. 3 among most respected companies.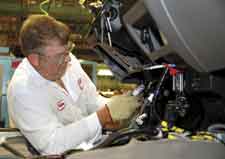 Honda has U.S. automobile plants in Ohio and Alabama. It will open a plant in Indiana in 2008.
Companies pursuing continuous improvement and world-class operations use Toyota as the role model and the comparison. It's only natural. You measure greatness against the Toyota standard, right? Well, perhaps.
I have visited Toyota plants, and have read books on the Toyota Production System. I'll admit those past experiences colored my vision when I began a half-day tour of Honda's minivan and SUV plant in Lincoln, Ala., in November. I used the first five minutes sketching out a "Honda vs. Toyota" chart. But as time passed, I forgot about the comparisons. The remaining hours were spent appreciating Honda for its own merits.
Honda is a quiet company, but the auto maker and its Alabama plant are a success story worth exploring. Some of my observations and interviews from that visit are found in the case study published in the March issue.
Access this article by clicking on the link below:
http://www.reliableplant.com/article.asp?pagetitle=CASE%20STUDY:%20The%20Honda%20way&articleid=5198