What is your biggest challenge related to condition-based maintenance? That's the simple question we at Allied Reliability have asked thousands of maintenance and reliability professionals. The No. 1 response we receive is this: convincing senior management why condition-based maintenance is important.
As one maintenance manager recently explained: "We had a very strong condition monitoring program here for about 15 years. We were very successful at preventing production losses by finding and resolving equipment problems before the equipment failed. Unfortunately, the company has gone through a series of management changes and reorganizations to become 'more competitive.' New managers don't yet understand the importance of the 'new' functions they have acquired, so the condition monitoring effort is now struggling a bit. Most managers are wondering why they even have to do any of it since the equipment seems to be performing just fine. They ask, 'why are we dedicating resources to this?'"
Is this the mind-set of your management? If that is the case, then August 7, 2006 should be their wake-up call. That's when oil giant BP admitted that a tiny, quarter-inch hole was part of a widespread corrosion problem affecting 16 miles of a 22-mile pipeline from Prudhoe Bay in Alaska. As a result, BP was forced to shut down up to 400,000 barrels a day of production from the largest oil field in the United States.
With shutdown and repair costs in the hundreds of millions of dollars, the financial impact is staggering. Yet BP's battle with corrosion in Alaska is a reflection of a much bigger problem plaguing many plants: Aging assets and years of poor maintenance are now taking their financial toll.
What follows are two key lessons that every senior manager should learn from BP's incident.
TIME IS MONEY
Despite what you may have heard, the basic maintenance process is really simple:
1) Identify equipment defects

2) Plan and schedule the repairs

3) Eliminate the defects
Now, the real secret to effective maintenance is the first step - detection. Why? That's because there is a direct correlation between detection time and maintenance costs. Simply put, the earlier you can detect problems, the faster, cheaper and easier it is to make repairs. A graph on the next page illustrates that point.
You've seen the damage at BP. The costs of emergency repairs can be astronomical. There is a huge difference between emergency maintenance and planned, proactive maintenance.
Lesson No. 1: In maintenance, time is money. Late detection means costly corrections.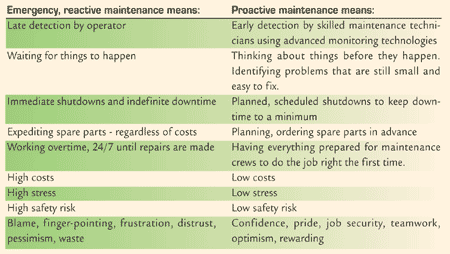 TRUTH ABOUT BREAKDOWNS
That quarter-inch hole in BP's pipeline didn't just happen overnight. Like most failures, it developed over a period of weeks, months or years.
The fact is, equipment problems start small and get worse with time, giving off warning signals along the way. These signals could be slight changes in physical dimensions - like pipe thickness at BP. Or, they could be minor changes in temperature, vibration or sound.
Not all of these changes can be detected by the human senses. But, they can be picked up with special equipment designed for that purpose. That's what the field of condition monitoring and predictive maintenance is all about. With advanced technologies like vibration analysis, infrared thermography and ultrasound, trained technicians can routinely monitor equipment and detect these early warning signals.
The difference between the time a predictive maintenance specialist detects problems and when an operator notices them are huge. Remember, detection time equals money . . . big money.
The reality is, most manufacturers are simply not doing enough predictive and condition-based maintenance. Even though predictive maintenance has been around for more than 40 years, it's still new to some organizations. That leads to late detections, reactive maintenance and all of the painful costs that come with those outcomes.
Lesson No. 2: Condition monitoring and predictive maintenance should be a major part of your reliability strategy and account for at least 50 percent of your maintenance work.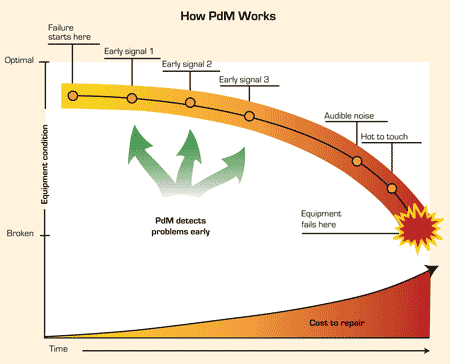 (Click Image to Enlarge)
Graph 1. Predictive maintenance finds problems early, helping you avoid breakdowns.