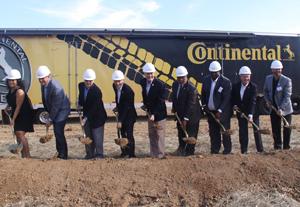 Continental recently broke ground at the site of its new truck tire plant near Clinton, Mississippi. The manufacturing facility, which is expected to be completed in 2019, will employ 2,500 people when it reaches full capacity.
The groundbreaking ceremony marking the beginning of the construction process was attended by a number of federal, state and local government officials.
"Building this new facility in Mississippi is a critical part to our growth strategy for Continental Tire, known as Vision 2025," said Nikolai Setzer, member of Continental's executive board and head of the company's global tire business worldwide. "This is the first new plant globally for the truck tire business in more than 10 years."
Not including the planned $1.4-billion investment in Mississippi, Continental has invested nearly $2.5 billion in the past decade for manufacturing, technology, facilities and product development to grow its tire business in the Americas.
Part of this investment has been the expansion of Continental's tire plant in Mt. Vernon, Illinois, and the new facility in Sumter, South Carolina.
As one of the largest manufacturers of truck, bus and commercial specialty tires worldwide, Continental currently employs approximately 215,000 people in 55 countries.
For more information, visit www.continental-tires.com.