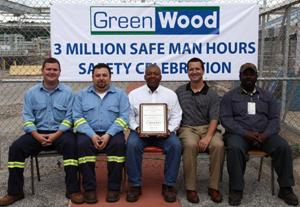 Maintenance, operations and construction solutions provider Greenwood Inc. recently celebrated 3 million safe hours at its West Virginia Operations (WVO) project based in South Charleston, W.Va. The safety milestone was reached after 12 years of continuous operations without a lost-time event while supporting clients in the chemical and petrochemical industries.
Greenwood president Brad Wood presented the operations team with a plaque commemorating the achievement and specifically cited Greenwood's WVO safety manager, Tony Dean, and area project manager, Kenny Steen, for their leadership in setting the right course for site operations. Carhartt jackets were given to Greenwood employees as a gesture of appreciation for maintaining a safe work environment.
"On the surface, safety can seem like a simple concept, but it has to be a priority every day," Wood said. "We work very hard to train all employees at every level to perform safely and continuously maintain that kind of mindset. We are proud to achieve these performance results and appreciate the effort everyone puts forth to emphasize safety first."
Greenwood provides integrated maintenance, construction and workforce solutions designed to extend the life of critical assets, influence operational efficiencies and deliver bottom-line improvements for plants and facilities throughout the Southeast and Mid-Atlantic states. For more information, visit www.Greenwoodinc.com.