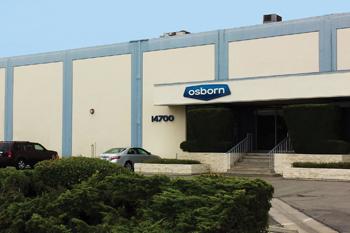 Osborn recently expanded its manufacturing facility in Santa Fe Springs, Calif., to include all its product lines, including buff, brush and compound product line production and distribution.
The manufacturing and distribution center previously only provided services for Osborn's buff product line. By expanding its West Coast facility, the company hopes to improve availability and delivery for Osborn customers in the area.
"We identified the need to expand this facility and the product lines due to the increased demand in the region," said Todd Reasonover, Osborn's national director of sales. "By producing and distributing all product lines at this facility, West Coast customers will have an overall better experience from order to delivery."
Earlier in 2013, Osborn implemented a new sales growth strategy to enable effective and efficient growth. The expansion of its capabilities in Santa Fe Springs is part of improving efficiency in the areas of sales, inventory and logistics. The new facility will also continue to adhere to Osborn's commitment to quality, innovation, excellence and service.
A unit of Jason Inc., Osborn is a leading supplier of surface-treatment solutions and high-quality finishing tools for hundreds of industrial and commercial applications such as metal finishing, honing and surface polishing. The company has operations in 15 countries and serves customers in more than 100 countries. For more information, visit www.osborn.com.