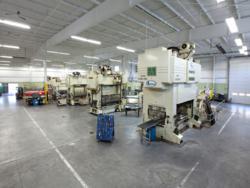 Larson Tool and Stamping recently completed construction of its expanded manufacturing facility in Attleboro, Mass., to accommodate the addition of a new deep-draw hydraulic press line.
The new press line has a 300-ton capacity, is fully automated with a five-station transfer system and incorporates a zigzag feed to optimize material usage. The press and feed are part of a manufacturing system designed and developed completely by Larson's engineering staff.
"We utilized lean principles, including one-piece workflow, providing a complete process from raw materials to packaged product," said Chuck Cederberg, president of Larson Tool. "The automation system and press tooling were manufactured and installed in-house by Larson's tool makers. Our investment in expansion and new equipment represents an ongoing commitment to helping our customers stay competitive in the marketplace."
The new custom-designed press line required Larson to add 2,500 square feet to its manufacturing facility. As part of the company's green initiative, radiant floor heating was installed to utilize heat from process cooling water, while the press line and related processes were arranged to create optimal workflow and production efficiency.
For more information, visit www.larsontool.com.