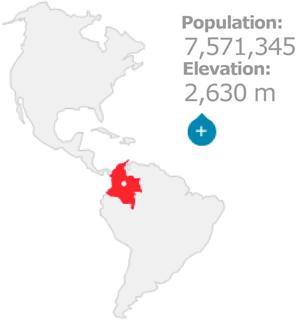 Recently I was granted the opportunity to visit the beautiful country of Colombia by invitation from Proexport Colombia, Invest in Bogota, and Invest Pacific, three organizations responsible for assisting companies interested in launching their operations within various regions of the country; the primary focus of this visit was more specifically to learn more about the manufacturing industry within Colombia and both the unique advantages and challenges associated thereof.
Though I'd already acquired a fair amount of international travel experience under my belt prior to heading out for Colombia, this was to be my first visit to the South American continent altogether and, given the somewhat notorious stigma clouding the country, I truthfully had no idea of what to expect upon arrival. On the bright side, I was able to take a bit of comfort in knowing that the little amount of Spanish I spoke could help me in locating the nearest telephone, bathroom, and/or bar (possibly most importantly), should Murphy's Law go into effect during my stay.
Skipping ahead past a couple short flights, some semi-satisfying airline peanuts, and a relatively painless induction through Colombian international customs, I found myself warmly greeted by Bogota's pleasant spring climate and Jose, a representative of Proexport Colombia who would be my guide throughout the duration of the visit. As we trekked toward the hotel for the night, Jose and I exchanged niceties and briefly reviewed our robust itinerary for the week, in which would visit several large manufacturing companies throughout Bogota, Medellin, and Cali, the largest and most diverse of Colombia's cities. Upon arriving to the hotel, enduring the nuances of check-in and unpacking, I was ready to call it a night; my hefty work week was just about to get started.
The next few days proceeded to be a whirlwind of lengthy meetings and factory tours, along with hours of taxiing between said meetings; thankfully, in order to maintain this high octane schedule, I was able to rely heavily on one of Colombia's most famous exports…coffee (I know what you were thinking)! Additionally, though the actual distance between each city is relatively short, flight was required for reasonable commutes between Bogota, Medellin, and Cali due to the mountainous topography throughout the country, a logistical challenge that many businesses faced within the region.
Meeting with over a dozen manufacturing companies throughout my visit, some of the more notable ones that I engaged included Haceb, a large manufacturer and distributor of both household and commercial appliances throughout South America, Mac-Johnson Controls Colombia, one of the largest battery manufacturing companies in the world (distributes to 60+ countries), and Cerveceria del Valle, Colombia's largest brewing company and my personal favorite stop among the meetings; additionally, I also spent a fair amount of time with staff members from each of the three organizations supporting my visit and learned a great deal more about the overall economic climate of Colombia, strategic advantages by region, and ongoing government initiatives to further promote long-term, sustainable economic growth. Based on information that these organizations provided me with, along with the comprehensive feedback I obtained from each manufacturing company, I was able identify both the advantages and challenges associated with manufacturing in Colombia.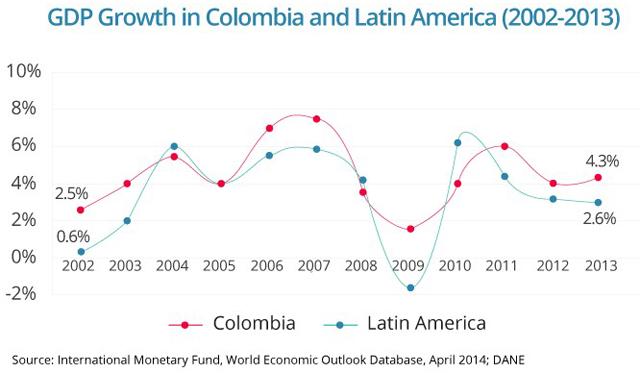 ADVANTAGES
Economic Stability: Despite the negative light that has been cast upon the country due to past civil unrest and illegal drug trade, Colombia currently has one of the healthiest and most stable economies within South America, holding the third largest population, as well as the fifth largest consumer market and fastest growing market within Latin America throughout the last decade; all of these factors point toward Colombia as a good starting point for international companies wishing to expand to their operations to South America.
Internationally Strategic Location: Due to its geographical location, Colombia serves as a gateway for various markets, being at the forefront of where Central and South America meet, and touching both the Pacific Ocean and Caribbean sea; such features enable manufacturers to easily import and export products from North America, South America, the Caribbean, and beyond.
International Trade Agreements and Free-Trade Zones: According to Proexport Colombia, Colombia holds over a hundred free trade zones, with approximately thirty of those being open; additionally, the country holds trade agreements with several North American, Latin American, and European countries, enabling greater ease of international operations. Such agreements, when paired with the lower barriers to entry (as stated by several manufacturers I spoke with) and average labor cost, may all contribute to making one's operations highly lucrative within Colombia.
CHALLENGES
Geographical Landscape: As previously mentioned, though Colombia holds a strategic location for international operations, its mountainous landscape makes domestic business operations between cities much more difficult; for this reason, manufacturers must be deliberate in how they setting up shop, analyzing the market of each Colombian market separately, determining what it will bear, and considering where they may wish to import/export from in the future in relation to that city's location within the country.
Developing Infrastructure: Further exacerbating complications associated with Colombia's topography, the country currently struggles in providing reliable and efficient means of public ground transportation within some of its major cities, such as Bogota, as well as improved highway networks between these cities; consequently, cities such as Bogota are pushing to expand their metro systems (projected to begin in 2015) and the federal government has proposed the "Highways for Prosperity" initiative, in which two new major highway systems will be created to benefit local business and residents alike.
Increasing Stability: Though I personally never encountered any threatening circumstances throughout my visit to Bogota, Medellin, or Cali, my local contacts were transparent in admitting that, like most countries, there are certain areas that are of higher risk and best avoided; though unrest still exists between the Colombian government and local guerillas, it seems that the country has taken great strides in suppressing such conflict and implementing peace throughout the region.
Regarding the Colombian scenery and culture, though I had little time to enjoy the many tourist attractions this country has to offer, I was able to take in its beautiful landscape throughout my travels, experience the warmth and friendliness of its people, and partake in some of its wonderful food and drinks; given the opportunity, I would gladly go back to visit, as I have yet to experience Colombia's nightlife and festivities.
To those who might be interested in expanding their current operations to Colombia, I would highly recommend first contacting one of the previously mentioned organizations, Proexport, Invest in Bogota, or Invest Pacific, depending on the region within Colombia that you are interested in, as they can provide a great deal of assistance in getting started.