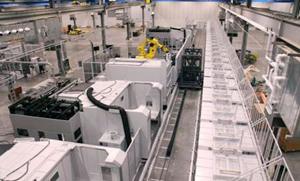 Japanese machine tool manufacturer Mori Seiki recently held the grand opening of its new factory in Davis, Calif. The $50-million facility is the first overseas manufacturing base for the company. It will employ 200 people and produce mainly horizontal machining centers for customers in the United States and neighboring countries.
The ribbon-cutting ceremony was attended by Dr. Masahiko Mori, president of Mori Seiki Co., along with the staff of both Mori Seiki Manufacturing and Digital Technology Laboratory (DTL). The factory and adjacent research and development center comprise a combined 291,000 square feet, with eight additional acres reserved for future expansion.
Mori Seiki NHX4000, NHX5000 and NHX5500 machines will be built at the highly automated factory, with column and medium part machining on three NHX10000 machines installed with a linear pallet pool (LPP) system. More than 40 percent of the machine components will be produced domestically, with spindles and ball screws being imported from Mori Seiki Japan. Domestic content will continue to increase as additional suppliers are secured.
To maintain economic and environmental standards, the factory will perform dry and minimum quantity lubricant (MQL) machining only, with chip evacuation by vacuum, in a temperature-controlled facility.
For more information, visit www.moriseiki.com.