Preformed Line Products (PLP) in Albemarle, N.C., is psyched about lean manufacturing and improving quality, cost and delivery in its business. Working with North Carolina State University's Industrial Extension Service specialists, the company has embraced lean with a passion and its results are superb. Today, PLP is operating at least $2 million more efficiently than it was in 2002, largely due to lean techniques.
PLP manufactures pole line hardware – products used by telecommunications, energy and cable television businesses.
The 278,000-square-foot plant sits on a 25-acre site on the outskirts of Albemarle. The plant employs nearly 160 people, all of whom have received lean training, and nearly half of whom are deeply involved in lean projects. PLP has also completed lean training at other manufacturing locations in Rogers, Ark.; Asheville, N.C.; and at its corporate headquarters in Cleveland.
Captain Kaizen
One enthusiastic employee, Mark Stogner, is known as Captain Kaizen around the Albemarle plant.
"I became a believer when N.C. State University lean trainer David Ball had us do a simple exercise that demonstrated lean efficiencies," said Stogner, a design machinist. "I had not seen this before. I know now lean is the way to go. We need to get everyone involved so we can keep making improvements. We need more kaizen events where you get out there and do it. You see fast results and get to do a lot of brainstorming."
N.C. State extension specialists got involved with PLP in 2003, teaching a Lean 100 class to about 30 employees. These initial trainees immersed themselves in learning more about lean, reading, observing and receiving direct encouragement from corporate headquarters. In late 2004, PLP received an Incumbent Workforce Development Grant from the state, and they worked with the university throughout 2005 in a flurry of activities.
Start at the top
"We started with Lean Leader, a series of 10 one-day classes that focused on one topic per class," said PLP training facilitator Beth Hinson. "We did this because we wanted our management team to gain an in-depth knowledge."
Several N.C. State facilitators conducted these sessions, which included exercises on the plant floor.
"Some of the people working on the floor watched us move things or take things away during this period," Hinson said. "They did not know what we were up to and thought we were nuts."
Positive reaction
"When we started working with lean, they took some of our equipment away and we didn't know how we were going to do our jobs," said department supervisor Debbie Little. "But then we found out we didn't need the equipment. There was resistance because sometimes it seemed like our people were doing less than they had before. But once we showed them the reduction in a work order, from 14 days to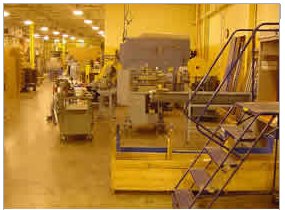 Before: Equipment clutters the work area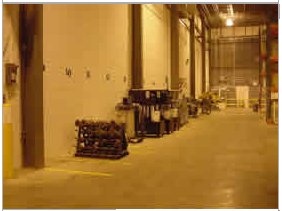 After: Unused equipment moved to storage
Darlene Brewington, secondary operations worker, participated in one of the lean events as a team member.
"At first, it was hard to believe it would work, and when we brought up ideas, people would resist, asking why," she said. "But once we saw the flow, it began to work. Lean is a great system; it brings us together as a team."
Throughout last year, Hinson depended on the N.C. State team to teach her more about lean. She became so proficient that she developed her own internal curriculum. All employees have received this training; she has even delivered it to a group of officers from PLP's corporate headquarters.
"Although I was nervous at first," she said, "the training with the executives went well. It brought attention to our lean success and focus on our lean abilities. I give N.C. State a lot of credit for this; I could not have developed the curriculum without the learning they provided."
More lean savings
Overlapping the Lean Leader training series, PLP also began implementing multi-day events focusing on specific plant areas, incorporating lean tools such as value stream mapping, setup reduction, and continuous flow. They conducted nearly a half-dozen of these events in 2005 with the help of the university, and did other events themselves.
The plant achieved remarkable results, reducing floor space by 50 percent, reducing setup times by as much as 75 percent and improving productivity by nearly 25 percent. They also cleaned, organized and sorted (part of the 6-S process) to reduce waste, improve efficiency and create a more pleasant environment. All of these processes continue, because lean is always about continuous improvement.
In the COYOTE Grommet department, a lone employee working in a new cell layout created by a recent lean event talked about his experience of lean.
"I knew we needed to do something because before this new layout, we were walking, bending too much and things were out of place," said Chad Archer, senior casting operator. "Now it's wonderful. We reduced physical strain and use fewer people to produce twice the number of products. I love lean."
Long-term benefits
Plant manager John Ziebarth sees lean as a distinct competitive advantage, a way to help them think outside the box, and a way to use simple solutions for huge gains. He also sees lean as an important sales tool; the Albemarle facility frequently has customers tour the plant accompanied by the corporate sales and marketing group.
He believes N.C. State was instrumental to the plant's lean success, and credits it with bringing in experts who use all the lean tools, teach the theory, and get out on the floor and apply it.
"They taught us a lot, and now we do it ourselves with a new comfort level," he said.
Next on the lean agenda for PLP is completing all the action items from the myriad of lean events previously conducted, and focusing on one large project, creating a one-piece flow in a critical part of the helical rod spacer production process. Whatever the project, PLP is sold on lean, and it knows that productivity gains will continue.
For more information about lean manufacturing and NCSU's lean programs, visit www.ies.ncsu.edu.