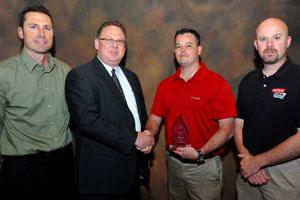 Baldwin Filters' plant in Gothenburg, Neb., recently received the Safety Spirit Award for 2011 from the Nebraska Safety Council at its annual conference in Lincoln, Neb.
The award is presented to facilities based on their training activities, safety committee activities, sustainability, current year statistics and programs that are in place to achieve safety in the work place.
The Nebraska Safety Council is a nonprofit organization that provides leadership and resources to promote a safe and healthy work environment across Nebraska.
"This achievement could not have been earned without the efforts of all our employees and managers," said Brian Riley, plant manager of the Gothenburg facility. "Our safety committee, as well as the managers and employees of Gothenburg, worked tirelessly to improve safety in our facility over the past 5 years."
Baldwin Filters produces more than 6,000 lube, air, fuel, hydraulic, coolant and transmission filtration products. For information, visit www.baldwinfilter.com.