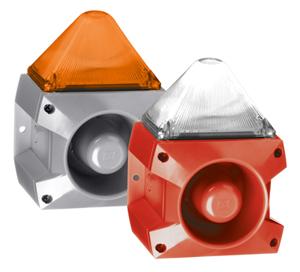 Pfannenberg has introduced a new line of industrial flashing sounders. The new Patrol Series PA X 5 flashing sounders offer the ability to select from 80 unique tones, including continuous, sweeping, alternating, pulsing and interrupted tones, as well as simulated bells, sirens and whoops that meet international standards.
Each unit is designed as an integrated flashing sounder rather than combining a sounder with a bolted-on flashing light.
Frequency content of delivered tones has been engineered to provide more "punch-through" of obstacles such as walls and doors for a wider area of coverage.
The flashing strobe is available with either 5- or 10-joule flash energy to produce a level of alarming to suit the required area of visible coverage and hazard severity for the application.
Users can choose from a wide selection of acoustic tones that are electronically self-generated. Four tone stages are available at each setting. In addition, since there are no moving parts, the device's reliability is enhanced for critical applications.
The housing is manufactured from a UV-resistant and flame-retardant polycarbonate/ABS blend and is offered in red, gray or white to meet application requirements and building decor.
The large lens cover is highly visible and available in a variety of colors. The strobe flash tube contains no filament to break and is secured by a steel clamp to further protect it from abuse.
Each unit splits into two pieces for ease of installation. The base portion facilitates all wiring connections so installation is straightforward and requires only one person. Redundant contacts are provided for daisy-chaining of multiple units.
"The design team at Pfannenberg truly took a step back in order to evaluate the flashing sounder's entire solution requirements from performance, handling and installation perspectives," says product manager Ray Limburg. "The result is an elegantly engineered product that delivers multiple advantages, which system integrators, facilities engineers, machinery safety engineers and installation electricians will benefit from."
For more information, visit www.pfannenbergusa.com.