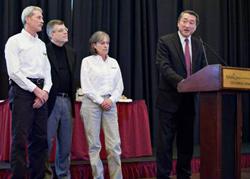 Toyota's Columbus, Ind., manufacturing plant, Toyota Industrial Equipment Mfg. (TIEM), has been named "Company of the Year" by the Columbus Area Chamber of Commerce. TIEM was presented the award at the chamber's recent annual meeting.
"Toyota is very honored by this recognition," said Toshiya Yamagishi, president of TIEM. "As a company, we are committed to enhancing our associates' quality of life and contributing to the overall success of our community."
Each year, the chamber bestows a number of awards of distinction in order to foster a culture of excellence. These awards recognize extraordinary contributions from the business community that reflect positively on the quality and expertise of the Columbus, Ind., community. TIEM was selected as the "Company of the Year" because of distinctive accomplishments that impacted associates, the community and the marketplace.
The chamber recognized TIEM's accomplishments, which include:
The establishment of a recovery plan soon after Japan's 2011 earthquake and tsunami that adjusted work schedules and allowed associates to continue 40-hour work weeks.
TIEM's zero-landfill facility designation achieved by shifting to a waste-to-energy facility and implementing recycling programs.
The addition of new risk-assessment training, which resulted in a 65-percent reduction in safety incidents.
The integration of a total plant maintenance program that reduced emergency repairs to just 11 percent of overall maintenance performed in 2009 and enabled the cost-per-hour of downtime to be reduced by 10 percent in the same period.
TIEM designs, manufactures and supplies Toyota lift trucks and parts associated with Toyota lift trucks and tow tractors, and assembles motor vehicle parts and accessories. The facility, which was named a 2011 North American Best Plant by IndustryWeek magazine, is a member of the National Safety Council, complies with the ISO 14001 standard from the International Organization for Standardization and has produced more than 400,000 Toyota lift trucks since its opening in 1990. For more information, visit www.toyotaforklift.com.