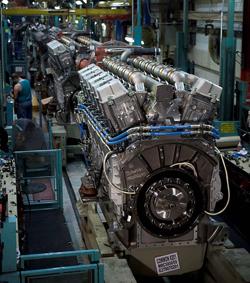 GE Transportation recently announced plans to establish a new production facility in Grove City, Pa., to meet accelerating demand for remanufacturing services. The company will invest approximately $35 million to build capacity at a new diesel engine remanufacturing plant, along with an additional $37 million in the existing plant, for a combined investment of $72 million in manufacturing in Grove City.
The new facility will be located at an existing site where GE anticipates employing up to 250 employees by early 2013, including approximately 100 current GE employees who will transfer from the current Grove City facility. Production is scheduled to begin by the end of 2012.
GE Transportation expects demand for remanufacturing services to increase significantly in coming years. This increase will be driven by routine locomotive overhaul cycles and the need to comply with stringent EPA Tier 3 emissions standards for diesel engines by 2013.
"This new facility will enable GE Transportation to better serve its customers while meeting a dramatic increase in demand for remanufacturing in the next few years," said Richard Simpson, GE Transportation's global services supply chain operations leader.
Originally a site for remanufacturing operations only, GE's Grove City plant has expanded its scope over the years to build new and remanufactured products for GE Transportation and its customers worldwide. Its total annual production of approximately 2,000 engines a year makes it one of the largest locomotive diesel engine manufacturing sites in the world.
"The Grove City plant celebrated its 40th anniversary earlier (in 2011), and today's announcement reflects GE Transportation's continued long-term investment here," said plant manager Bill Carney. "Grove City is already home to one of the largest diesel engine manufacturers in the world, and now it will be home to one of the largest diesel engine remanufacturing facilities as well."
Headquartered in Erie, Pa., GE Transportation is a global technology leader and supplier to the railroad, marine, drilling, mining and energy storage industries. The company, which employs approximately 11,000 employees worldwide, provides freight and passenger locomotives, signaling and communications systems, information technology solutions, marine engines, motorized drive systems for mining trucks and drills, high-quality replacement parts and value-added services. For more information, visit www.getransportation.com.