Bringing convenience and mobility to industrial maintenance, 24/7 Systems, Inc. now offers Tango™ Mobile. Tango™ software on a smart phone allows plant personnel and managers to retrieve information about plant equipment stored through Tango™ Reliability Information Management.
One problem with asset information is that the asset and its reliability information are located in distant areas. To look up or enter asset information, technicians must leave the asset and go to the computer inan office to access the information.
Tango™ QR codes can be installed on equipment by plant personnel, contractors or repair vendors.
Quickly scan a QR code with Tango™ Mobile and instantly view the following information:
Condition Monitoring History
Equipment Repair History
Equipment Design Details
Linked Documents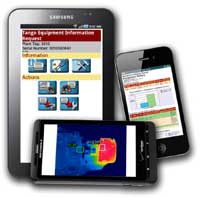 Authorized Tango™ users may connect to the plant's Tango™ database. With the appropriate level of permissions, a user can trigger several actions to enter condition status information, search for replacements in inventory, and enter condition information.
24/7 Systems provides web services focused on managing lifecycle history and condition information for industrial equipment at more than 250 industrial plant worldwide. Tango™ Reliability Information Management provides a single web hosted database for integrating and analyzing plant equipment reliability information. Information gathered through Tango™, Tango™ Mobile, Repair Tracker™, and Oilography™ is used to report and measure equipment reliability throughout the plant.
Tango Mobile™ is the latest release from 24/7 Systems, Inc. and joins the family of Tango™ Reliability Management solutions. A Tango™ Mobile Quick Start Guide is available at www.tf7.com.