A power quality solution has boosted the power factor at a state-of-the-art Fiat car factory in India to 99.5 percent, and brought significant productivity benefits in terms of better welding quality and improved network stability.
The solution comprises two ABB power technologies – STATCON and DYNACOMP – that provide fast and smooth dynamic reactive power compensation and solve a variety of industrial network power quality problems associated with fast and variable loads such as low power factor, voltage sags, flicker and high harmonic levels.

The Fiat factory at Pune has been in operation since 2007 and is among the most modern automotive production facilities in India, although the reactive and rapidly fluctuating loads in its various manufacturing shops had been seriously affecting power quality.

Spot welding in particular causes short, sudden bursts of current that create disturbances in the power network. The disturbances in turn reduce welding quality and lead to higher levels of rejects and electrode wastage.
The ABB solution has successfully helped to achieve an impressive power factor of almost 100 percent even in the spot welding shop, which is a classic example of an application continuously subjected to fast dynamic reactive loads.

Besides network stability and energy savings, the improved power factor has also reduced maintenance in the welding shop and lowered the wastage of costly electrodes. In addition, the solution's innovative power save mode restarts automatically when loads are sensed, thereby saving on auxiliary power and eliminating manual starts.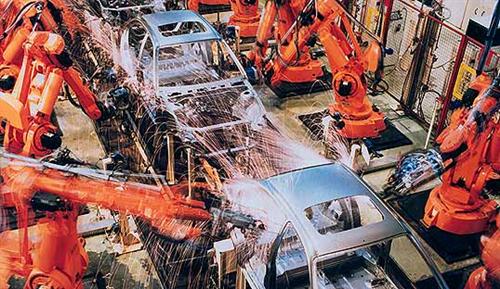 Figure 1. A line of ABB IRB 6400 robots performing spot welding in an automotive factory. Spot welding produces voltage spikes that require reactive power compensation to maintain the efficiency of the factory's power network.

STATCON is a technology based on IGBT (insulated gate bipolar transistor – a fast switching and highly efficient power semiconductor) that provides ultrafast dynamic reactive power compensation with a response time of only 20 to 30 milliseconds. It provides smooth, step-less compensation by generating inductive or capacitive power, and is an ideal solution for improving power quality in weak networks. Typical applications include railways, welding, rolling mills, furnaces and similar industrial loads that rapidly draw reactive power.

STATCON was designed and developed by ABB India. The latest generation features control, operational, optimization, protection diagnostics and user interface enhancements that meet the market's growing needs for advanced functionality. It is the only reactive power compensator to be approved for use on India's railways.

In addition to STATCON, the ABB solution includes DYNACOMP, an advanced thyristor-switched capacitor that provides ultra-rapid and transient-free power factor compensation for the low voltage network. A total of 23 DYNACOMP panels of various power ratings were installed at substations that feed the powertrain, body-in-white, paint and assembly shops, as well as the R&D facility and utility systems.

The result of the ABB solution has been the stabilization of the site's power network, a significant decrease in power consumption, the avoidance of penalties from the grid operator for consuming excessive amounts of reactive power, improvements in welding consistency and productivity, and less maintenance in the welding shop.

Fiat India is a 50-50 joint venture between Fiat and Tata Motors. The factory has the capacity to produce up to 100,000 cars and 200,000 engines a year.

For more information, visit the ABB Web site at www.abb.com.