As the world leader in the production and management of primary aluminum, fabricated aluminum and alumina combined, Alcoa Inc. of Pittsburgh is an active participant in all major aspects of the industry – technology, mining, refining, smelting, fabricating and recycling. Alcoa employs approximately 23,000 people throughout the United States. In addition to inventing the modern-day aluminum industry, Alcoa innovation has been behind major milestones in the aerospace, automotive, packaging, building and construction, commercial transportation, consumer electronics, and industrial markets over the past 120 years.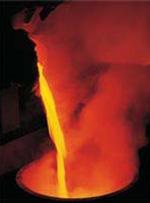 Sustainability is an integral part of Alcoa's operating practices and the product design and engineering it provides to customers. Alcoa has been a member of the Dow Jones Sustainability Index for eight consecutive years, and approximately 75 percent of all the aluminum produced since 1888 is still in active use today. To help achieve its aggressive efficiency goals, Alcoa has built and maintained a solid relationship with the U.S. Department of Energy (DOE). Alcoa first teamed with DOE in 1999 and began identifying energy-reduction opportunities. Since then, Alcoa has successfully used DOE tools and resources to improve energy efficiency. For example, the company has conducted energy assessments at individual Alcoa plants, hosted training to educate Alcoa employees about energy conservation, showcased and demonstrated technologies, and worked with DOE to establish an Energy Efficiency Network within the company in 2002.
"We are really becoming reinvigorated in the energy-efficiency process, focusing on our people as much as the technology," said Walter Brockway, PE, CEM, Alcoa's manager of global energy efficiency. "Our efforts are focused on using our global reach and coordination of resources to pull together people in different regions around the world to share information about energy efficiency."
In May 2010, Alcoa joined the Save Energy Now initiative as a LEADER, pledging to reduce its energy intensity 25 percent over the next 10 years. As a company that spends more than $2 billion on energy, the 25 percent reduction in energy intensity means that Alcoa has the potential to save more than $500 million annually on their energy spending.
For more information about Alcoa's energy efficiency efforts, contact Walter Brockway, PE, CEM, at 865-594-4624 or e-mail Walter.Brockway@alcoa.com.