Since being founded in Parma, Italy, in 1877, Barilla, a family-run company, has been dedicated to producing high-quality food products for consumers around the world. In 1996, Barilla America Inc. expanded to the United States, where it has become the No. 1 national brand of pasta.

The challenge
Italian pasta is a recognized dish all over the world, but in the United States in particular, desire for the authentic Italian product has been outstripping demand. This demand inspired Barilla to build a second factory, employing 120 people in the state of New York, where up to 100,000 tons of pasta could be produced each year. Barilla wanted the new plant, which represented a $100 million investment, to build upon its high-quality production standards already established at plants in Italy and elsewhere around the world. For this reason, the company decided to use Italian specialist machine and production line builders and specified that they must use automation solutions by Rockwell Automation, a leading global provider of industrial automation control and information systems. The solution from Rockwell Automation allowed contractors to benefit from products already compliant with the National Electrical Code (NEC) standards and Underwriters Laboratories (UL) safety certification, which are essential to install machines on U.S. territory.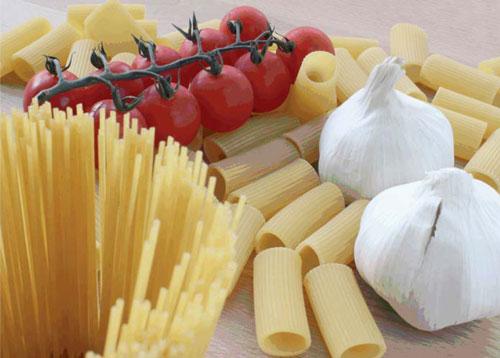 Solution and implementation
Italian machine builders worked on the new plant, installing automated systems using Rockwell Automation solutions. The Barilla plant was automated from the point the raw ingredients entered the facility, through the production of the different pasta varieties, to the packaging of the end product for distribution. An Italian machine builder was chosen for the automated control of Barilla's natural ingredients. With the rising price of raw food ingredients, it was essential for Barilla supervisors to be able to track ingredients from the moment they enter the factory. When the flour trucks arrive at the plant, the content has to be sampled for quality. Following laboratory analysis, each load is coded and offloaded through a pneumatic system to a specific silo. The information is then recorded in the department database. The flour is then handled automatically and transferred to the kneading machinery as required, with each batch being tracked through the manufacturing process by its code.

Every section of the plant is divided into single areas, each run by its own electric control panel. More than 1,000 remote I/O are being sent to just one control processing unit. This is made possible thanks to an Allen-Bradley ControlLogix PAC from Rockwell Automation. The PAC also controls 30 Allen-Bradley PowerFlex drives, chosen for their reduced power consumption and high control capabilities. The components are linked together through DeviceNet, while Ethernet technology is used to connect to the Allen-Bradley PanelView user interfaces. Using PanelView, operators can monitor and alter the production process. In order to make maintenance easier, a mobile station has also been installed. Supplied with manual controls, technicians can connect directly to one of the local plug-in points to monitor and handle each plant area.

Production supported by tele-service assistance
Rockwell Automation solutions also were integral to the automation control of Fava's production line machinery. The control of the production and drying process is managed by an Allen-Bradley ControlLogix PAC, providing simple configuration and high reliability. Operation is made simpler with two Allen-Bradley PanelView 1000 user interfaces. Operators are able to monitor and adjust the production processes as required. To speed production, changes in the type of pasta production can be initiated using pre-stored recipes, with the production machinery then configuring itself automatically. Allen-Bradley PowerFlex 40 and PowerFlex 700 drives control the speed of the production process. The components are linked together through DeviceNet, while a ControlNet protocol has been chosen to directly communicate with the PAC. The end panels and supervision PAC use Ethernet technology to communicate with the managing software of the plant. The Ethernet technology also allows Fava to provide a remote tele-assistance service to Barilla's supervisors in case of production problems. Using the connection, Fava's specialists can access the control system remotely to diagnose and even correct problems, keeping downtime to an absolute minimum.

Also integral to the automated production line system is the Allen-Bradley Guardmaster safety system. Guardmaster brings together the benefits of a Logix platform – common programming environment, common networks and common control engine – with integrated safety control in an easier to use environment while providing Safety Integrity Level (SIL) 3 control. Emergency stop buttons and rope pull safety switches are in use as standard. As part of Rockwell Automation's Integrated Architecture solution, the safety system meets U.S. regulatory requirements and can be deployed quicker and more efficiently.

Packaging at speed
Barilla ordered case packaging machines from Ricciarelli capable of packaging 20 five-kilogram boxes of pasta and 10 10-kilogram boxes of pasta per minute. To work at this speed, it is critical that the control platform correctly manages every automated move of the machinery. This task was again managed using Allen-Bradley's ControlLogix PAC. All readings are constantly monitored and, if necessary, modified by the machine operator thanks to the Allen-Bradley PanelView, 10-inch touch screen display.

Ready for shipping across the U.S.
Finally, Barilla used specialist end-line case packing machinery professional Zucchini for the equipment to be able to cater for 20 different types of boxes and package up to 250 boxes per minute for distribution across North America. The end-line case packing machine automatically counts the upcoming boxes and places them correctly on a cardboard base. Once the "tray" is ready, it is wrapped by cardboard, which folds up and then perfectly closes around the pack. All these operations are carried out by mechanical pushers handled and monitored by motors that are set in motion by the drives of the Allen-Bradley PowerFlex 40 family. The single PowerFlex drive is connected, through a DeviceNet, to a ControlLogix PAC. These solutions were chosen by the technical staff of Barilla in order to effectively monitor the movements of the motors, adjust the speed to help meet production needs and to optimize energy consumption. Operators can monitor and adjust the production process using Allen-Bradley PanelView 1000+. The color touch-screen display can be used for advanced diagnostics and is connected to the PAC through an Ethernet network.

The benefits
The specification of Rockwell Automation for the Barilla plant was widely acknowledged by the Italian machine operators as a positive step in the building of the automated facility.
Ruggero Magagni, commercial manager for the Italian region of Zucchini, said, "The mission of Zucchini Packaging Lines is to provide machines which are able to operate at high speeds and with few breakdowns. These two areas are exactly where Rockwell Automation wins, as the quality and reliability of its products are well-known worldwide."
Ivano Ondenei, software engineer at Riccairelli, added: "Thanks to Rockwell Automation's Integrated Architecture approach, we only required one supplier. As a result, we were able to help save time and reduce costs on the expensive engineering phase of the project."
Massimo Santoni, industrial manager at Fava, commented: "Rockwell Automation's products help meet most automation requirements and feature reliability and simplicity in programming, improving all operations."

"Using Rockwell Automation, we can combine all the advantages of centralized control and local maintenance," explained Claudio Cignoli, Brambati technical and software development manager, "giving us the ability to take action in a short time with minimal impact on production."

For more information on Rockwell Automation products and services, visit www.rockwell.com.