Every second of every day, Electrolux sells two of its products – ovens, refrigerators, dishwashers and a huge range of other domestic appliances – to consumers all over the world. That is a feat that requires state-of-the-art manufacturing facilities and production concepts to achieve.
One such facility is the company's production site in Adelaide, Australia, where Electrolux installed a fully automated production line for powder coating oven and grill interiors (also known as cavities).

Equipped with an ABB robotics solution, the production line has achieved some remarkable results in key performance indicators like productivity, production flexibility, product quality, health and safety, rapid return on investment and, not least of all, energy efficiency.

The fully automated powder coating system replaces a labor-intensive process in which the ovens and grill boxes were manually loaded onto a station that flooded the inside with wet enamel.

Operators had then to clear away by hand the enamel from the interior before sending the cavity through a drying oven. This was followed by another manual spray station.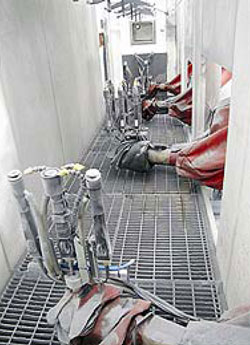 Four ABB IRB 2400 six-axis robots in an Electrolux production line in Australia achieve energy savings of up to 15 percent compared with the old production process.
The ABB solution, on the other hand, coats one oven and grill cavity every 15 seconds with a perfect and consistent powder coating and superior high-gloss enamel finish, making the cavities smoother and easier to clean and more attractive to consumers.

The solution (which includes four IRB 2400six-axis articulated robots) also enables different types of cavities to be processed at any one time – a critical requirement for Electrolux as the site manufactures more than 120 different oven models.
The new line consumes 15 percent less energy than the old production process. It has eliminated the need for the energy-hungry drying process, reduced water usage, increased productivity, and improved health and safety in the workplace.

It has also contributed significantly to the factory achieving its sustainability target of reducing carbon emissions by 15 percent. As a result of these many benefits, Electrolux has placed an additional order for an ABB robotics solution, this time for a product assembly cell.
For more information on ABB products and services, visit www.abb.com.