On Friday, April 9, Nissan North America – in conjunction with the U.S. Department of Energy's (DOE's) Industrial Technologies Program (ITP) – co-hosted the Save Energy Now LEADER Industrial Sustainability and Energy Management Showcase at its automobile manufacturing plant in Smyrna, Tenn. Nissan North America vice president Bill Krueger kicked off the event by explaining that "the whole idea is to build a collaborative network of best practices." Not only did Nissan celebrate its energy efficiency achievements and offer some of its best practices to more than 100 government, utility, state, university, non-profit, LEADER and potential LEADER participants, but it also recognized that it still has much to learn. Krueger ended his speech by challenging each participant to give Nissan three ideas for how it could further improve its energy efficiency and environmental performance. By the end of the day, Nissan had received more than 90 suggestions.
Snapshot: Nissan's Implemented Projects
Installed variable-frequency drives
Reduced the number of air compressors
Lowered air pressure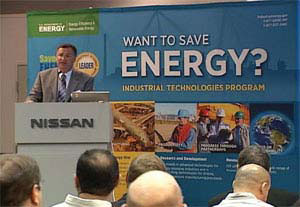 Gil Sperling, senior policy advisor to the Assistant Secretary of Energy Efficiency and Renewable Energy, addresses the role of industrial energy efficiency in national energy security at the Save Energy Now LEADER Showcase hosted by Nissan North America. Nissan North America vice president Mark Swenson will provide the keynote address at Noria's RELIABLE PLANT 2010 conference (http://conference.reliableplant.com) in Nashville, Tenn.
In addition to senior-level attendance by DOE and the Tennessee Energy Policy Office, two state senators also participated to see the energy efficiency progress and best practices sharing in action at the local plant. Seven Fortune 500 companies that have not yet taken the LEADER Pledge also attended to learn more about energy efficiency and the benefits of partnering with DOE. The showcase highlighted the value of public-private sector partnerships in reducing energy intensity in the industrial sector. Nissan's three U.S. manufacturing plants have received a combined total of nine energy assessments sponsored by ITP in conjunction with Oak Ridge National Laboratory and Industrial Assessment Centers at Tennessee Tech University and Mississippi State University. In addition to assessment support, they have rallied their supply chain, local utilities and the state government to help implement the energy efficiency projects that are saving Nissan more than $10 million annually in reduced energy costs. Nissan became a Save Energy Now LEADER in October 2009 and received the Energy Star Partner of the Year award in March 2010.
The company has also received DOE support for several related energy projects at its plant, including:
A $1.4 billion loan guarantee for retrofitting the Smyrna plant and building a lithium-ion battery plant onsite to assemble the zero-emissions electric Nissan LEAF
A DOE State Energy Program grant for 70 percent of the cost to implement eight energy efficiency projects at its Mississippi plant that will save $700,000 in energy costs annually
A DOE grant for deployment of methanol fuel cells to power small tug mobile equipment.
Nissan's industrial energy efficiency accomplishments are not only attributed to support from public and private partners, but also through strong corporate leadership. An implementation pitfall for many manufacturers seeking to sell the "business case" for energy efficiency is an inability to artfully connect technical data with corporate decision making. At Nissan, this hurdle was overcome by holding each member of its energy team accountable, maintaining transparency of energy data across the entire organization, and designing user-friendly monthly budget summaries for management. Nissan has not only internalized a corporate culture of energy management, but has also instilled that value within its employees by offering several energy fairs that have helped bring efficiency home. Nissan believes this model of Behavioral-Based Sustainability comes full circle in terms of payback when its employees bring a sustainability mind-set back to work with them.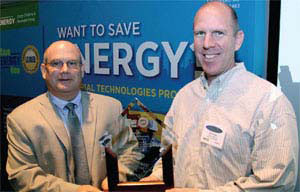 Figure 2. Jeffrey Walker, supervisor for ITP Partnership Development and Deployment, presents Nissan North America vice president Bill Krueger with a recognition plaque for hosting the Save Energy Now LEADER Industrial Sustainability and Energy Management Showcase.
The showcase exemplified the idyllic cooperation that ITP envisioned when it set out to make impacts in the industrial sector through the LEADER initiative: committed companies making great strides toward energy intensity reductions with the financial and technical support of government, universities, national laboratories, utilities, and nonprofit organizations. The event was the first of its kind for the LEADER program, in which a company elevated its contributions to energy efficiency by embodying the LEADER philosophy and providing mentorship to others.
Benchmarking with competitors, sharing best practices, and comparing metrics are actions that Nissan has taken to continue to learn from its peers, maintain an economic edge, and give back to its community. ITP aims to instill this kind of leadership and mentorship throughout the U.S. industrial sector with the support of the LEADER program. As a further testament to the value that many attendees found in the event, four more companies expressed interest in hosting LEADER showcases.
Gil Sperling, senior policy advisor to Assistant Secretary Cathy Zoi, rightly observed that "Save Energy Now LEADER is a tremendous opportunity for you to take control of your energy use. … Let's find a way to work together."
The event presentations are available on the Save Energy Now LEADER Web page: http://www.eere.energy.gov/industry/saveenergynow/leader.html.
This article first appeared in the Spring 2010 issue of the Energy Matters newsletter. For more information, visit the http://www1.eere.energy.gov.