The Culligan name has become internationally famous. "Hey Culligan Man!" became a well-known phrase and the Culligan Water Treatment System has become a world leader. Culligan does more for business than provide softeners and treatment products. They're also a leading distributor of bottled water and filtered drinking water systems for commercial and industrial use.
Culligan, located in Tulsa, Okla., is making good use of an H2 inverter from Baldor Electric Company. In this facility, Culligan bottles eight-ounce to five-gallon bottled water used by its commercial and industrial customers. A separate operation of this plant is the deionization/regeneration facility. In this area, backwash funnels are used and must hold a desired pressure. By using the PID function of the drive, the line operator never has to worry about having too much or too little water pressure. More importantly, the Baldor drive is able to deliver a steady water flow and pressure rate.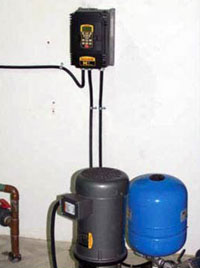 Culligan's vice president of operations, Chip Pearce, stated, "Before this new setup, we had to walk 300 feet back and forth to stop and start our motor, and the pressure in the pipe was only a 'good guess'. It's nice to see the automation of this part of our operation. I know the operator simply loves it."
When the line operator shuts off all of the water valves, nothing is seen on his end. But 300 feet down line, the Baldor drive is seeing the demand drop to zero and knows to stop the motor and pump. Seeing no demand, the drive goes into a "sleep" mode. Later, when the operator opens the valve again and drops the pressure below the set point, the drive wakes back up and gives a command to the motor and pump to repressurize the pipe. This occurs in a seamless transition, allowing the operator to fill from one to 32 containers consistently and reliably, resulting in more productivity at the fill area and better service to the customer.
Duncan Industrial Solutions, suppliers of the pumping equipment, installed the drive, set all of the parameters and immediately could control the "stop and start" of the motor and pump.
For more information on Baldor motors and drives, visit www.baldor.com.