When someone asks about your reliability program, what's the first thing that comes to mind? Do you think about vibration analysis, themography, ultrasonics, motor current analysis, flaw detection, oil analysis or some form of non-destructive testing? Do your thoughts turn to process-based material like root cause analysis, failure analysis, FMEA, RCM, CMMS or work flows? At what point do you consider the people? You can have all of the necessary predictive tools and processes in place, but without the people to provide the necessary execution, program results will be lacking.
When we consider metrics, we try to evaluate each of the technologies independently as programs or the general health of assets to perform their designed functions, which is very important. The end result is how effective we are to the overall productivity of the operation. We effectively try to measure a negative impact by determining how many issues we prevented. This leads us to examine a vast array of leading and lagging indicators for interpretation. Through all the metrics that are examined, we generally neglect our most critical asset – the people.
People can make or break any program by their attitude, how they execute their daily responsibilities, how they interact with co-workers, plus how they interact across departments. Once we get past the issue of compensation, people want to contribute and see their contribution make a difference. They have pride in their work and want appreciation or recognition for their contributions, which may be a simple thank you. They want the opportunities for learning, development, promotions and feel as if they are part of the success. They have sight of their own future and the goals of the business, with the desire to use their talents to share in the success. All of these ideas plus many more are encompassed by employee engagement.
Bringing engagement to a single definition is a very difficult task. The Conference Board, a global independent business membership and research association, in 2006 defined employee engagement as "a heightened emotional connection that an employee feels for his or her organization, that influences him or her to exert greater discretionary effort to his or her work". Now that we know what it is, how do we rank? From the Blessingwhite Employee Engagement Report 2008, it is stated: "Although North America has one of the highest proportions of engaged employees worldwide, fewer than 1 in 3 employees (29 percent) are fully engaged and 19 percent are actually disengaged."
What are we doing well or right?
We at Cargill's Cleveland Mine have embraced the concept that engagement matters both to our employees and the success of our business. Conducting our engagement survey in 2004 that encompassed all salaried and bargaining unit employees, our total score was 61 percent. This told us we had a lot of hard work ahead if we wanted to improve. The next survey in 2006, with a score of 68 percent, showed we were on the right track but still had a long way to go in changing the culture. The 2007 survey score of 74 percent confirmed our direction. Our latest survey results of 88 percent engagement (taken in 2008) brings us to what we feel is world class, but we still have work ahead; there are still improvements that can be made.
Let's look at the comments from our employees on why they feel engaged. These comments came from what we call roundtable discussions – small groups of employees that enter into a discussion facilitated by one of their peers. This is one tool that is used to find out what we are doing that employees like and things upon which we need to improve. The question posed to all the groups was simply "What are we doing well?" The collective responses in alphabetical order were: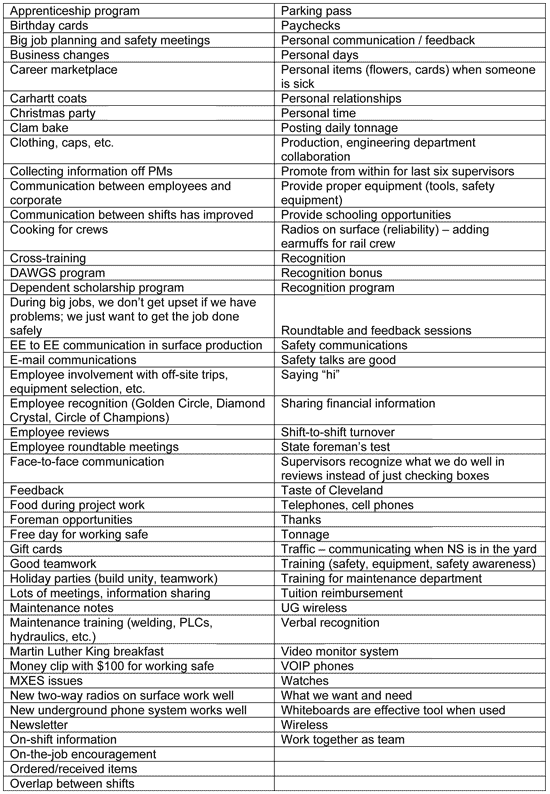 You can see that the responses vary greatly as different people have different priorities. There is no "one size fits all"; some people felt engaged by recognition (formal or informal), training, development opportunities, improved safety, improved communication, time off, opportunities for socializing, and knowing the business. Ultimately, the enthusiasm generated through engagement has a transformational effect on the culture that develops the feeling of involvement as an enabler of results.
Apprenticeship program and educational opportunities
While it would be very time consuming to cover each item in the list, I would like to expand on a few comments such as the apprenticeship program and DAWGS. I am sure that many are concerned of the shrinking talent pool for skilled craftspeople. One way we are addressing this issue is by sponsoring an in-house federally approved apprenticeship program, which is administrated by the state, for maintenance mechanics and maintenance electricians.
Successful completion of the program requires 576 educational contact hours along with 8,000 hours of on-the-job training. We have partnered with Cuyahoga Community College in Ohio to provide the bulk of the educational instruction that is supplemented with industry-specific instruction such as lubrication, precision maintenance, etc.
The enrolled apprentice attends classes on his or her time, usually during the evenings, and the company pays all tuition and fees plus will rearrange work schedules when necessary to facilitate class attendance. This requires a joint commitment from both the individual and the company to be successful. Upon completion, the individual receives a journeyman certificate in his or her respective field. This is one example of how we are developing people for their growth and fulfill our future needs.
In addition to the formal apprenticeship process, we are providing educational opportunities to individuals wanting to better their knowledge base. We have numerous employees that have attended formal welding training that completed the course, tested and received their welding certification. Others took courses on PLCs, computers, HVAC and several other courses. Employees attended these courses on their time and the company paid all tuition and fees. This is a true joint venture – the employee receives knowledge and the company receives the application of that knowledge.
Safety training
I also want to briefly cover our DAWGS process. This is a Behavioral Safety Training (BST) process that uses the acronym DAWGS, which stands for Develop Awareness With Group Safety. This is a behavioral accident-prevention process driven by the employees that assists in shaping the cultural of safety. The process strengthens the commitment to safety, develops safety leaders, and fosters engagement by building from the ground up.
This is a "no name, no blame" process where all employees were trained to observe execution of tasks and identify potential areas or actions that could result in an accident or injury. The observation is conducted with DAWGS observation cards that provide reminders of conditions and actions to be aware of with an area for notes to facilitate discussion. The observer and the person executing the task then discuss what was done well and what could possibly be modified to make the task safer in the future. The peer-to-peer discussion is a non-threatening method to alter behaviors by identifying at-risk situations, with the solution to mitigate the risk developed by the employee. This joint interaction between employees at the plant floor provides ownership in the process and a watchful eye for co-workers and produces positive improvements.
The program is facilitated by a bargaining unit employee that trains employees on the DAWGS process, how to conduct proper observations, maintains the metrics, leads the barrier removal team, facilitates DAWGS steering team, and is the champion of the process. The DAWGS process was started in March 2002. This was after the injury frequency rates had fallen from management=driven initiatives, but we needed something more to prevent injuries. What better way to prevent injuries than to have the employees involved in driving the process. When employees became actively involved in shaping the process, the lost-time injury rate fell dramatically. Over the next several years, the reportable injury rate also declined to the current zero reportable injuries. This is just one of our employees' many milestone accomplishments over the past several years.
Get to know our mine
Before relating this to reliability, I would like to give a brief overview of our operation. We are an underground mining operation that utilizes a room-and-pillar style of mining. The mine is 1,800 feet deep and extends approximately four miles under Lake Erie. Our business is very dependent on Mother Nature since our primary product is deicing salt used for keeping roadways and sidewalks ice free. We maintain a fleet of specialized mobile equipment that extracts the salt, which is loaded onto a conveyor belt system for transport to the milling operation, which is also located underground. The milling operation crushes and screens the salt into a usable product. It is then transported to the surface utilizing a Keppe-style hoist. The surface areas maintain facilities that ship by truck, rail and boat. We also have a milling operation to make specialized products plus packaging facilities.
Reliability and engagement at this Cargill site
Many industries have multiple product lines or redundancies built into critical areas of the process. This is one luxury that unfortunately we do not have. When one conveyor belt goes down or there is a problem in the milling operation, this shuts down our only production line. Maintaining reliable systems are crucial for our success. Our mining processes are very labor intensive. With operations deployed over a four-mile area and automation technology not a viable option, we must rely on people. People need to know the operation, the consequences their action have to the operation, and that they can use their minds to overcome challenges.
Looking back about 10 years ago, we thought our production rates were pretty good, with the occasional record day. We had improved our milling availability. We had improved our mainline availability. Even so, our productivity rates started to fall. Some of the decline was attributed to old and aging equipment and the bottleneck this aging mill provided. A decision was made to upgrade the old mill, replacing the aging equipment with new, more efficient equipment, and rearranging the process flow to be more productive. The new mill was installed in phases over 2001 and 2002; this led to an initial productivity increase in 2003 of 28 percent over the prior year. The new upgraded technology worked.
There was something else that started to take shape during this installation. During the design phase, the engineers designing the mill talked to the operators, mechanics and supervisors about what type of problems they had in the past and shared the concepts they envisioned for the new mill. The engineers listened to the concerns and ideas. They worked at incorporating many of the ideas into the final design. Some things were very simple such as changing transfer chutes from a square design to a round design to prevent material hangups and to center loads. Others were more complex, such as eliminating a bucket elevator and replacing it with two inclined belts because of the high downtime and maintenance associated with the bucket elevator compared to the belts. This was employee involvement. When the new mill was complete, the employees working in the mill area took ownership and were proud to point out their suggestions that turned into reality.
There were still some people that felt they were not heard because their ideas were not incorporated. These were evaluated as issues arose and put into practice where such ideas solved a specific concern. The next year, 2004, saw a productivity increase of 25 percent over the prior year's performance. This was when we conducted our engagement survey, receiving results of 61 percent, which was a reality check. We were getting employee involvement, but not in all areas. We were tasked with how we could expand this involvement to make it meaningful for everyone. Many initiatives were started to address the concerns brought to light by the engagement survey. These included quarterly feedback meetings held by the mine manager, Bob Supko, with all employees to discuss the business. These feedback sessions were much more than discussing production numbers and safety frequency rates. Employees were given information on production costs, status of current projects, future projects, market forecasts, and anything that pertained to developing our business. This was the first time any of this information was shared. They also had an open forum to ask any questions and receive answers or make suggestions. There was a great deal of training initiatives undertaken in various areas, such as the apprenticeship program. We were actively developing open communication in all areas of the operation. Employees were starting to see that we were moving from the former "us vs. them" relationship to a "we" or "team" approach.
The trend continued in 2005 with a productive increase of 11 percent over the previous year's performance. Then Mother Nature dealt us a blow in 2006, no snow. When a business is dependent on the cold, snow and ice, 60-degree temperatures in January are not a good thing. Production rates had to be cut back because of a lack of demand. That, in turn, meant there were personal layoffs. Fortunately, winter came late this year; and by March, we were buried in a blanket of snow and laid-off personal were recalled. Productivity was down 24 percent – not due to our employees but because of lack of demand. The question remained how this mild winter would affect our employees' engagement. The engagement survey was conducted and the results came back, 68 percent engagement. We had increased despite the challenges of a bad year.
The following year, 2007, winter started early and went on for what seemed like forever. Demand was high and salt was in short supply. Our employees rose to meet the increased demand by increasing productivity 28 percent over the previous year. Our engagement score increased to 74 percent. The next year, 2008, was no exception – another snowy year with high demand; employees increased productivity another 5 percent over the previous year, with engagement measured at 88 percent.
The importance of lubrication in the reliability effort
These are the results of an engaged workforce, but getting there is not always easy. It requires determination and discipline to stay on course, especially when it seems easier to abandon an initiative because it appears too difficult to complete. One such initiative, which I call a cornerstone to reliability, is lubrication. Equipment will only perform as well as the lubricant that the components are riding on. The old adage that grease is grease and oil is oil may have worked 50 years ago, but that no longer applies. People have to develop a new and healthy respect for complexities involved with proper lubrication.
Part of this development was to have each mechanic attend a three-day lubrication course that was conducted on site. This provided the necessary training to develop the fundamental understanding that every component requiring lubrication needs the correct lubricant, applied in the correct manner, in the correct amount, at the correct time. When these four principles are adhered to, equipment will last almost indefinitely. When conducting this type of training with seasoned employees, it is not always easy to gain acceptance. I can best illustrate this with an example from our training. When we scheduled employees to attend this training, there were two mechanics with 35-plus years experience scheduled to attend. They came to me asking why they had to go to this training; they had been greasing things their whole life. "What are they going to teach me about grease anyway?" I told them to go to class, sit there and listen; if nothing else, lunch was being provided. They both went to the class with no feedback. About a week later, I received a call from one of the individuals requesting a lubricant specification book because he felt that we were using an incorrect lubricant for an application. To me, this was a major accomplishment; having a highly seasoned veteran requesting clarification meant he not only understood the class, but he was applying what he had learned.
We also looked at our underground lubrication inventory, which was three pages of different lubricants. Seeing from the inventory that several products were very similar, we initiated a consolidation effort. With the assistance of our lubricant provider, we evaluated each application for correct product specifications. We were able to consolidate the three pages into 12 oil products and three grease products. This was followed by a product application sheet for mobile and rotating stationary equipment. This is a color-coded, one-page sheet listing all mobile or stationary equipment. It identifies what product to use in what application. This significantly reduced inventory, reduced cross-contamination, and provided a quick and easy reference for application.
While maintenance personnel generally fill equipment and gear cases, operators top off equipment when they perform a pre-operational inspection and find a low oil level. It is important for anyone adding oil to understand the consequences of their actions. This brought about formal basic lubrication training for some of the equipment operators. Upon completing the training, one operator said, "I didn't know oil was that important. I have been adding the wrong oil to my transmission." To me, this showed that he wanted to do the right thing; he just did not understand why.
It may seem that I have gone off on a tangent with lubrication from engagement, but as I mentioned, lubrication is a cornerstone of reliability. With a workforce that is engaged, they will execute what they learn when they understand why. The idea of engagement to increase reliability and productivity may appear to be a different kind of thinking. As Einstein stated, "We can't solve problems by using the same kind of thinking we used when we created them." We did not create our current problems using engagement, but it could be a step in the right direction toward solving them.
Communication and interaction
Let's look at a few other initiatives that were implemented and have had dramatic effects on engagement. One is our underground wireless communication system that puts the equivalent of cell phones into employees' hands. On the surface, people can stay in communication with cell phones or radios. Underground is a unique situation; radio waves only travel in a straight line. This required installation of a massive fiber optic network with access points at every turn that enables the use of voice over IP phones. Phones were distributed to all mechanics, electricians, supervisors, operators and personnel working in remote locations. Personnel were now able to stay in touch, get information or voice concerns without delay, and provided better interdepartmental interaction. The wireless network also enabled the use of rough service wireless computers that are mounted to vehicles to access the intranet. Employees can now obtain real-time information about equipment status, enter work orders into the CMMS, and access payroll and/or human resource information.
The wireless network also enabled the installation of a miner tracking system. Through an RFID tag located in a person's cap light, the individual's location can be determined underground. This is a major safety advantage should an event occur requiring the evacuation of the mine. Our employees embraced this technology, knowing it was for their safety.
Another initiative was the formation of the Cleveland Mine improvement team, comprised of employees from various departments and members of the management team. The team is charged with exploring and suggesting initiatives for implementation that will continue to grow engagement and our organization. Once an idea is approved, the team takes the lead as the champion. The results have been successful.
Two scheduling meetings are conducted each week – one for underground and one for surface. These meetings are cross-departmental, with the scheduler, planner, maintenance supervisors and production supervisors in attendance. The meeting is led by the scheduler, who presents a preliminary schedule consisting of preventive maintenance work and repair work for the next week. The work timeframe is negotiated with production. Production provides the available time and maintenance provides the necessary resources. Each also brings a list of requests for discussion to determine equipment access, material and manpower availability plus priority. The only ground rule is that preventive maintenance is the top priority and cannot be removed from the schedule. Upon completion of the meeting, the scheduler brings all of the agreements into a final schedule for publication and posting. This brings all departments together into a common thought process, with the schedule posting alerting all employees when their equipment will be scheduled for repairs.
Ideas, improvement and innovation
One of the supporting pillars of an organization is innovation. All employees are encouraged to enter any ideas for improvement into a computer database for review. Each idea is discussed by a cross-functional team comprised of employees and managers from surface and underground, maintenance, production and accounting. Every idea is reviewed and forwarded to the respective superintendent with a recommendation from the innovation team for feasibility. The idea is then implemented or declined. In either case, the employee is kept informed of the progress and given a reason for the action taken. Ideas can come from individuals, groups or employee-led brainstorming sessions. Ideas range from unique problem solutions, safety improvements and major capital investment projects, to new developments that have received patents.
Hiring new employees is always challenging to obtaining skilled individuals that are a cultural fit for the organization. All departments – maintenance, operations, engineering and accounting –work with and take an active role with the human resource manager when securing new talent. Interviews are conducted as a team effort, with a member of the department seated alongside the human resource manager. This is a time-consuming process, but the results enable us to secure truly talented employees that become actively involved.
These are a few of the many examples of how cross-functional involvement of departments and employees are working to eliminate barriers. Individuals and departments can get caught up in their own world, losing sight of the operational goal. Each of the initiatives has a positive impact for the individual yet develops awareness that they are part of shaping the operation and their own future.
Conclusion
When I take a step back and look at our operation, we have a vibration analysis program, an infrared thermography program, an oil analysis program, an NDT program, we perform UE flaw detection, modal analysis, motor current analysis, we use a CMMS, and there are processes in place to facilitate work flows, planning, scheduling and inventory control. All of these technologies and processes are producing beneficial results, but I cannot look to any one of them and say that one is outstanding. All of the technologies work in concert to identify deficiencies, alert us to substandard performance and assist in planning for the future. The processes are continually developing and evolving as they undergo continuous improvement. Each and every one of them has room to grow and improve. Many of the deficiencies in our technologies and processes are hidden because of the execution capabilities of our employees.
The one thing that stands out above all of these technologies and processes is our people. This brings the human element to reliability. We have a highly skilled and engaged workforce that knows the business and how to work as a cohesive team to foster success. Our deicing business unit leader, Dale Fehrenbach, stated, "Or said more directly, highly engaged employees are safe and highly productive."