Sierra SunTower is the first installation of eSolar's highly acclaimed modular and scalable concentrating solar power (CSP) technology, a concept that has won the financial backing of Google and others.

The plant produces 5 megawatts (MW) of clean, renewable energy; displaces 7,000 tons of carbon dioxide emissions a year; and provides enough electricity to power 4,000 California households via a power purchase agreement with Southern California Edison.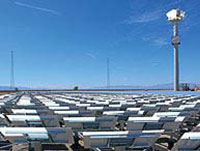 Sierra SunTower solar power plant produces 5 MW of clean, carbon-free energy to 4,000 homes in Southern California and is the only solar power tower plant operating in North America today.
ABB was brought into the project at an early stage by eSolar to develop an automation solution that works with eSolar's heliostat field control system and modular receivers to harness the sunlight at the 20-acre site (8 hectares) in Southern California.
"We quickly realized that ABB possessed the elements to play a critical role in the development of our Sierra project," says Bill Gross, chief executive officer of eSolar. "ABB's contributions have already exceeded our expectations, both in design and implementation."

ABB developed a control solution for the thermal receivers and the balance of plant based on its Extended Automation System 800xA for Power Generation.

The solution includes ABB's Power Generation Information Manager and a remote diagnostic service capability that enables ABB to diagnose and correct System 800xA-related issues by remote.

The system is interfaced with the Woodward turbine control system to ensure smooth operation of the steam turbine generator and eSolar's proprietary heliostat field control system.

Already the eSolar concept is taking off in a big way. The company has signed an agreement with NRG Energy to develop three CSP plants in California and New Mexico that will generate 429 MW of power using eSolar technology. A licensing agreement has also been signed with the India-based ACME Group for approximately 1 GW of eSolar solar thermal capacity to be deployed over the next 10 years.
For more information, visit www.abb.com.