Shrink wrapping is used in a wide variety of applications because it provides a rapid and dependable method for protecting delicate products. Less expensive than other packaging methods, shrink packaging helps protect products – from pizza to pickles – against harmful environmental conditions, thus improving a product's marketability. Shrink wrapping's benefits, however, have led end-users to expect speed, speed and more speed from packaging machines. That means not only rapid packaging with high throughput (more than 200 packages per minute in some applications) but also speedy changeovers and quick-disconnect capabilities for conveyors that need to be washed down – which leads further to the need for corrosion-resistant components. Minimized maintenance is a requirement as well – and packaging end-users also usually expect to have these advantages on a budget, watching overall investment very carefully. High speed, low maintenance, light weight and washdown-safe performance – it can all add up to a tall order for packaging machine builders.
Thanks in large part to Rexroth's eLINE linear ball rail and eLINE cam roller guides, however, Stork-Texwrap, a leading packaging OEM is now able to offer a side-seal/orbital cross-seal wrapper that meets all these demands and more. This machine, Texwrap's 205CR, is a corrosion-resistant packager that's ideal for bakery and similar high-output applications. The 205CR has several appealing advantages, including wide product size capacity and a removable washdown infeed conveyor, but Rexroth's eLINE linear motion products are responsible for some of the 205CR's more critical features, such as high speed – up to 250 packages per minute – and heavy-duty performance, while minimizing weight with lightweight components. The use of these cost-effective, off-the-shelf linear motion products from the Linear Motion and Assembly Technologies division of Bosch Rexroth plays a large role in cutting costs and optimizing performance.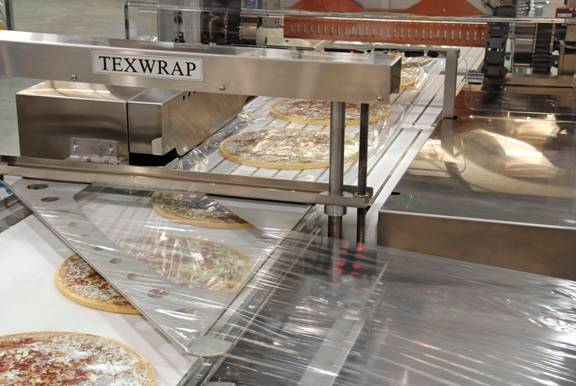 Figure 1.
Bosch Rexroth's contributions to the speed and performance of the 205CR began in spring 2005 when Bosch Rexroth's Mike Buesking introduced Stork-Texwrap to Rexroth eLINE ball rail linear motion products. They offered impressive performance with low weight and high cost-effectiveness, and their straightforward but rugged construction made them a good choice for adapting into existing machines. Texwrap was looking to upgrade the performance of their existing shrink wrap machines while keeping control of cost, size and weight – and eLINE ball rails, a good fit within several different linear motion configurations, promised to be a maintenance-free and economic solution for materials handling. Indeed, adapting various machines that included other continuous motion side sealers, like the 1809SS ServoMax with "Generation 3" Design, 2203 Horizontal Side Sealer and 2814 Servo Side Seal with eLINE ball rail products proved to be a big success.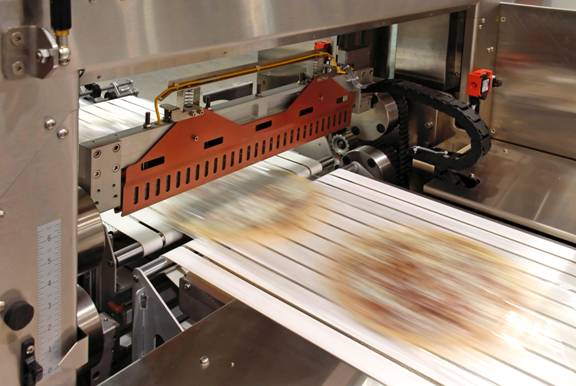 Figure 2.
But more was to come. In 2006, Stork learned about another new Rexroth linear motion development from Scot Rohlfing of Hitech Automation, a full-service Rexroth distributor who has long been a source of components for Texwrap's packaging line. That year, Bosch Rexroth introduced the fast, quiet eLINE Cam Roller runner block, allowing smooth movements of light loads (up to 60 kilograms) over extended lengths. Featuring an aluminum runner block body with stainless steel, corrosion-resistant cam rollers, the eLINE cam roller block (and associated eLINE rail) would eliminate the need for preload adjustment, thanks to their precise manufacturing.
But the feature that really got Texwrap's attention was the combination of high travel speeds (up to 12 meters per second), light weight and stainless steel components. "The eLINE products can combine high speeds with the corrosion resistance you need for tolerating frequent washdowns," explains John Butler, vice president of sales at Hitech Automation. "This makes them ideally suited for applications like bakery shrink wrapping."
The specific shrink wrapping application Texwrap had in mind was its new 205CR machine, a high-speed side seal/orbital cross seal wrapper. Texwrap designed the eLINE ball rail and cam roller guides into this new product – extending the range of applications for which the machine would be suited. The speed and reliability of the new Rexroth linear motion components could meet the key challenges of any 205CR application.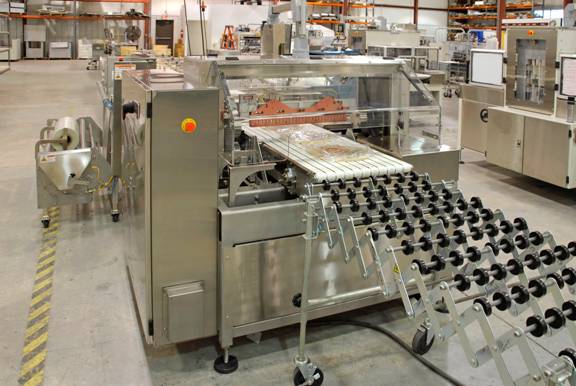 Figure 3.
Those challenges were not limited to line speed and corrosion resistance. "We were definitely interested in getting high-speed performance without extra weight and cost," said Brian Stork, engineering manager at Texwrap.
The eLINE cam roller runner blocks provided this with an aluminum runner block body housing corrosion-resistant cam rollers, giving Texwrap a compact, cost-effective version of heavier-duty linear motion products used in higher-load applications. The eLINE components' design features that further reduce total cost of ownership for the 205CR include hardened steel inserts and the use of anodized aluminum. These ball rail and cam rail eLINE products also enable easy interaction with additional axes (the standard 205CR has five axes) and external attachments – an important feature since flexibility in adding extra equipment is one of the 205CR's selling points. The low friction levels of these eLINE components also dramatically minimize lubricant consumption. Result: Smooth moves for shrink wrapping applications. The eLINE ball and cam roller blocks run smoothly and quietly, even when running at their maximum speed of 12 meters per second.
There's more. The eLINE products offer higher moment and load capacities than single-rail solutions, helping machine designers do more with less. And by placing both Cam Roller and ball runner blocks on the same rail, Rexroth components help machine builders reduce space requirements. Rugged, reliable, and almost maintenance-free, eLINE components provide good return on investment throughout the life of the machine.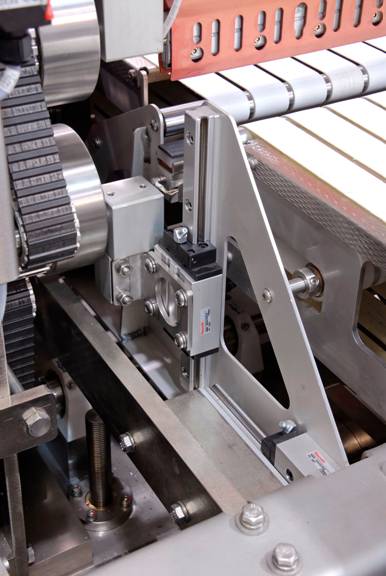 Figure 4.
In 2007, after a testing period, the initial 205CR model was installed in the plant of a bakery products packager. The machine has been a great success, with its strongest popularity among bakeries looking for a high-speed shrink-wrap solution with low maintenance and washdown-safe capabilities. Another favorable feature of the 205CR has been rapid and smooth machine setup, utilizing Rexroth eLINE components for slow moving manual adjustment slide rails. Some machine adjustment slides, to accommodate different product sizes, also are facilitated by eLINE. Maximum film speed is 200 feet per minute, a lively pace that makes a 250 packages-per-minute output a reality.
The story of the Texwrap 205CR demonstrates that while there are many available options for controlling linear motion, it's much more challenging to find linear motion components that can help control costs, weight, maintenance needs and corrosion – and provide high-speed performance as well. Thanks largely to Rexroth eLINE ball rail and eLINE cam roller guides, however, Stork-Texwrap and the 205CR can put exactly that kind of solution in the hands of customers.
For more information, visit www.boschrexroth-us.com.