Kentucky metal-stamping plant's 330 welding stations utilize closed-system air filtration to reduce heating and air conditioning costs.
For any manager of a manufacturing installation, riding close herd on utility expenses must always remain a top priority. Complicating this challenge is the need to balance comfort cooling and heating against the need for smoke removal from metal fabricating processes such as manual and robotic welding and cutting, laser and plasma cutting, machining, grinding and polishing.
Toyotetsu America's Somerset, Ky., plant solved this dilemma by installing a point-of-source, closed, air-filtration system for its 330 welding stations at the same time as a 2,500-ton heating and air conditioning system. By filtering welding-generated smoke in a closed system that returns treated air back to the plant, management cut it usage of natural gas by up to 85 percent for a savings of close to $60,000 in one month alone. This savings stems from not having to reheat or recool air that is routinely lost when plants exhaust smoke to the atmosphere. As such, filtration systems can work to improve the bottom line of any facility that manufactures metal products.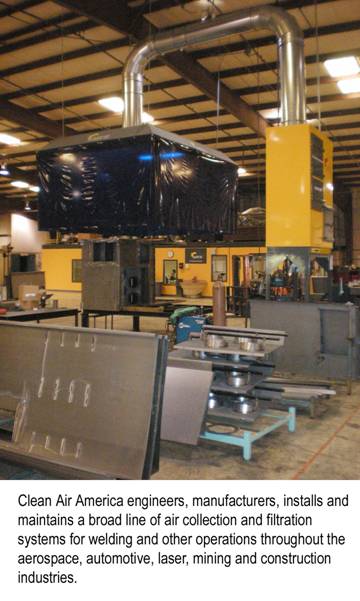 Toyotetsu's drive toward improved air
As a division of Toyota, Toyotetsu America Inc.'s line of business involves automotive stampings and the manufacture of motor vehicle parts, accessories and hardware. Estimated annual sales currently stand at $82.9 million.
Since the plant's inception in 1995, the 830 employees worked through hot and humid summers without the benefit of air conditioning. On the floor, more than 30 welding robots and 300 spot welders generated smoke that was partially controlled with wall louvers, high-mounted bay fans and local exhaust fans that ducted the warm, smoke-filled air to the outside. On the lines, small personal fans attempted to direct smoke away from the faces of the workers, since the exhaust fans could not capture all of the smoke generated from the welders.
In a bid to improve working conditions, management decided to implement a plant-wide air conditioning system. At the same time, a new filtration system was needed to offset the exorbitant expense of cooling new air to make-up for plant air that was currently being ducted to the outside. Coupled with the sub-freezing temperatures often seen during Kentucky's winters, the need for keeping heated air within the plant proved equally imperative from an energy-saving standpoint.
"It is essential that if you opt for air conditioning, that you must also have closed-system air filtration, otherwise you are wasting tremendous amounts of money," says Jorgen Brahm, senior vice president at Clean Air America Inc. of Rome, Ga., a provider of turnkey, point-of-source filtration systems for robotic integrators, and integrators of laser cutting and plasma cutting tables. "Whether it's zero or 97 degrees outside, bringing in 'make-up' air at any volume above 50 percent is very costly, and it reduces the life span of the HVAC system through excessive use."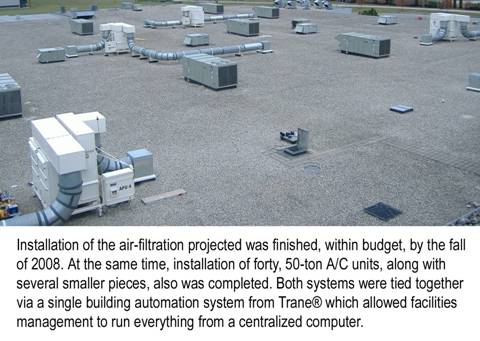 Filtration technology
Toyotetsu put out separate RFQs for the A/C and filtration aspects of its plant upgrade. Clean Air America returned the lowest bid, made possible by the fact that the company does not use distributors, but instead, manufacturers and installs its filtration systems itself. Additionally, the design of the system's elements offered reduced maintenance and operation.
For example, hoods at each welding station capture the smoke at its point-of-source, rather than unnecessarily venting the entire floor-space. Smoke then gets ducted to a plenum on the roof that feeds the collectors which utilize down-flow filtering technology to improve filter life by directing incoming dirty air downward through filters positioned vertically – as opposed to an angle – to readily shed dust. An on-line automatic jet-pressure wave periodically pulse-cleans the filters.
Electrical demands are lessened via the use of a variable frequency drive within each collector unit that automatically adjusts the air flow based on filter loading.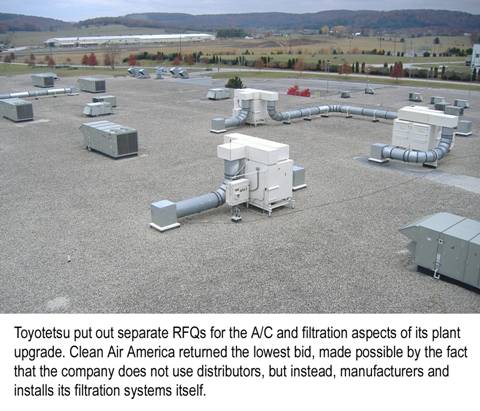 Installation 'according to plan'
The project started in the spring of 2008 and involved extensive use of a helicopter to install both the A/C and filtration units on the roof. By May, 17 air filtration units were placed into service, each possessing 48 cartridge filters within each collector, for a total filtering capacity of 340,000 cfm.
Installation of the air-filtration project was finished, within budget, by the fall of 2008. At the same time, installation of 40 50-ton A/C units, along with several smaller pieces, also was completed. Both systems were tied together via a single building automation system from Trane which allowed facilities management to run everything from a centralized computer.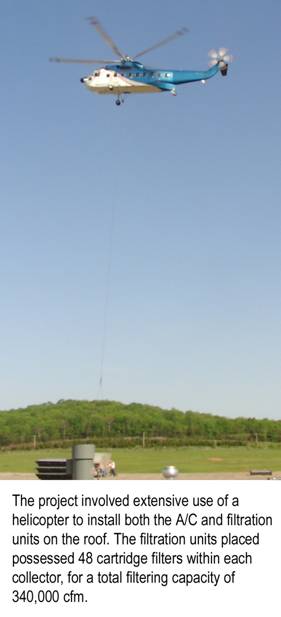 Rapid return on investment
By not having to heat or cool "make-up" air, the new filtration system enabled immediate utility savings.
In December 2007, the Toyotetsu plant consumed 3,921 cubic feet of natural gas, at a cost of $59,371.20, to heat the building. In December 2008, after installation of the air filtration system, only 556 cubic feet were required, dropping the monthly gas utility cost to $8,407.15. Taking into account electric utility savings when running the A/C system during the summer of 2009, annual utility-cost savings are projected to approach $700,000.
Aside from reduced energy costs, Toyotetsu also benefited from a cleaner plant environment.
"Toyotetsu's staff did a test after installation of the new filtration system," says Brahm.
"They found they had quite a bit more static pressure and a lot more cfms moving through the weld cells, so the personal fans at each weld station were no longer necessary. Additionally, temperature and humidity is now where it needs to be for employee comfort, so productivity may increase, especially during the afternoon shift."
Given the success at Somerset, Toyotetsu's sister plant in Owensboro, Ky., subsequently chose to install closed-system air filtration units at its site.
For more information on Clean Air America, visit www.clean-air.com.