PepsiCo's Frito-Lay manufacturing facility in Killingly, Conn., on August 12 celebrated the inauguration of its co-generation system, which will generate almost 100 percent of the site's electrical requirements. To maximize the system, the facility will utilize the waste heat generated to produce steam to help with the manufacturing of snack products made there. The implementation of this new system is another step to help the site reduce its environmental footprint and help alleviate the significant load already on the heavily congested northeast power grid.
Frito-Lay's longstanding commitment to sustainability is to continuously develop and implement innovative programs that will minimize the company's environmental impact and reduce its use of precious resources. Over the years, the company has voluntarily developed and implemented programs that have significantly reduced the use of water, fuels and electricity.
"Today's launch of the co-gen system is an example of sustainability and partnership in action," said Leslie Starr Keating, senior vice president, operations, Frito-Lay North America. "Working with the state of Connecticut and the Department of Energy, we are able to invest in sustainable business practices that benefit this community and the country by providing relief to the northeast power grid and using technologies with a lower environmental impact."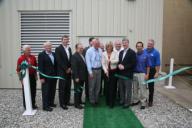 PepsiCo's Frito-Lay Killingly, Conn., manufacturing facility removed itself from the Northeast power grid days before the sixth anniversary of the Northeast Blackout with the inauguration of its co-generation system that will generate almost 100 percent of the site's electrical requirements. Frito-Lay executives were joined by representatives from the State of Connecticut and the U.S. Department of Energy for the ribbon-cutting ceremony. Photo credit: Haws Photography. (PRNewsFoto/Frito-Lay, Haws Photography)
Frito-Lay Killingly was able to complete this project through the support of the State of Connecticut and the Department of Energy (DOE). The state grant was awarded as part of the Energy Independence Act, which was designed to encourage businesses and government agencies to install these types of innovative systems to help alleviate the demands on the northeast power grid. The DOE Industrial Technology Program grant was awarded to highlight the applicability of Combine Heat Power projects in the food industry. With the installation of the co-gen system, the Frito-Lay Killingly site will reduce its carbon dioxide and nitrous oxide emissions, which contribute to greenhouse gas.
"Frito-Lay North America has proven to be more than just one of Connecticut's most important employers – it has also been a great partner with the state as we work to reduce our dependence on imported energy and increase the use of alternative power," said Governor M. Jodi Rell. "From cutting its use of fuel in production by more than 30 percent to using solar power at distribution centers and production plants, the company has not only made a commitment to these goals – it has lived it.
"Today's project brings a new power plant on line that will essentially make the Killingly plant independent of the regional power grid – meaning lower total demand on the hot and humid days of August, when customers all over Connecticut are running air conditioners and other devices 'all out'. I applaud FLNA for its dedication to conserving and preserving our natural resources, and I am proud of the role our state has been able to play in working with this company and others."
Frito-Lay North America is the $12 billion convenient foods business unit of PepsiCo, which is headquartered in Purchase, N.Y. PepsiCo offers the world's largest portfolio of billion-dollar food and beverage brands, including 18 different product lines that each generate more than $1 billion in annual retail sales. Its main businesses – Frito-Lay, Quaker, Pepsi-Cola, Tropicana and Gatorade – also make hundreds of other nourishing, tasty foods and drinks that bring joy to consumers in more than 200 countries. With more than $43 billion in 2008 revenues, PepsiCo employs 198,000 people.