One week from now, Lean Manufacturing 2009 kicks-off in Columbus, Ohio. It's one of 5 co-located conferences at Reliable Plant 2009, September 1-3.
Print this pass for admission to the keynote session by Toyota VP, Mike DaPrile, one of the learning sessions below, both networking receptions, and the exhibit hall.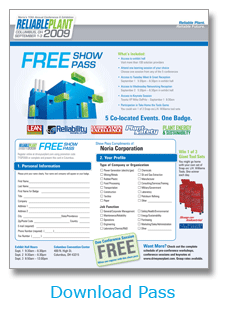 Use your pass for admission to any one of these sessions:
And attend this keynote:
Toyota's Vision: Reliability Based on All-Encompassing Continuous Improvement
Mike DaPrile, vice president, Toyota Motor Mfg. North America
Tuesday, September 1, 8:00 am
One-day, two-day and three-day conference registrations are also available, as are seats for pre-conference workshops. Check your schedule and make time to acquire the knowledge and skills you need to make a difference. Complete session, workshop and exhibition details are available at conference.reliableplant.com.