Poole's Pies of Wigan in England makes up to 200,000 meat pies per day, as well as 80,000 other puff pastries. Like most food manufacturers, refrigeration and freezing systems can account for as much as 80 percent of the company's energy bill.

So when Poole wanted to cut costs, it focused on potential efficiencies in refrigeration.
The company's new spiral belt freezer increases freezer storage capacity, while the refrigeration system needs less power now thanks to ABB low-voltage AC drives controlling two fundamental components: the compressor motor and condenser fan.
Most electric motors operate at full speed unless they are regulated. This is often done by means of a throttle, which is like driving a car with one foot on the accelerator and the other on the brake.

Variable speed drives are a much more precise means of controlling the speed and power intake of electric motors.
For Poole's Pies, replacing the 315-kilowatt (kW) screw compressor's slide valve control with ABB's low-harmonic ACS800 drive delivers power savings of 11 percent. The compressor motor now operates efficiently at lower speeds, between 1,500 and 3,600 rpm.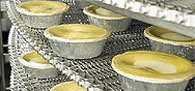 Poole's Pies anticipates an 11 percent cut in the cost of electricity consumption following the installation of the drives.

Moreover, ABB's 15 kW standard drive, ACS550, now controls the fan that forces cooling air over the condenser, yielding a 3 percent decrease in energy consumption for every 1 percent drop in speed. The result is the fan uses from 20 to 30 percent less power than it did before the conversion. This is expected to save the money more than $8,700 per year.

Although the full load efficiency of screw compressors is generally good, part-load performance can be poor, says Brian Seward, spokesperson for installer Seward Refrigeration. "With variable speed control of the compressor at Poole's Pies, we now have the best of both worlds, good efficiency at both partial load and full load."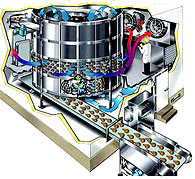 A compact spiral belt freezer maximizes surface area of a given floor space with spiraling tiers of shelves.
Refrigeration systems decrease temperature by removing heat rather than by adding cold. To circulate cold liquid refrigerant and absorb heat from the space to be cooled, mechanical vapor-compression refrigeration systems rely on key pieces of hardware, such as compressors and fans, to move pressurized refrigerant.

Click this link to read more about ABB drives in the food and beverage industry.