Emerson Process Management's project execution expertise and digital automation solutions have enabled Pernod Ricard Nordic, market leader within the Northern European spirits market, to increase the accuracy and speed of recipe changes. This has led to improved production efficiency and product consistency, as well as reduced waste at a new bitters blending facility in Aalborg, Denmark, that previously was located at Dalby.
As part of a project to consolidate production at its Aalborg site, Pernod Ricard Nordic installed a new blending facility to replace one located elsewhere in Denmark. As the main automation contractor, Emerson was responsible for the front-end engineering and design (FEED), and the implementation of the new automation system. PlantWeb digital plant architecture, incorporating the DeltaV digital automation system with HART communications and intelligent devices, was installed.
"Maintaining the highest-quality bitter is of utmost importance to Pernod Ricard Nordic. Changing to Emerson's PlantWeb architecture and the DeltaV digital automation system has significantly improved product consistency. It has also enabled us to optimize our process and to reduce the possibility of human error. We have seen a reduction in waste product," said Claus Nielsen, plant manager, Pernod Ricard Nordic, Denmark.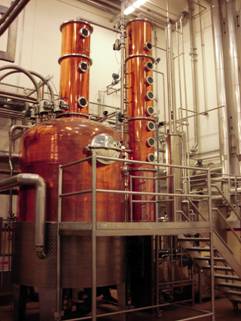 Emerson's project execution expertise and digital automation solutions has enabled Pernod Ricard Nordic to increase the accuracy and speed of recipe changes.
The new plant produces a number of blends of bitters in batches with different recipes, ingredients and blending requirements. Pernod Ricard Nordic, therefore, needed the flexibility of a batch control system meeting the ISA-88 standard. The new system had to be scalable to enable easy future expansion. Additionally, operation from a single database was preferred in order to make it easier to manage the plant and process control models, improve the accuracy of the initial installation, and simplify maintenance and upgrades.
"Since our production operates on a batch basis, this was the perfect solution for us. Both recipes and recipe management functions are embedded in the DeltaV system, enabling the set points for our different blends to be quickly changed," said Nielsen.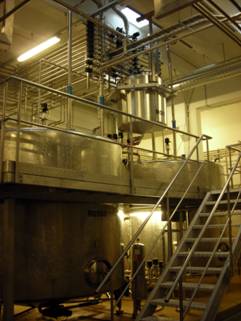 Pernod Ricard Nordic installed a new bitters blending facility at Aalborg, Denmark.
The process control architecture, along with the intelligent measurement devices, provides an asset management platform that can help optimize plant performance. Pernod Ricard Nordic is running Emerson's AMS Suite predictive maintenance software on a laptop to monitor the health of instruments throughout the plant. A planned future upgrade will see AMS Suite fully integrated into the DeltaV system, with diagnostic information from the instruments available online.
In total, there are around 130 tanks in the bitter production facility. Emerson instrumentation, including Rosemount pressure transmitters and vibrating fork switches, are used to monitor and control level, temperature and flow. Many of the devices communicate digitally via the HART communications protocol. Micro Motion Coriolis mass flow meters are used for custody transfer applications because they offer high levels of repeatability and accuracy, a prerequisite when measuring alcohol content for duty purposes.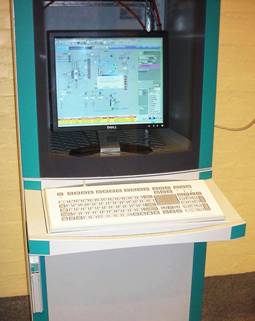 Both recipes and recipe management functions are embedded in Emerson's DeltaV digital automation system.
Overall, the entire project took up to six months to complete, with Emerson working closely with Pernod Ricard Nordic, testing and fine-tuning the individual processes. Pernod Ricard Nordic has selected the Emerson Guardian Support service package that delivers technical support and life cycle services to optimize the availability and performance of the automation system and the plant network over its lifetime.
About Emerson Process Management
Emerson Process Management, an Emerson business, is a leader in helping businesses automate their production, processing and distribution in the chemical, oil and gas, refining, pulp and paper, power, water and wastewater treatment, metals and mining, food and beverage, pharmaceutical and other industries. The company combines superior products and technology with industry-specific engineering, consulting, project management and maintenance services. Its brands include PlantWeb, Fisher, Micro Motion, Rosemount, Daniel, DeltaV, Ovation, and AMS Suite.
About Emerson
Emerson, based in St. Louis, Mo., is a global leader in bringing technology and engineering together to create innovative solutions for customers through its network power, process management, industrial automation, climate technologies, and appliance and tools businesses. Sales in fiscal 2008 were $24.8 billion.