Reduced energy use and carbon dioxide emissions at the Blue Island, Ill., production facility of Rhodia Inc. prove that creative engineering can dramatically increase output while reducing environmental footprint.
Rhodia's facility reduced consumption of natural gas by 40 percent over the past two years simply by "challenging assumptions about standard industrial practices," according to operations and maintenance manager Nathan Mills. Reducing dependency on natural gas also decreased carbon dioxide emissions by 40 percent.
Located just south of Chicago, Rhodia's Blue Island plant employs approximately 45 people and produces surfactants and formulated specialty chemicals used in personal care, home care, industrial and institutional cleaning and other markets. Production has grown in recent years, but rather than consuming energy in proportionate amounts, energy consumption has actually declined over the same period.
"Our team achieved this by optimizing boiler operation, consolidating the site's steam distribution system and implementing other simple but effective ways that add up to big energy savings and emissions reductions," Mills said.
As an example, Mills noted that "past practice led us to assume that batches must be run hot in order to mix properly." To challenge that assumption, Rhodia's quality assurance supervisor Keith Soroko led a process development team that leveraged mixing upgrades to allow some batches to be run with up to 30 percent less heat.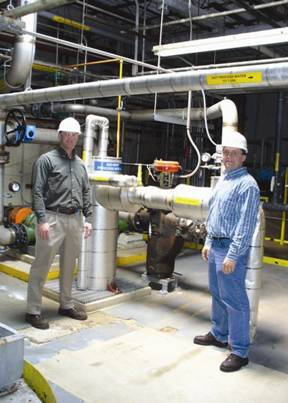 Another theory Mills disproved is "that steam needs to be available on demand." The site reduced instantaneous steam demand and modified control systems for greater efficiency. Previously, the plant operated with three on-line boilers. This change provided the opportunity to maintain adequate steam with one boiler running, one boiler on operational standby and one boiler fully shut down.
The Rhodia facility realized additional energy savings by recovering the heat naturally generated by production and using it in place of conventional heating methods during winter months.
"Now the warm air trapped near the roof is circulated to the lower levels of the building," Mills said.
Rhodia has submitted this successful project for the annual Illinois State Sustainability Award and plans to launch several more projects in the near future. Continuous improvements like the projects in Blue Island have long been a cornerstone of Rhodia's global commitment to environmental responsibility and sustainable development.
To learn about other sustainability initiatives at Rhodia sites around the world, visit www.rhodia.com and click on Sustainability.
Rhodia is an international chemical company resolutely committed to sustainable development. As a leader in its businesses, the group aims to improve its customers' performance through the pursuit of operational excellence and its ability to innovate. Structured around six enterprises, Rhodia is the partner of major players in the automotive, refining, electronics, flavors and fragrances, health, personal and home care markets, consumer goods and industrial markets. The group employs around 14,500 people worldwide and generated sales of €4.8 billion in 2008.