Utility companies recognize that energy efficiency practices are the easiest, cheapest and fastest way to meet power demand. Through conservation measures, utilities can offset new power generation facilities, prevent load instability during peak times and make more energy available for other customers. No wonder an increasing number of utility companies are providing incentives and service programs to help industrial customers reduce their energy use.

From providing rebates to offset the cost of energy-efficiency improvements identified during a DOE Industrial Technologies Program (ITP) Save Energy Now energy assessment, to forming collaborative programs that offer training and access to resources – including those offered by ITP – utility companies are actively engaged in improving the efficiency of their industrial customers.

Three new ITP case studies featured in this article highlight successful partnerships that have resulted in reduced energy use and greenhouse gas (GHG) emissions, and lowered costs for everyone involved. The first two case studies describe how Owens Corning and Alliant Techsystems Inc., companies with strong corporate energy management programs, took advantage of utility incentives and ITP resources such as energy assessments and software tools to improve their plants' energy efficiency. The third case study describes Southern California Gas Company's innovative Industrial End-User Program, which was created in order to meet ambitious state-wide energy and emission reduction goals.

Silicon Valley Power Financial Incentives Aid Owens Corning
The Owens Corning plant in Santa Clara, Calif., was the first industrial plant in the United States designed specifically to manufacture insulation. Today, the plant produces 250 million pounds of insulation annually using two electric furnaces, and consumes a significant amount of electricity.

For Silicon Valley Power (SVP), large industrial facilities like the Santa Clara plant are not only important customer loads, but also valuable assets to the community. SVP has used its Customer Directed Rebate program since 1999 to offer incentives to customers for implementing energy efficiency measures. Helping industrial customers use less electricity is important for SVP because it:
Energy efficiency is also important for Owens Corning; each plant has an energy leader who is responsible for the efficiency of the plant's process operations. Energy leaders work closely with local utilities and vendors to implement energy savings ideas. Over a two-year period, the Santa Clara plant received a Save Energy Now energy assessment from ITP as well as two additional assessments that used ITP software tools and the Save Energy Now methodology.
Recognizing the potential benefits of improving the plant's efficiency, SVP provided approximately $251,000 in incentives to the Santa Clara plant. This catalyzed the implementation of many energy-saving measures in the plant's pumping, fan and compressed air systems, resulting in annual energy cost savings of $252,000 and a 1.3-year simple payback period.

"The DOE assessment at the Owens Corning plant gave us a valuable blueprint of tools and methodologies that Silicon Valley Power can apply to analyze other key industrial accounts," said Mary Medeiros McEnroe, public benefit program coordinator, Silicon Valley Power.

Read the full case study to learn more (PDF 659 KB). Download Adobe Reader.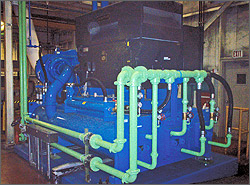 Owens Corning's Santa Clara plant used rebates from Silicon Valley Power to replace an aging air compressor and achieve energy cost savings of $120,000.

Rocky Mountain Power Credit Program Shortens Payback Time for ATK
Alliant Techsystems Inc. (ATK), the world's foremost producer of solid rocket propulsion systems, has been actively implementing efficiency measures for more than 14 years. ATK's Corporate Energy Plan sets annual cost-reduction goals across its U.S. facilities and calls for regular review of the facilities' energy data. The plan also requires the development of onsite energy management plans.

As part of that effort, ATK has been actively involved with ITP:
ATK's Promontory site took advantage of energy-efficiency incentives offered by the local utility, Rocky Mountain Power, to significantly reduce project payback times. The company applied for Rocky Mountain Power's Self-Direction Credit program, which funds up to 80 percent of the approved eligible project cost in the form of a credit on the customer's utility bill. The Promontory site received more than $246,000 in incentives to drop the average simple payback time for its lighting upgrades to below two years. ATK anticipates the Utah site's total facility upgrades will ultimately qualify for more than $1.6 million in local utility incentives.

For ATK, these programs were able to bridge the divide between an unacceptable payback period and a satisfactory one. Without using the incentives from Rocky Mountain Power, cost-saving measures would likely never have been implemented. Through Rocky Mountain Power's incentives and DOE's cost-shared plant assessments, ATK has saved energy and money, while enabling the utility to avoid costly upgrades, lower its fuel costs, and maintain the power grid, which serves an ever-increasing electricity demand.

Read the full case study to learn more (PDF 666 KB). Download Adobe Reader.

Southern California Gas Company Program Strengthens Customer Relationships
The Southern California Gas Company's (the Gas Company) multi-faceted Industrial End-User program, was created in 2006 as a joint effort between the Gas Company, the California Energy Commission and ITP to help large industrial customers increase their energy efficiency and, in turn, reduce their energy use and GHG emissions.

The program was created in response to a joint action plan that was formed in 2005 between the California Public Utilities Commission (CPUC), California Energy Commission and California Power Authority to cut GHG emissions and improve energy efficiency in the state. This action plan was driven by the passage of Global Warming Solutions Act of 2006 that requires California to reduce its GHG emissions to 1990 levels by 2020, and Executive Order S-3-05, which establishes a GHG emission target designed to bring GHG emissions down to 80 percent of the 1990 levels by 2050 in the state. As a result, CPUC established a natural gas reduction target of 45.0 trillion Btu per year by 2013. This means that all investor-owned natural gas utilities in California are now tasked with reducing the energy consumption of their customers.

Through the Industrial End-User program, plants located in the Gas Company's service area are eligible to:
In addition, the Industrial End-User Program's Energy Resource Center offers Specialist Qualification training in co-sponsorship with ITP, and on-site training at industrial facilities. For example, at the White Wave Foods plant in the City of Industry, Calif., the program determined that if the plant increased condensate recovery, reduced boiler blowdown and improved insulation, they could achieve approximately $100,000 in annual energy savings.

The Industrial End-User program has led to improved energy efficiency at many industrial facilities in the Gas Company's southern California service area. The program serves as a model for other utilities, both natural gas and electric, consumer- and investor-owned, on how a utility can establish or strengthen a relationship with its key accounts by helping them improve energy efficiency, save money, reduce carbon emissions and maintain their economic viability.
Read the full case study to learn more (PDF 1.7 MB). Download Adobe Reader.

Read More Energy Matters Articles on These Topics
This article is courtesy of the U.S. Department of Energy's Industrial Technologies Program and appeared in its Spring 2009 issue of its Energy Matters newsletter. To learn more, visit www1.eere.energy.gov/industry/.