The need for clean, efficient energy for the 21st century is moving a time-tested technology into the limelight. By providing on-site power generation, waste heat recovery and system integration, combined heat and power (CHP) offers a realistic, near-term solution for exceptional energy efficiency and emission reduction.

As our nation faces growing electricity demand, volatile fuel costs, environmental concerns and power reliability issues, the U.S. Department of Energy's Industrial Technologies Program (ITP) is working to boost CHP technologies to greater levels of efficiency and further expand the use of this clean energy solution. With proper technical and policy support, the goal of 20 percent generation capacity by 2030 can be achieved, saving approximately 5.8 quadrillion Btu per year, and avoiding 848 million metric tons of CO2 emissions. This is equivalent to removing more than 150 million cars off the road.

How CHP works
Combined heat and power (CHP), or co-generation, is the simultaneous production of electricity and heat from a single fuel source. A CHP system recovers the heat normally lost in electricity generation for use in cooling, heating, dehumidification and other processes. Compared with separate generation of electricity and heat, CHP systems can operate at more than 80 percent efficiency.

CHP is not a single technology, but an integrated energy system that can be modified depending upon the needs of the energy end user. CHP can use a variety of fuels to provide reliable electricity, mechanical power or thermal energy for industrial plants, universities, hospitals or commercial buildings – wherever power is needed.

The diagram below compares the efficiency of a combined heat and power system with that of a conventional power plant. Learn more about how CHP works by visiting ITP's Combined Heat and Power Basics Web site.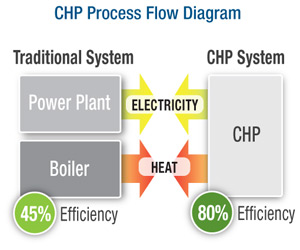 Benefits for peak performance
Compared with separate heat and power production, combined heat and power systems provide many benefits, including:
U.S. combined heat and power in operation
Currently, there are approximately 3,500 CHP sites in the United States, with a generating capacity of 85 gigawatts (GW), or 9 percent of U.S. total capacity. This local, clean power generation is reducing annual fuel use by 1.9 quadrillion Btu and offsetting 248 million metric tons of CO2 emissions – equal to removing 45 million cars from the road.
Combined heat and power applications span industrial, commercial and residential market sectors across all 50 states. Find information on CHP installations in your area by using the DOE-supported CHP Installation Database, the primary source for tracking CHP sites and market developments. The database provides details for each site on the facility, application, prime mover, capacity and fuel type.

Breaking down barriers
Despite its proven benefits, a number of hurdles must be overcome to realize the full potential of CHP in the marketplace. Technical, regulatory, policy and institutional barriers persist, despite successes at the state and regional level and recent federal legislation to boost tax credits for CHP. Read a summary (PDF 116 KB) of the latest CHP federal tax incentives. Download Adobe Reader.
ITP is committed to helping our nation overcome these barriers by working collaboratively with U.S. industry and other stakeholders to invest in significant technology improvements, and to transform the market at the federal, state and regional levels. Ongoing efforts include:
These activities will help to expand the adoption of clean, efficient CHP technologies as a major source of electrical, mechanical and thermal energy for the United States.
As ITP program manager Douglas Kaempf explains, "CHP represents a great near-term opportunity to save energy, reduce carbon emissions and improve local economies. ITP is taking a lead role in enabling CHP to reach its potential."

For more information about ITP's CHP Program, contact Bob Gemmer.

This article was provided by the U.S. Department of Energy and appeared in the Winter 2009 issue of the DOE's Energy Matters newsletter.

Read More Energy Matters Articles on These Topics
CHP Resources
Some of the following documents are available as Adobe Acrobat PDFs. Download Adobe Reader.