Effective September 5, 2008, the National Fire Protection Association (NFPA) issued a revision of Standard 70E, Standard for Electrical Safety in the Workplace. This standard addresses electrical safety-related work practices and procedures for safeguarding employees during activities such as operation, maintenance and demolition of exposed energized electrical conductors or circuit parts.
One of the major changes was the elimination of Chapter 4 on Installation Safety Requirements because it was a duplicate of National Electrical Code installation requirements.
Other changes addressed host employer/contract employer responsibilities. The host employer is responsible for advising the contractor of known hazards and other information about the work site. The contractor employer is responsible for instructing his/her employees in the hazards communicated by the host employer and for ensuring that the contract employees follow required rules and work practices.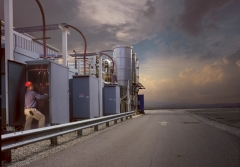 Electrical Safety Programs
The employer must implement and document an overall electrical safety program that directs activity appropriate for the voltage, energy level and circuit conditions. This includes hazard/risk evaluation and job briefing procedures and must be audited annually.
Employees must be qualified to do the work and trained to understand the specific hazards and potential injury associated with electrical energy. Employees exposed to shock hazards must be retrained annually in cardiopulmonary resuscitation.
Work on Energized Electrical Conductor or Circuit Parts
If energized electrical conductor or circuit parts operating at 50 volts or more are not placed in an electrically safe work condition within the Limited Approach Boundary, written authorization by work permit is required. In addition to a description of the circuit and equipment, other requirements must be implemented including lockout/tagout devices, a shock hazard analysis and a flash hazard analysis. An exception for the work permit requirement was added for tasks involving "visual inspection".
The shock hazard analysis determines the voltage to which personnel may be exposed, establishes boundary requirements and specifies the personal protective equipment (PPE) necessary to minimize the possibility of electric shock to personnel.
The flash hazard analysis establishes the Flash Protection Boundary and the PPE required. All parts of the body inside the Flash Protection Boundary must be protected. This analysis must be updated when a major modification or renovation takes place, or at least every five years.
For voltage levels between 50 and 600 volts, the Flash Protection Boundary is 4 feet if a detailed hazard analysis has not been conducted and if the product of the fault current and the clearing time are less than 100 kiloampere (kA) cycles.
At voltages above 600 volts, the Flash Protection Boundary is the distance where the incident energy exceeds 1.2 calories per square centimeter (cal/cm2).
When work will be performed within the Flash Protection Boundary, the employer must document the incident energy exposure in calories per square centimeter. Arc-rated clothing and PPE must be worn either based on the incident energy determined for the specific task or by using Table 130(C)(9) to determine the hazard/risk category. Job briefing procedures and must be audited annually.
Conductive items such as jewelry, necklaces, etc. may not be worn where they present a contact hazard.
Select Clothing
Employees must wear fire-resistant (FR) clothing wherever there is a possible exposure to an electric arc flash above the threshold incident-energy level for a second-degree burn (1.2 cal/cm2). HRC 1 and 2 require an arc-rated face shield or hood and gloves. HRC 2 allows use of a balaclava and face shield in place of a hood.
Annex H provides a simplified approach to select appropriate arc-rated clothing and PPE based on whether the task requires "everyday work clothing" or "electrical switching clothing".
Layering of non-melting flammable garments is permitted to be worn under FR garments for added protection. However, if Table 130.7(C)(9) is used to determine the HRC category, only FR layers within the layered system are used to determine system arc rating. Arc ratings of individual layers cannot simply be added together. Any garment worn as the outer layer, including rainwear, must be FR.
Clothing made from synthetic materials that melt such as nylon, polyester, polypropylene and Spandex may not be used unless such blends meet the requirements of ASTM F1506 and do not exhibit melting and sticking during arc testing.
Be aware that other PPE may be required for specific tasks including hearing protection, voltage-rated tools and gloves, etc.
This overview was developed by Bulwark Protective Apparel and is neither a substitute for the standard nor an official publication of the NFPA. Please refer to NFPA 70E Standard for Electrical Safety in the Workplace, 2009 Edition, for all questions and for specific interpretations.