Conveyor uptime has increased dramatically at Corcoran Concrete's quarry in County Mayo in Ireland following a switch to Dodge brand gearboxes and bearings from Baldor.
The decision was made following trials on conveyors in the sand production area of the quarry. Here, bearings were failing as often as three times a year, and the gearboxes typically lasted only 12 months. In some cases, a bearing failure also meant changing the gearbox as well, as it had to be removed by force – sustaining damage in the process. In these cases, the material costs were dwarfed by the day's downtime needed for the repair.
Corcoran Concrete discussed the problem with local power transmission distributor Central Bearing Supplies, who suggested replacing the Plummer block bearings that came with the original conveyor equipment with Dodge ISN components. The main feature of interest was the ISN bearing's combined triple-lip and flinger sealing system, which is very effective against contaminants such as sand and stone dust. A further advantage of the bearing is its provision as a shaft-ready bearing with an adapter mounting system that allows installation in typically 15 minutes.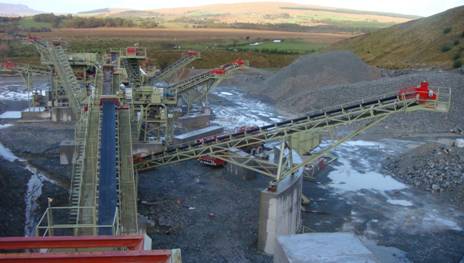 When Corcoran Concrete decided to invest in a new stone chip plant, they specified that the conveyors must come fitted with Dodge ISN bearings and Torque-Arm II speed reducers.
As bearing failures occurred in the sand production and washing plant, Corcoran Concrete replaced them with ISN types, and saw reliability increase by around three-fold. When a gearbox also went down, Central Bearing Supplies suggested that it try a Dodge Torque-Arm II shaft-mounted speed reducer, primarily because of its tapered bushing system, which makes disassembly and reassembly a quick and predictable task.
Reliability improved again. So, when Corcoran Concrete recently decided to invest in a new 300-tons-per-hour plant for stone chip production, the company specified that the conveyors must come fitted with Dodge ISN bearings and Torque-Arm II speed reducers. The new plant uses Trio aggregate machinery, which is integrated together with custom structures and conveyor sections designed and manufactured by Gortavoy Plant.
Corcoran Concrete maintenance manager Ian Duffy stated: "This is a competitive business and reliability of production is a critical concern – to make sure our clients' construction projects run smoothly. The sealing integrity built into these Dodge parts has made a significant difference for us. And when parts do eventually fail, we have the fallback position of predictable repair times through designed-for-maintainability features."
A further spin-off benefit for Corcoran Concrete is the Torque-Arm II speed reducer's use of two-stage helical gearing. This provides outstanding energy efficiency in the 96 percent range, minimizing energy consumption. The difference became clear when Duffy decided to make a comparison between old and new conveyors using an ammeter. Drives on the older conveyor systems tend to draw currents of around 70 to 75 amperes (A). The new conveyors in the stone chip area with their Dodge helical gearboxes draw around 40A. Although this evaluation exercise was not performed under closely controlled conditions, the obvious efficiency of the new automation made it clear that the energy savings would give a fast payback on the investment. These benefits are further amplified for Corcoran Concrete because it already draws almost the maximum capacity of the electricity supply to the quarry, and extending this would incur a substantial charge to improve the infrastructure.
"Dodge bearings and gearboxes have a formidable durability record on the most aggressive processes," says Mike McGrath of Central Bearing Supplies. "Compared with the components often fitted on quarry conveyors, they can often increase operating lifetimes substantially as this quarry application demonstrates."
The handling automation for the new stone processing area has been designed by Gortavoy Plant, a Northern Ireland company specializing in application-specific automation solutions for quarries. To aid the reliability and maintainability of the 17-section conveyor system it produced for Corcoran Concrete, just two sizes of Dodge gearbox and two sizes of ISN bearing have been used throughout the conveyor system, by allowing for good margins of performance above the nominal ratings. This feature aids the robustness of the system, and additionally allows Corcoran Concrete to maintain a spares holding on the site to deal quickly with any unforeseeable problems.
This article was provided by Baldor Electric Company. For more information, visit www.baldor.com or e-mail sales.us@baldor.com.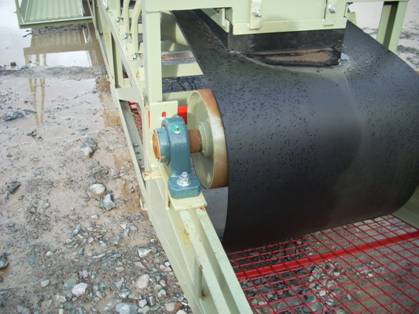 Dodge ISN bearings have helped to increase reliability by around three-fold.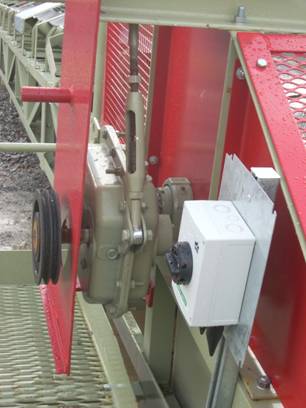 Tapered bushing on Dodge Torque-Arm II shaft-mounted speed reducers makes disassembly and reassembly quick and predictable.