Most companies have a strategic plan. However, over the years I have seen it time and again. Strategy, although perceived by some as defined, is largely misunderstood across the organization, not tied-in to operations and therefore poorly executed in operations and as a result ignored as the hour-to-hour, crisis-to-crisis mode of management becomes more firmly entrenched. Does your company have an operations strategy developed and being executed to carry the strategic plan? In all likelihood, the answer is no.
The most common missing ingredient to success in companies I have seen over the years is a well-planned and defined action plan for improvement that is being consistently and constantly well-executed. The symptoms can vary but, in essence, what is missing are: well-defined and agreed-upon business goals, operational objectives, action plans and performance measures. As a result, some functions within the company are often diametrically opposed to one another and operate in a way that makes meaningful business performance improvement nearly to outright impossible.
Companies need a way to focus and stay focused. They need, in effect, a well-defined and well-executed strategy and action plan. No strategic plan in and of itself can help a company change and move ahead to capture more market share, improve products, increase customer satisfaction, or whatever is recommended within the context of a strategy. Effective strategic business planning requires a dynamic, methodical process that keeps the organization focused on the right issues and actions. This means management must diligently define and redefine the four essential components of a successful strategy and tactical actions:
Strategic goals, which are brief statements of what top management wants to achieve in terms of growth, products, markets, profits and the like.

Improvement objectives, which are specific and measurable performance improvements set within certain timeframes and tied to specific strategic goals.

Action plans, which translate objectives into a specific set of steps, responsibilities, schedules and cross-functional teams for implementing the plans to achieve the objectives.

Performance measures, which provide quantitative means of reviewing, evaluating and updating actions, improvement objectives, strategic goals, and process performance.
Done well and in concert, these four components allow an organization to think and manage strategically, to formulate objectives and action plans that mesh with strategic goals and to continually measure process performance results and to evaluate where there is need for further changes. If a strategic plan is not translated and executed in this way, a company misses the opportunity to focus its entire organization on specific objectives and actions and to develop common values and beliefs. Taking these steps requires courage, confidence, hard work and persistence, but the rewards can be nothing less than a winning strategy for your company and a focus on vision and a common purpose for the entire organization.
Putting operations into the loop
I've observed many times that top management feels far more compelled to focus on – and far more comfortable with – issues involving marketing, sales and finance than it does operations. Even if a company has actually developed objectives and actions plans for operations, it seldom has specific strategic impact results in mind. Operational goals are, instead, couched in traditional performance measures that may have no correlating connection to the right goals, objectives and action plans. In today's manufacturing environment, where supply chain management and lean manufacturing can contribute so much to customer satisfaction, working capital performance, lead times and profits, operations can no longer be left out of the strategic planning loop.
It is very common to find manufacturing companies operating with an implicit strategy that everyone "sort of knows." Worse, when senior management is questioned about business strategy, what often emerges is that only a generic strategy exists. But an unarticulated, generic business strategy is just not good enough. In fact, it can be a critical mistake. Clearly, manufacturing and supply chain management is where "big money" is spent and where major contributions in market share, inventories, customer service, lead times, profits and many other important measures of business performance must be achieved. Now, and in the coming years, operations can no longer be left in a reactive mode to respond to whatever whims that keep changing direction. Operations is clearly an area where profits can be made or lost.
Recommended reading: Traction: Get a Grip on Your Business
Planning operational objectives effectively
The very essence of planning operational objectives effectively is a continual process of ensuring that operations is constantly and consistently doing the "right things right." This process involves continuously reassessing current strategies including objectives, action plans, and measurements. It also involves developing new or modified objectives, action plans and measurements, whenever needed. Effective strategic operations planning must continually and systematically perform the following two tasks:
Reassess the current strategies, objectives, action plans and performance measurements, and examine how well they are reflected in the company's overall strategic plan.

Develop new or modified objectives, action plans and performance measurements that are well-connected to the overall strategic plan.
Like any continuous process, effective operational strategy planning must always be asking:
"Where do we want and need to go?" and,

"How are we going to get there?"
These questions are defined in concrete terms as you connect business strategy with operations strategy to form an overarching competitive strategy for increasing sales, profits, ROA, ROE, stockholder value, and market share (see Figure 1).
Once these goals are defined or redefined, you need to ask, "What operational performance improvements will be needed and when to achieve the strategy?"


Figure 1 – Connecting strategy to operations involves defining an operations
strategy and translating that into tactical objectives and action plans.
To answer this question, you must be able to define quantifiable performance improvement objectives and timeframes in such areas as delivery improvement, cost reduction, decreased working capital, cycle time reduction, increased throughput, product improvement, quality improvement, supplier performance and management development.
This is the hard part. Defining the right objectives and developing and implementing the "right" action plans are the focal points of an effective planning process. Here you need to be very specific with objectives, such as decreasing order-to-delivery cycle time by a certain minimum amount, introducing a specific product at a certain target price, decreasing costs by a certain percentage, and/or reducing inventories to a specified level.
The next task is to define the action plans you'll need. You'll need to define steps, resources and timing. For example, you could plan to redesign the process of information and material flow to reduce order-to-delivery cycle times by 60 percent over the next six months, or introduce a methodology to decrease inventories by 35 percent in six months. Action plans need to define the what, who, why, where, when and how. They need to be specific, for an objective, and set to established time frames. You also need to assign certain people to be accountable for the results, and you'll need to define how those results are to be measured.
Measurements are a key step in this continuous process and a step just as critical as any of the others. Measurements start the feedback of information in each reassessment cycle of goals, objectives and action plans. They continually ask: "How are we doing?"
Next, you need to answer the question, "What operational process performance metrics are best to monitor our achievement toward realizing our company's business strategy?"
A good performance measurement system will tell you how effectively your action plans have been in reaching objectives and goals. It is also part of the continuous monitoring of how the company in general is doing operationally. A system for measuring overall business performance should have early warning signals. Measurement complements diligent management with precise, well-considered communications and clear feedback on are you doing the "right things right." It is always critical to address two issues:
Get early warning on process performance appropriate metrics to remain proactive; and,

Be careful that management directives do not encourage action that is counter to your desired performance and overall strategy.
Getting started with shared vision
To create a shared vision, you need to analyze your current situation and reach a better understanding of your company's strengths and weaknesses as well as the internal and external factors that affect the company's performance.
Senior management cannot ask too often the questions that help keep everybody on track, including, first of all, questions that focus on your customers:
What do our customers value in supplier operational performance?
Are our customer's wants and needs changing or going to change?
How can we help our customers be more competitive and profitable?
What is our current performance compared to what our customers need, want and value?
What are our strengths and weaknesses compared to our competitors' strengths and weaknesses?
Top management also needs to continuously ask how the organization is going to effectively manage issues and responsibilities such as:
How do we remain competitive now?
How can we surpass the competition?
Are our current improvement initiatives appropriate to match our objectives?
Have we achieved the intended measurable results from our improvement initiatives?
What should we do differently to achieve the results we need?
What results can we achieve in six months or sooner?
What results can we achieve in the longer term?
What are the primary reasons for us to pursue lean supply chain management and what will the benefits be?
Answering these questions can help top management teams focus on the important issues. Then comes the hard work: Ask your entire top management team to answer the following seven questions and then get together for an open discussion. These questions may uncover the divisions and differences amongst your managers on key issues of beliefs, values and vision:
What specific customer satisfaction improvement action items need to be initiated immediately?
What measurable results must be achieved and when?
What specific business process improvements will we achieve over the next six months (12 months, 18 months, 24 months)?
In what three areas have we achieved breakthrough business results?
What five immediate actions are required to initiate, invigorate or enhance our operational performance?
Do we have clear, time-phased, measurable objectives for operational performance improvement, and is accountability clear?
What outside consulting assistance is needed to assist our organization to more quickly achieve business goals?
With rare exceptions, every CEO I have asked to perform this test has been very surprised at the diversity of opinion and the intensity with which those diverse opinions are held. Discussing these questions has led to some very stormy sessions. Those very differences, however, show everyone the need to mutually define and implement an effective operational improvement strategy. While an immediate, easy consensus is unlikely, the process of thinking, discussing and reaching a conclusion is in itself a good learning experience and a major advance toward an essential singleness of purpose and vision for the entire management team.
Getting the entire management team to focus on doing the "right things right" is no easy task. Few organizations have evolved to the point where doing the "right things right" is part of their routine organizational behavior. It is more likely to be the case that the management team, at least in part, is doing the "wrong things right." This behavior happens for many reasons, not the least of which is driven by performance measurement, discussed more thoroughly in one of my other white papers.
After successfully working out solutions to the preceding seven questions, the management team should have a common, agreed-upon direction for running the business. But just because everyone seems to understand where the company is going does not mean that the organization knows what to do next.
Once the high-level assessment and agreement on a new direction is completed, it is time to start defining how to self-fund the entire improvement effort. This self-funding can come from current inventory, which is a sure cash generator for most, then reassessing major business processes, making sure to reduce non-value-added activities and cycle times whenever possible. The redesign should convey to management how these changes affect issues like cost, quality, cycle time, customer satisfaction and competitive advantage. Finally, the team must develop objectives, action plans, assign resources and establish how to measure the success of these plans.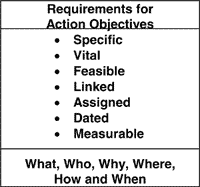 Figure 2 – To be successful, action objectives need
to be carefully honed and fully defined and quantified.
Developing your action plans
Operations strategy and overall business strategy are inextricably linked. While a well-defined operations strategy will not guarantee success by itself, not having one will almost certainly guarantee failure. It has been demonstrated time and again that an operations strategy and the requisite skills to develop and implement that strategy are absolutely critical for achieving any lean supply chain objectives.
The prerequisite for action plans is specific improvement objectives tied directly to business goals. Requirements for action objectives are:
Specific
Vital
Feasible
Linked
Assigned
Dated
Measurable
A specific action plan defines the sequence of time-phased activities or tasks and the resources necessary to reach the desired objective. In addition, each activity and task required to achieve the objective has a person who is accountable for it. Everything required to achieve the objective is well-defined and set within a time frame with clear lines of accountability. Figure 3 is a format that I have found useful for documenting action plans.
Action plans can integrate operations with business strategy and they can provide a practical focus for shared vision. They can do this in several different ways including:
Traversing silos within organization
Minimizing tunnel vision
Providing a structure for solving problems
Encouraging people to think creatively in developing solutions
Driving the entire organization to come to grips with the real opportunities that require solving problems
Providing a methodology for conflict resolution
Establishing common values and beliefs across the organization
Creating a way for everyone to get on the "same page" and rapidly move forward.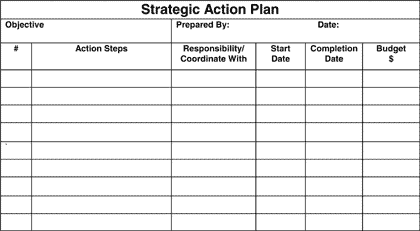 Figure 3 – A format such as this one is useful for
defining and documenting action plans.
Rethinking how your company should be run is no easy task. However, for the CEO and other senior executives, learning how to get and stay ahead of the competition should be a formalized, on-going transformational effort. Some of the issues that need to be addressed include:
Developing a thorough understanding of what is and what should be changing.

Making sure that the organization does not get stuck in the rut of just providing what customers want rather delighting your customers with products, features and services they had not thought of.

Establishing stretch goals and objectives and then executing action plans better and faster than your competition.

Creating core competencies that will give you a "faster, better, cheaper" advantage over your competition.
Trying to navigate a course as complex as operations strategy without a well-defined road map will most probably cost you a great deal in money and time. To avoid this problem, always utilize and improve on the following formula:
Innovative Strategy + Knowledge and Expertise + Objectives and Action Plans + Management Courage and Commitment + Execution = RESULTS
Operations strategy and action plan checklist
Use the following checklist to help you make sure your operations strategy and action plans are correctly established, well-coordinated, and well understood throughout the organization (see also Figure 4).
An operations strategy is clearly defined and has been communicated to everyone in the organization. ___YES ___ NO

Everyone in the organization understands why a particular operations strategy has been adopted. ___YES ___ NO

Methods for communicating up, down, and across the organization are easy, timely and effective. ___YES ___ NO

The operating strategy, objectives for improvement, and action plans are tied directly to the overall business strategy. ___YES ___ NO

Action plans are developed to achieve objectives which will strengthen the company's competitive position and/or financial performance. ___YES ___ NO

The company's use and application of technology are consistent with the operations strategy. ___YES ___ NO

Action plans for operations complement the action plans of all business functions. ___YES ___ NO

An operations strategy review is periodically conducted to evaluate strategic alignment across the business. ___YES ___ NO

Performance measures encourage and contribute to the organization's efforts to achieve the action plan objectives. ___YES ___ NO

The company's reward system does not encourage individuals and/or functions to deviate from the operations strategy. ___YES ___ NO


Figure 4 - An improvement planning process should involve
linking strategic goals and objectives to action plans that include
continuous review and performance metrics.
About the author:
R. Michael Donovan is the president of R. Michael Donovan & Co. Inc., an international management consulting firm. Contact him at 508-788-1100 or mdonovaninc@msn.com. The firm's Web address is www.rmdonovan.com.