Politicians and CEOs like to talk about government-industry partnerships. One Ohio company not only "talks the talk," but also "walks the walk." Corsa Performance recently partnered with a state agency, an equipment distributor and a supplier of ergonomic lifting devices to reduce worker injuries at its manufacturing plant in Berea, Ohio.
Carol Dorring was concerned about the incidence of sprains and strains at the plant, where Corsa designs and manufactures high-performance stainless steel exhaust systems for the marine and automotive aftermarket. As the company's safety manager, it was her responsibility to reduce the number of injuries, if possible. Rising to the challenge, she acquired a grant for that purpose from the Ohio Bureau of Workers' Compensation.
The problem, Dorring saw, was that workers of different heights each had to find a way to maintain a more natural posture while performing various finishing tasks on manifolds, mufflers and other exhaust-system components. To minimize bending and stretching at each stage of the finishing process (welding, grinding, polishing, etc.), employees needed some sort of platform with a user-friendly height-adjustment mechanism. At one finishing station, the device would also have to accommodate the use of a pre-existing mechanical hoist. Lateral transport was also important, Dorring realized — the platform had to be mobile for the bulky components, which can weigh up to 120 pounds, to be easily moved from one station to the next.
Once these criteria were established, Dorring consulted Rick Andrews at Equipment for Industry, a dealership that sells more than 300 product lines of equipment for manufacturing plants and helps its customers find solutions to material-handling problems. Andrews contacted Presto Lifts Inc., a Massachusetts-based manufacturer of ergonomic lift equipment. From past experience, he knew Presto Lifts as a manufacturer of customized equipment in addition to its standard models of lift tables, stackers, container tilters, hand pallet trucks, pallet positioners, transporters and dock equipment.
The result of the collaboration was a customized Presto Lifts XP portable manual scissor lift. So the exhaust system components on the lift would not get scratched, Presto added a non-marring work surface. For easy rolling and turning, the lift was outfitted with oversized wheels. Capability to adjust the platform to any height between 9.25 inches and 45 inches above the floor was achieved by installing an easy-to-use, hydraulic foot pedal system. The unit also features a foot-operated floor lock and lifetime lubricated bearings.
According to Andrews, Presto Lifts understands Equipment for Industry's policy of working with suppliers that are willing to apply their technological expertise to fine-tuning solutions so that the customer's needs are met exactly. "Presto is always willing to work with us to satisfy our customers," he said. "They are a great ally in promoting lasting relationships with our shared clients."
In addition to the customized mobile lift, Corsa Performance purchased a Presto XL scissor lift for workers in the company's packaging department.
For her part, Dorring is more than happy with the results of the project. "Production employees are all enthusiastic about the changes they have experienced since incorporating Presto Lifts into the process," she said. "Strains resulting from laboring at an inappropriate posture have been virtually eliminated, and productivity is up. There is no question that this has been a win-win experience. Concerned, accommodating supplier partnerships solve problems."
To learn more about Presto Lifts and ergonomic lifting solutions, visit www.prestolifts.com or call 800-343-9322.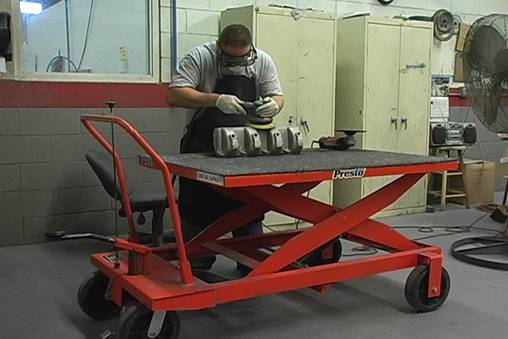 Corsa Performance, an Ohio-based manufacturer of aftermarket exhaust systems for boats and cars, reduced worker injuries and improved production with this customized mobile lift table from Presto Lifts Inc. Polishing, grinding and other steps in the component-finishing process now require less bending. The foot pedal at left provides easy height adjustment.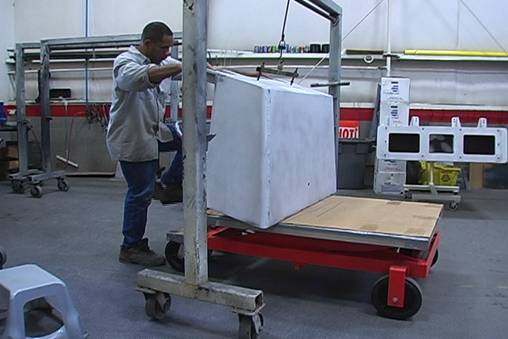 This finishing station at the Corsa Performance plant has a mechanical hoist to help load heavy components onto the ergonomic mobile lift table from Presto Lifts.