Perhaps the single most damaging mistake in industry today is the common practice of overlooking asset management concepts during the design, construction and startup of major new facilities. The global cost of this poor management practice is truly astronomical. New facilities experience excessive unplanned downtime, resulting in excessive costs and loss of critical production due to quality and quantity issues. These losses can be avoided by implementing proper business processes and good operational planning prior to facility startup.

Designing for RAM (reliability, availability, maintainability) in Stage 1 of Capacity Planning will return significant benefit during early operation of the facility. The term "reliability" is defined as the probability that an asset will function as intended over a specified period of time under a specified set of conditions. Availability, on the other hand, is the percent of time an asset will function as intended. Maintainability refers to the effort required to keep or return equipment to the condition needed for it to perform its intended function. Reliability and maintainability work together to determine availability, which in turn provides opportunity to enhance asset utilization (AU).
Planning for future operations is just as important as the RAM process. Establishing asset criticality, maintenance tasking and spare parts inventory during the construction phase will assure a smooth startup of the new facility as well as accelerated achievement of consistent operation at or above design capacities. At this point. we should also develop organization structure, recruiting requirements, on-boarding plans, critical spares assessment and a training needs analysis.

This concept/process is extremely critical in the Middle East today, where the current crude oil market is delivering a huge influx of cash into the region. Companies in the region are using the opportunity to invest heavily in the expansion of existing industrial facilities as well as in the development of new facilities and new industries. These industries can be very competitive in global markets due to their geographical location, the low cost of expatriate labor from Third World countries, and the very low cost of energy in countries where crude oil is produced at an average cost of approximately $2.5 (U.S.) per barrel and is burned in boilers to generate electricity and desalinate seawater.

But, where do we start? Operating practices? Maintenance practices? Design? Reviewing academic studies, discussions with consultants, and the results of benchmarking indicate that the "lost asset utilization opportunity" is about evenly divided among problems in operations, maintenance and design. Most companies have initially concentrated on improving reliability of existing plants. This allowed us to defer capital investment. Shifting the focus to new facilities during the Design-Construct-Start up-Operate cycle can return huge benefits in terms of lost production control. Improving the design process permits maintenance and operability issues to be understood early, facilitating training and other preparation before operation. Reducing or eliminating problems designed into the facility facilitates a smooth startup and early operations consistency, allowing operators and maintainers to attack remaining problems in a more focused fashion.

The activities that are required to be addressed are outlined by project phase below.
Project Design Phase:
Conduct reliability, availability and maintainability (RAM) assessment of design
Develop the work management system

Conduct an organizational design

Develop the staffing strategy

Development of the managing system for the startup & operations phase

Review and select an ERP (enterprise resource planning) system for the facility

Create expectations, goals and measures for the project through the sustainable operations phase
Project Construction Phase
Plan and conduct workforce recruitment and onboarding
Conduct workforce preparation and training

Configure, install and test the ERP system and load asset and parts data

Establish asset criticalities, planned tasking and spare parts and maintenance materials requirements

Acquire, document and store spare parts and maintenance and operating materials

Create the startup and commissioning plan

Business process design for the operations phase
- Asset healthcare management
- Operations management
- Logistics management
Project Startup and Operations

Install and Integrate the business processes designed during construction
- The managing system
- Asset healthcare management
- Operations management
- Logistics management

Establish the managing system (key performance indicators, target values and tracking mechanism)

Train the entire staff on the business processes and managing system

Coach management and staff until the processes are culturally ingrained and sustainable
During the project design/construct phase, there exists a "project mentality" which focuses on facility startup and operation as the end objective. The thought processes are all focused around delivering the project within specification, on time and within budget. A serious shift is required when moving to a sustained operating mentality. The AP/DISC Process (Assess-Plan-Design-Install-Sustain-Certify) is designed to help us make the transition in a structured approach that will make sure we think of startup as a beginning instead of the end objective.
We begin during the design phase by conducting an assessment of the project using the capacity triangle as a guideline. The assessment identifies gaps between the current operations planning and a world-class standard. We then develop a plan to close the gaps and a business case for doing so. Once the plan is accepted by management, we proceed to design the business processes and organization for the new facility based on the SAMI Pyramid (see below) for asset healthcare, logistics management and production management. During the construction phase, we move to installing the business processes, asset database, asset tasking, spare parts and bills of material and more. Prior to the startup phase, we install the managing system and remaining processes, establish key performance indicator baselines and tracking mechanisms, and coach the organization through achieving sustainability. Having achieved all of this, we can now expect a smooth transition from project mentality to operational mentality and expect to achieve a stable operating facility very quickly.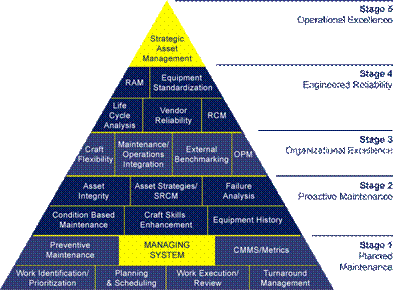 SAMI Pyramid for asset healthcare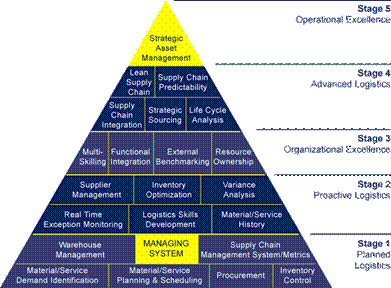 SAMI Pyramid for logistics management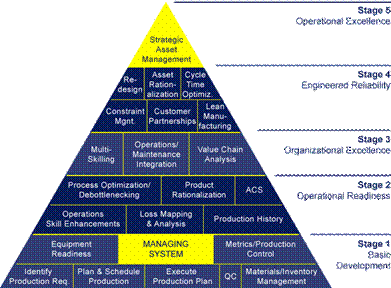 SAMI Pyramid for production management
About the author:
Jim Davis is the managing director of the Middle East for Strategic Asset Management Incorporated (SAMI). With more than 30 years in maintenance management, his focus is on developing and implementing asset management strategies as a way of increasing profitability through better asset utilization. To learn more, visit www.samicorp.com or e-mail jdavis@samicorp.com.