Creating solutions to unique handling, storage problems
Virtually every manufacturing plant, fabricating shop, machining facility, assembly location, even warehouse has one – the unique material handling or storage challenge with no practical structural solution offered. The maintenance job that needs to move tools and repair parts into limited access locales. Transporting an awkward shaped part, or storing a fragile component. Infrequent but necessary janitorial duties handling scrap or refuse. Hazardous, laborious or unpleasant tasks, and a myriad of other chores that conventional, standard equipment can't perform, jobs that make it difficult to justify high investments in custom-made structures, yet jobs where the convenience, safety and enhanced operation require some level of resolution.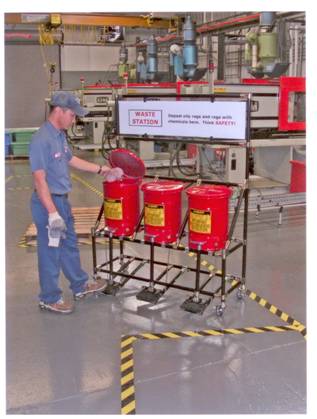 Such was the case at the machining facility of an aerospace company, where managers were seeking an easy, convenient and economical solution to a somewhat dangerous situation. Throughout the area, many oil and solvent-based liquids, in the form of machining coolants and lubricants were present. Additionally, oil-soaked rags, containers and other such waste products needed to be separated for environmental concerns and proper disposal, and safely stored to prevent accidental combustion from sparks or to minimize spills. To remedy the situation, the facility settled upon high-visibility red, five-gallon pails, each featuring a bright yellow warning and directions label, specifically designed for holding oily wastes and by-products. Each pail has a foot-operated mechanism to open the lid for hands-free actuation and a self-closing action that shuts the lid when the pedal is released.

Then, an additional problem — how to stow the pails, provide mobility, and promote and encourage their use. A standard flat bed cart would make using the foot levers difficult and unsafe to move pails without tipping. Fabricated steel racks would be expensive, heavy to move and more structure than the application required. And, it would be potentially dangerous through electrical conductivity.

With the Creform System, a series of plastic-coated steel pipe, mechanical joints and hardware accessories, the oil pail cart, now in use at the aerospace firm, was custom designed and built to meet ergonomic requirements while securely holding three containers and preventing them from tipping. The structures elevate the pails approximately 24 inches above the floor; this proved to be a convenient height while providing a formal appearance to the waste station.

The carts also incorporate a pedal actuation extension that allows the foot-operated opening of the pails with ample clearance for the automatic closing process to function correctly. A spring added to assist the closing feature ensures the lid snaps shut and the barrier is in place, limiting oxygen and ignition access. The structure construction includes casters with a locking function to make the carts mobile for positioning, yet stable when in stationary use.

Because the cans are holding combustible waste products, it was important to control sparks created by static charges. The Creform structure is assembled using ESD-rated components — including black conductive, plastic-coated pipe, nickel-plated metal joints and ESD casters. Each pail is grounded to the structure to help dissipate any charge. Further, the carts are designed with elevated structural beams that can be used for signage announcing the waste station, or for promoting safety reminders, lean programs and quality achievements.

The adaptability of the Creform System plus simple design and construction parameters for its use are key elements to its economy and flexibility, no matter what its intended application or size requirement. Pipe sections are easily cut to required length(s) while joints, either fastener-tightened metal or adhesive-welded plastic, are offered in a wide range of configurations. Hardware items such as hinges, hangers, latches, stops, leveling feet, clamps, label holders and more facilitate customization.

Creform system components are also used to build full size, floor structures as well as table and bench top units. Viable structures include part stands; push carts, shelf carts and trailers; tilting racks; work tables and workstations; along with portable tool cribs and storage units. In addition, Creform offers simple drive units, power supplies and guidance systems to create economical, easy-install Automated Guided Vehicles for efficient material handling.
Creform Corporation also offers design assistance and assembly service for structures and applications ... and partners with customers in developing, implementing and continuing their lean manufacturing programs. To learn more, visit
www.creform.com
.