Overhauling big diesel engines or servicing big pumps and valves means dealing with big bores. If the internal diameter of those bores is not cleaned or resurfaced correctly, the consequences are likely to be fewer operating hours between overhauls or degraded performance.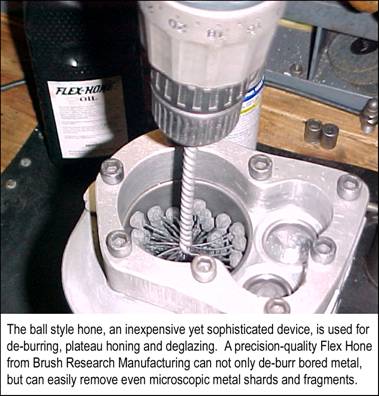 For example, after installation in the field, valves and pumps often require maintenance to clean IDs of foreign material ranging from rust and corrosion to accumulated chemicals and biological matter.
"With hydraulic and hydronic pumps and valves used in mills, petrochemical plants and process industries, critical tolerances sometimes similar to those of internal combustion engines – diesel, gasoline and natural gas powered – apply to pumps of many styles and applications," says Patrick Sullivan, a veteran facilities management consultant.
One of the most versatile and easy-to-use tools that is used throughout industry today to perform maintenance on cylindrical IDs is the flexible ball-style hone. Somewhat resembling a spinning bottlebrush, this tool is characterized by abrasive globules that are permanently mounted to flexible filaments that are attached to a center shaft. This extremely flexible, low-cost tool can be used virtually anywhere for sophisticated surfacing, deburring, edge-blending, cleaning and rebuilding of cylinder IDs.
"In chemical, refining and wastewater operations, honing may be required to remove corrosion or the formation of clay, wax or other solids that may prevent proper valve operation or block lubricants," Sullivan says.
For big bore engines used in rail, earthmoving, shipping and mining operations, it is crucial to service life that the cylinder liner walls be deglazed, refinished and crosshatched when these engines are overhauled.
The engines powering big oceangoing vessels such as tankers and freighters are popular applications for large-bore flexible hones. Marine service shops that perform maintenance on big ship engines are often scheduled to service them as soon as the vessels come into port.
"These engines have pistons as wide as your hat," states Clarence Mayers, coordinator for Diesel Supply Company (Odessa, Texas). "We sell ball-style hones to users and repair shops who overhaul the big bore diesels and natural gas engines so they can get a longer service life cycle. Mainly, they are used on cylinder liner walls so new rings can seat properly and prevent excessive oil consumption."
The flexible ball-style hone produces a controlled surface condition unobtainable by any other method. It can deburr, clean out passages or provide IDs with a highly efficient plateau finish free of cut, torn and folded metal.
Plateau finishing is a process that removes loose, cut, torn and folded material on the surface of the cylinder, maintains valley depth for oil retention and removes peaks that would otherwise damage rings or seals. The process produces a surface with greater bearing area which increases the life of both the cylinders and the piston rings. The result is that more lubricant is retained with less seal wear, improving engine efficiency and performance.
"The trouble you run into is that no two plateauing scenarios are alike," explains Jim Huffman, director of engineering, Salem Tools Inc., a provider of abrasives and engineered manufacturing industry products and value-added services in Salem, Va. "Frequently, there's a finishing problem. The bore is either too smooth or too rough. Ball-honing will eliminate such problems so long as the tool is adjusted to meet the requirement of the individual application."    
Although large-diameter flexible ball-style hones are somewhat unique, they are needed to resurface liners and cylinder bores in larger engines such as the Worthington, Clark, Ingersoll-Rand and Cooper-Bessemer models used for heavy-duty applications as well as ElectroMotive-type engines used by the rail industry.
Available in various grit sizes and diameters up to 50-plus inches (4 millimeters to 36 inches are standard sizes), Brush Research Manufacturing (BRM) offers a line of Flex-Hones that are uniquely suited to heavy-duty applications.
Mayers also points out that the flexible hone does an especially good job of clearing the ports on two-cycle engine liners. Another type of hone can get hung in the port area and break off honing material, causing havoc when the engine is operated. If the port areas are not relieved, the installed rings can get into the ports and clip the rings ends, thus breaking off the ends and causing severe damage to the engine. This is called port clipping.
"The design of the Flex-Hone allows it to pass over the ports, smoothing down all the rough spots," Mayers says. "The firing pressure in the combustion chamber causes the rings to load from the back side, pushing out against the cylinder wall. This style of hone smoothes out all of the rough spots around the ports or any other part of the cylinder liner walls, top to bottom."
In the process of thoroughly cleaning and resurface cylinder liners from top to bottom, some hones could get hung up. However, a large flexible hone can be used without any such snags.
"Getting top-to-bottom cylinder or liner wall coverage is difficult to do with other tools," Mayer says. "The flexible hones that we deal with are probably 12 to 18 inches wide. So, if you run it 2 or 3 inches past the bottom of the liner, that's not a problem. Most of the hone is still inside the cylinder, so it can go down and complete the bottom of the piston travel area. The same applies to the top of the liner, where it gets chamfered because of where the top ring travel ends. The Flex-Hone can blend that area quite easily."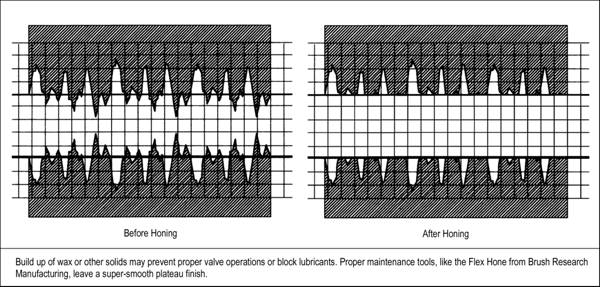 Whether used for cleaning, deburring or plateau finishing, this tool provides a low-temperature abrading process that exposes the undisturbed base metal structure to produce a long wearing surface.
About the author:
Established in 1958, Brush Research Manufacturing has been solving difficult finishing problems with brushing technology in the sophisticated environments of nuclear energy, aerospace and computer technology as well as industrial applications. To learn more, visit www.brushresearch.com, e-mail info@brushresearch.com or call 323-261-2193.