Energy issues continue to be at the forefront of the nation's consciousness. Rising and volatile fuel prices, global warming concerns, and dependence on foreign oil all accelerate the drive toward energy-efficient, clean technologies and practices.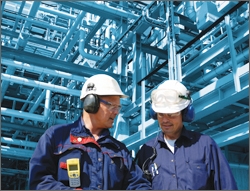 Collaborative partnerships are a vital component in ITP's mission to boost energy efficiency and environmental sustainability in U.S. industry.
How is the United States Department of Energy's Industrial Technologies Program (ITP) meeting these challenges? What's in store for the future?

The emphasis on efficiency as an energy resource puts ITP in the spotlight, as it fortifies its current programs and gears up for new ways to reduce U.S. industrial energy use.

New legislation signed into law in December 2007 boosts federal support of energy-efficiency programs, expanding the commitment of the Energy Policy Act of 2005 (EPAct) (PDF 3.1 MB). Download Adobe Reader. EPAct calls for a 25 percent reduction in energy use by 2017, a goal ITP targets through its many program elements.

Since 1979, ITP has been committed to improving U.S. industrial energy efficiency and productivity, reducing carbon emissions and enhancing national energy security. Through activities such as Save Energy Now, BestPractices tools and resources, partnerships with states and trade associations, data center efficiency efforts, and a comprehensive R&D portfolio, ITP offers real solutions for industry.

The common thread running through ITP's long history of industrial energy efficiency is collaboration. Creating working alliances with private companies, trade organizations, states, utilities and universities has been the key to the program's success.

Continuing Collaborations to Meet Industrial Efficiency Needs
ITP leads federal efforts to improve industrial energy efficiency, environmental performance and competitiveness through a solid foundation of partnerships such as the following:
Teaming Up with Industry to Save Energy Now

A key ITP partnering activity is its Save Energy Now campaign, which continues to help U.S. companies find energy-saving opportunities in their facilities. Since 2005, more than 450 of the nation's most energy-intensive industrial plants have participated in this effort, resulting in total implemented energy savings of approximately $95 million to date. Through this campaign, ITP provides resources to help companies like Alcoa, Boise Cascade, J.R. Simplot and many others identify energy and cost-saving opportunities in their facilities.

An essential component of Save Energy Now is its three-day plant energy assessments. In these assessments, companies team up with a DOE Energy Expert or Industrial Assessment Center to gauge a plant's energy use and find ways to optimize systems. This highly successful project has evolved into a major activity, as ITP increased the number of assessments performed each year and expanded the types of systems targeted. Results show that large plants can cut their total energy use by an average of 8 percent, or more than $2.5 million per year.

Last year, DOE recognized approximately 170 plants as Energy Champions and Energy Savers. These companies implemented recommendations from Save Energy Now energy assessments that have resulted in a cumulative savings of 13.8 trillion Btu — worth more than $73 million.

Partnering to Meet Challenges of Energy-Hungry Data Centers
The rapid growth of energy-intensive data centers, which account for about 1.5 percent of all U.S. retail electricity sales, has triggered efforts to improve the energy efficiency in this sector. Improved data center efficiency could save 20 billion kilowatt-hours per year by 2015 and potentially defer the need to build an additional 2,300 megawatts of new generating capacity. Using the Save Energy Now assessment model, ITP is working to meet data efficiency challenges through activities such as energy assessments, software tool development, training for data center energy managers and partnerships.

In 2007, DOE signed an agreement with The Green Grid, a consortium of information technology companies and associations, to work together to help data center facilities implement energy management programs and adopt clean energy technologies. The Green Grid focuses on improving energy efficiency in data centers through research, standards development, published studies and continuing education.

Joining Forces to Develop Cutting-Edge Innovations
ITP's research and development of energy-efficient technologies is another important collaboration. These partnerships have produced more than 600 energy-saving technologies, 220 of which have entered the marketplace. These technologies pack a powerful punch by delivering better performance for both specific industries and cross-cutting manufacturing processes while saving energy. Read ITP's new report, Energy Technology Solutions: Public-Private Partnerships Transforming Industry (PDF 3.7 MB) for details on technologies commercially available and those expected to enter the marketplace in the near future. Through its diverse R&D portfolio and technical assistance to U.S. industry, ITP has helped save nearly 5 quadrillion Btu of energy, equivalent to 86 million metric tons of carbon emissions.

Watch the ITP Solicitations Web site for an announcement in early March of a new funding opportunity. This solicitation will seek proposals for R&D of transformational technologies for energy-intensive industrial processes. The areas of interest include: iron and steelmaking; alternative chemical processes; forest products; energy-intensive processes; industrial reactions and separation; sustainable manufacturing; and waste heat minimization and recovery. Through solicitations, ITP offers cost-shared awards for R&D of technologies that will reduce energy and environmental impacts, and enhance the economic competitiveness of U.S. industries.

Working at the Local Level to Boost National Efficiency
In 2007, ITP ramped up its efforts to tackle industrial energy efficiency at the state level, where the greatest impact can be achieved. Nineteen states were chosen to receive Save Energy Now energy assessments through a state solicitation, new partnerships were formed and resources were made available to assist state activities.

DOE and the State of Wisconsin signed the first agreement to address industrial energy use throughout the state. This is an important step in leveraging and supporting each state's own capabilities. More information.

In response to a solicitation issued by DOE, ITP selected 19 states to receive a total of 96 industrial plant assessments at local facilities. The awarded projects totaled $950,000, and they represent 5.8 trillion Btu in potential natural gas savings. They could also reduce carbon dioxide emissions of 390,000 metric tons per year. Read about the awards.

Also, ITP formed a partnership with the National Association of State Energy Officials to develop state outreach programs to provide assistance and information to industrial partners through state energy offices. In another effort, DOE is providing training resources to Purdue University's Technical Assistance Program for a new worker training and energy efficiency certification program.

Visit ITP's new State Activities Web site to find out what's happening in your state, including energy statistics, economic indicators, events and training, R&D, and which companies have completed a Save Energy Now energy assessment.

Industrial Assessment Centers Work Together with Manufacturers
The 26 university-based Industrial Assessment Centers (IAC) can be a win-win for everyone involved. They improve industrial efficiency by providing no-cost plant assessments for small- and medium-sized manufacturers, and the hands-on training they provide helps to develop tomorrow's energy engineers. Since the program's inception in 1976, IACs have saved U.S. companies $700 million in energy costs. Recently, North Carolina State University's IAC received an award of appreciation for plant assessments conducted on industrial facilities in the Danville, Va., area.

In 2007, IACs and the Manufacturing Extension Partnership joined forces to offer an expanded reach of services to small- and medium-sized plants, which will include plant assessments, technical tools and information and training opportunities.

Reaching Out Through New U.S. and International Partnerships
In 2007, ITP broadened its range of opportunities to meet energy-efficiency challenges through two new U.S. partnerships and an international outreach effort.

ITP worked with industry, government and non-profit organizations to kick off the Superior Energy Performance (SEP) partnership, which aims to improve the energy intensity of U.S. manufacturing by 25 percent by 2017 through voluntary initiatives. Ongoing activities include establishing American National Standards Institute (ANSI) criterion for energy management and systems assessments, and developing ANSI-accredited plant certification and practitioner programs. SEP launched the Energy Quick Start Web site, which includes a comprehensive listing of energy efficiency and conservation resources that are available from public and non-profit sources.

Another new partnership was launched in June 2007, as DOE and the National Association of Manufacturers (NAM), joined forces to meet U.S. manufacturers' energy efficiency challenges through a new memorandum of understanding (MOU). NAM is the nation's largest industry trade member organization, advocating on behalf of manufacturers through legislation and regulatory activities, and providing resources for members. The MOU signifies an important outreach effort to merge DOE's portfolio of technologies and energy-saving resources with NAM's connection to 14,000 member companies.

DOE also signed a MOU in mid-September 2007 with China's National Development Reform Committee (NDRC) to increase cooperation and energy efficiency in the country's industrial sector, which accounts for 70 percent of China's total energy demand. Under the MOU, a DOE team of industrial energy efficiency experts and an NDRC counterpart team will conduct on-site audits of plant production processes and energy systems at up to 12 facilities in China. DOE will provide tools to conduct the plant audits and train factory personnel on plant audit techniques. DOE will also conduct a comparison study of the Chinese enterprises and U.S. manufacturing plants to identify differences in best practices.

BestPractices Pools Resources for Plant Managers
A cornerstone of nearly all ITP activities is its toolbox of practical, hands-on resources for plant personnel. ITP's BestPractices program develops and disseminates information on technical resources, partnership opportunities and energy management tools for plant managers, corporate executives, technical staff and the general public. You can access this comprehensive portfolio of helpful software tools, systems-specific and Qualified Specialist training, technical publications, and other resources on ITP's BestPractices Web site, free of charge.

Future Looks Bright with New Initiatives
What's ahead in 2008? ITP is expanding its reach to U.S. industry through these new initiatives currently under way.

Utility Outreach Offers Benefits to Industry Partners
Among the new activities is a partnership with utility companies. Utility companies play a unique role in energy management because of their close relationship with industrial customers. ITP is excited about this new opportunity to work with U.S. utility companies to make industrial facilities more energy efficient, as well as help determine how utilities themselves can become more efficient. A utility action plan is scheduled to be completed in spring 2008.

Evaluating the Viability of Combined Heat and Power
The passage of the recent Omnibus 2008 Appropriations Act enables ITP to accelerate its Combined Heat and Power (CHP) activities in 2008. ITP is currently evaluating a range of options, including deployment efforts, with a particular focus on bio-based and opportunity fuels. ITP's continued support of CHP activities includes working with the eight Regional Application Centers and participating in selected demonstrations. The demonstrations will provide third-party validation of the performance and benefits of the CHP system.

Exploring the Use of Alternative Fuels in Manufacturing Processes
In 2008, ITP's Fuel and Feedstock Flexibility initiative will begin activities to integrate opportunity fuels into manufacturing processes. Rising and volatile natural gas prices mean higher costs for industry and greater uncertainty about future energy costs. This presents an opportunity to explore the use of alternative fuels in manufacturing processes. This deployment-focused initiative will link industrial users with advanced fuel research taking place throughout DOE, and increase knowledge of fuel and flexibility opportunities within U.S. industry. ITP will explore these options with industry and develop data to assist industry with better understanding the opportunities.

Developing Next-Generation Manufacturing Technologies
In partnership with the Interagency Working Group on Manufacturing R&D, ITP will work to develop integrated and intelligent manufacturing processes to dramatically reduce the energy intensity of the U.S. manufacturing sector. The first step will be a technology road-map workshop to facilitate collaboration, review priorities and shape strategies for R&D. Initial research will focus on technologies such as integrated process predictive tools and wireless real-time sensors systems that are synergistic and adaptable. This initiative will also explore techniques needed for nanomanufacturing to enable the mass production and application of nanoscale materials, structures, devices and systems to transform industrial processes.

Through all of these partnerships, ongoing and new, ITP has fostered energy-efficient technologies and practices to improve the productivity of manufacturing processes, reduce energy use and costs, and cut harmful emissions. This means increased productivity and profits for companies like yours, and a cleaner environment for everyone.

This article provided by the U.S. Department of Energy. To learn more, visit www.doe.gov.